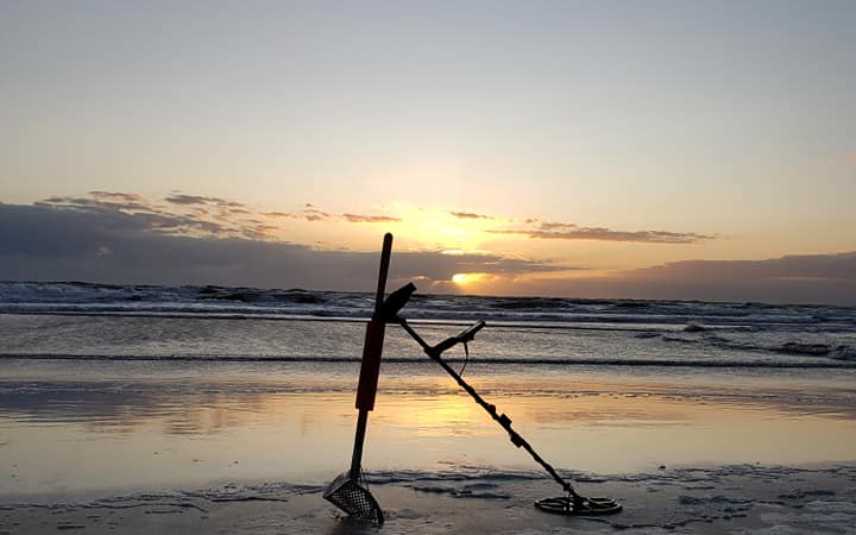 Maryland often referred as Little America, because of its diversity when it comes to landscapes! As you can find everything, including, beaches, mountains, farmlands, sand dunes …
… For us, as Metal Detecting fans, that's great news! Indeed, this makes it a Great Place to explore using detection machines and hope for some valuable finds!
Nonetheless, it is extremely noteworthy to have a solid understanding regarding the laws regulating this hobby in there! Otherwise, this could lead you to some unnecessary trouble with the law and/or local authorities …
… In this Post, I walk you through these subjects:
Obviously the different regulations & laws
What locations should you go for!
I recommend a proper machine for the state ground type.
My thoughts on searching for Gold there
Most common finds!
As well as more helpful info …
So, let's get this started!
What are the metal detecting laws in Maryland?
Maryland has a string of regulations regarding this hobby! First of all, both ARPA and NHCA are enacted in the state …
… This means that any site/property considered culturally or historically aesthetic by the state is off-bounds to you. By default, any property that is more than 100 years old comes under these laws.
Damaging these properties, including digging, can result in penalty and jail time. In addition, Detection activities are allowed on state property but only when it meets certain regulations: it must be done under specific hours (in case of parks), and the collector must only be interested in looking for modern relics.
Exceptions could be made for archaeologists or professional detectors!
For anything else, which includes most of the things you would do as a detector, you would need a permit from the state.
In case you are intentionally looking for historical relics, you would have to specify this in your request. For state parks, the permit is given by the park rangers.
An in local properties (those owned by the counties), the local authorities are responsible for the permit. As always, private property owners have the final and only say regarding their personal property.
Where to go detecting in Maryland?
This state, small as it is, has really no shortages of places to explore! Detection hobbyists often call it a paradise for hunting, given the high density of places worth exploring in the small state.
The primary attractions are obviously the gold mines. The ones still in operation, like the Great Falls area, are often the first choice of searchers. The mines no longer in operations are also the subject of curiosity for them.
The famous gold mines that are no defunct are included in Howard County, Baltimore County, and Frederick County. Maine area, despite being full of ghost mines, also sees many visitors.
On the other side, there are the famous beaches in Maryland. These places are both historic sites and tourist attractions.
Detectorists still recover coins from the Civil War, Revolution, and early Colonial era from these beaches.
The massive influx of tourists also ensures that a lot of modern relics, not antic but still valuable, could be found amidst the beach sands.
Not to mention, the beaches also have a natural treasure of their own. All of this makes Maryland beaches one of the primary spots to explore.
A Solid Detector for Maryland Soil!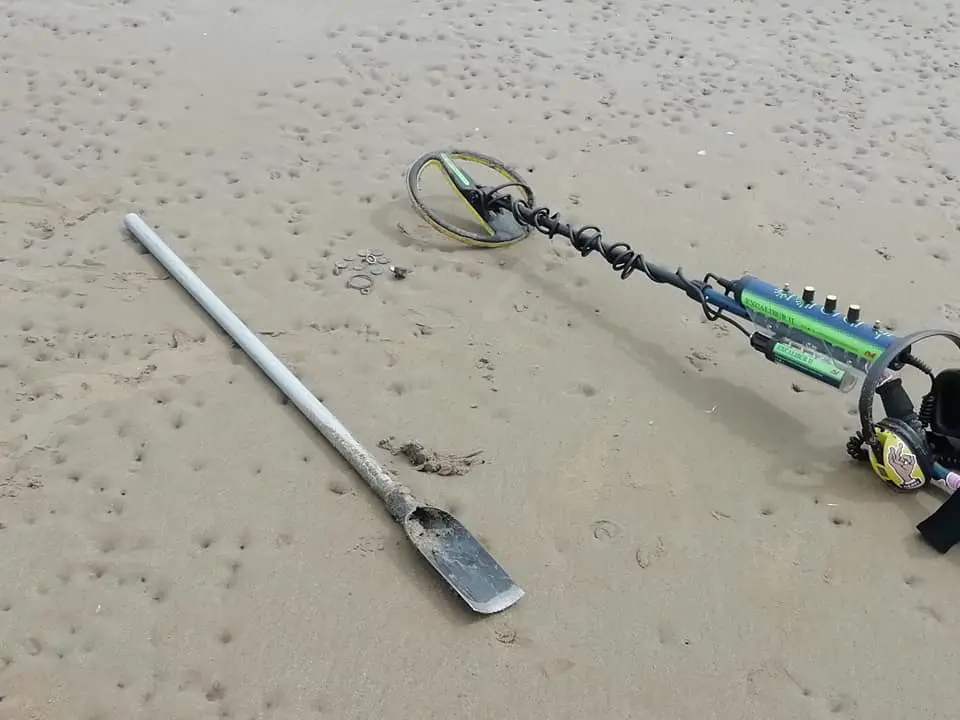 Maryland soil, owing to its close proximity to the sea, has high mineralization. As you would be aware, high mineralization can cause you metal detector to pick up false signals.
While the area near the beaches is soft and easy to dig, the inland locations are hardened and would need extra efforts. High iron content is another issue you might have to face.
The primary locations you might be searching for relics are the beaches, That's why the Minelab Excalibur II (Check it Here on Amazon!) is a perfect choice for you.
This beast is designed to work even in saltwater, which is what makes it ideal for the beaches. It is multi-frequency and you can discriminate between precious and trash metals
Iron discrimination is particularly high, which is excellent for Maryland beaches where the sand has high iron content. The Excalibur II works even with diving and can withstand water for up to 200 feet.
The tone ID is very accurate and distinctive. It also works great on land. It has certain flaws, like hardwired headphones and iron delay. However, given your requirements, it is the perfect machine to have.
Finally, if this one doesn't fit your budget, you may still Check this Good Model Here on Amazon!
Prospecting for Gold in Maryland
This state has a vibrant history with gold! Before the famous gold rush in the West, Maryland was one of the famous producers of gold.
With time, most the mines dried out, though a few are still in operation. Nonetheless, there are high chances for you to find some gold in one of these locations. Most of the gold here is fine placer gold.
You can find decent veins of gold in quartz rocks, but it is rare to obtain a sizeable chunk from them!
As far as locations go, there are many … Regions of Maine were once one of the biggest producers of gold in Maryland. While these mines are now mostly abandoned, you can still test your luck against them.
Currently, significant portion of gold from Maryland comes from the Potomac area. A sequence of mines, many abandoned, would serve well to explore. Other towns that can have deposits of gold are Baltimore County, Woodbine, and Libertytown.
It is worth keeping in mind that many of these mines, whether active or abandoned, are private property. Hence, even if you have a state permit, it would be wise to check the ownership before actually digging anything.
This Gold Searching and Detection Post has a ton of information if you are serious about hunting Gold as a hobby or even for a living!
What other finds should you expect there?
Gold is not the only Target you can find in there! As many veteran hobbyists in the state say, Maryland is a "goldmine" of something other than gold: historical relics. While the beach areas of the state have transformed a lot over the years, the inner portion has remained the same more-or-less.
The minimal change has ensured that relics from decades and centuries ago are not buried too deep within the ground.
In fact, finding relics from these towns has become a primary attraction for detection enthusiasts. These towns, almost historic in their own rights, keep yielding relics from centuries ago – from the most mundane to the most exquisite.
Though, most of these are private properties, so take due permissions before any excavation!
The beaches are another source of treasures. French and Dutch coins, from the early Colonial period, have been found in these regions.
Needless to say, these coins are even more valuable than the early American ones. The beaches are also home of many precious gemstones like smoky quartz and freshwater pearls … While detectors can't directly search for them, they often turn up while digging for other things.
Detecting in Maryland Beaches!
As a state almost entirely covered by water, Maryland has an abundance of beaches! They, in turn, have an abundance of valuable things to look for…
…While pirates were not a big part of Maryland's lore, they still made their way on its beaches. Some of the treasures they looted could still be around the creeks and rocks, waiting to be found by you.
Coins are another item you can look for in the beaches, though the chances are smaller. The higher chances are of finding more recent relics, left by tourists visiting the beach.
Given the vast number of beaches in Maryland, you would have no shortage of places to explore!
Beaches in there count as state property, and so come under the same laws as other state properties. However, since there are hardly any historically or culturally aesthetic sites on the beaches, ARPA/NHPA are not enforced strictly, and it is easier to get a permit.
Some of the most significant beach areas in Maryland are located around Calvert Cliffs State Park, Ocean City, Cheery Beach, and Sandy Point State Park. Apart from treasure and coins, you can also expect to find gemstones like pearls.
Are there detection clubs in there?
Despite being a small state, there is no shortage of detection clubs in Maryland! There is an active and vibrant community of detectorists and even collectors situated in almost every major city of the state.
Some of the biggest clubs are located in Crofton, Lusby, Middle River, Salisbury, Stevensville, and Williamsport.
There seems to be no active gold detecting club in Maryland. Despite decent traces of gold in the state, there is no club dedicated solely to the task of hunting gold.
However, the regular detection clubs do go on gold hunting trips too. For first-timers, joining a club is crucial as it will make it much easier for them to get a permit.
Detecting in Maryland Parks!
In case of parks, metal detectors are allowed during public hours (with a few exceptions like Labor Day)!
However, you are only allowed to explore your prospects; any kind of digging is forbidden. For that purpose, you would need a permit from the park rangers or officials.
In Maryland, getting a permit to dig in the state or public parks could be a hassle. Especially if you are without any experience, park rangers could be hesitant to allow you at all.
You would have to assure them that you respect the park's guidelines and would try to disturb the soil as little as possible. Getting a permit during off-hours can be a hassle unless you are part of a large group.
Getting your detecting permit there …
It is not very easy to get a license in there! The state officials seem to reserve the permit only for archaeologists and professional collectors (who are working with a museum).
Another issue is with the distinction between state and federal lands. The two require different permits from different departments.
However, much of federal land is unmarked; you might not know when you have entered and left federal land. It is better to first focus on private and local land, and then think about getting a federal permit.
Getting a permit from local authorities and private property-owners is much more comfortable!
Conclusion
I am not sure how helpful this Post was for you … Really, wish this has provided you with some useful info that you could take into your advantage to have more success detecting in this State!
The most important thing, is to stick not only to the laws, but also to the code of ethics … By doing so, you will always be in a safe spot and continue to give a good example and shiny image about this hobby …
… Finally, would like to let you know that Vermont, is a decent state that you can explore with your beloved detector too!