Mississippi, known for its Magnolia trees and long rivers, is such a good place for those who are looking to swing their metal detectors …
… The only thing you should pay attention to before you actually start, is to have a look at the laws, understand them and, obviously, stick to them as much as possible! By doing so, you will simply avoid any unnecessary trouble with local authorities …
… In this quick article, I walk you through these topics:
The different regulations & laws
What locations should you aim for, especially at the beginning!
I recommend an All-Terrain Device for the diverse Mississippi Soil Types.
My thoughts on Prospecting for Gold there
Detecting in Beaches, Lakes & Rivers!
………..
So, without further ado, let's get this started!
What are the metal detecting laws in Mississippi?
Like most other states in the USA, Mississippi too has ARPA law in action! Indeed, ARPA dictates that no archaeological or historical site can be damaged or salvaged by anyone without a permit!
Violation of the law carries punitive measures like fines and jail time. In general, any site more than 100 years old (or explicitly designated so) comes under ARPA.
The state code of Mississippi is also interesting, as it mentions something known as "landmarks." Landmarks mostly include sunken ships, abandoned ships or shipwrecks …
… The label could also be applied to other properties owned by the state. Any kind of digging or otherwise damage to such landmarks is a state crime. You would need a permit before you start digging in any of these sites.
Following the trend, it is illegal to dig in national, state, or recreational parks either! A permit is required to go detecting in these areas.
Remember, detection activities are not illegal in any area of Mississippi, so you are well within your rights to simply carry around your tools.
But for digging in any state or federal property, you would need a permit. For private properties, the permission of owners alone is required.
Places where to go detecting in Mississippi?
Unlike some other states, Mississippi doesn't have specific famous locations to enjoy practicing this hobby!
However, there is a huge door of opportunity, and it is hard to miss: the Mississippi River! One of the largest rivers in the USA, the Mississippi River is the primary river in the state.
Historically, it has known the scourge of pirates who used to plunder other ships and run away with their resources. Sometimes, the pirate ships used to get shipwrecked in a hurry or taken down by law enforcement.
Other times, pirates used to hide their loot along the riverside. Such treasures are still said to be scattered all along the riverside.
Due to the vast nature of the river, it is difficult to pinpoint any specific location. However, if you search long enough, there are high chances of finding something or the other of value. It would be better to go hunting when the water levels are low so that you can search deeper!
The other significant place to look for would be the coastal area near the Gulf of Mexico. The beaches have a historical reputation and also see a large number of tourists each other. This means you have a chance to find things both new and old in the beaches.
A Good Detector Recommendation for Mississippi Soil!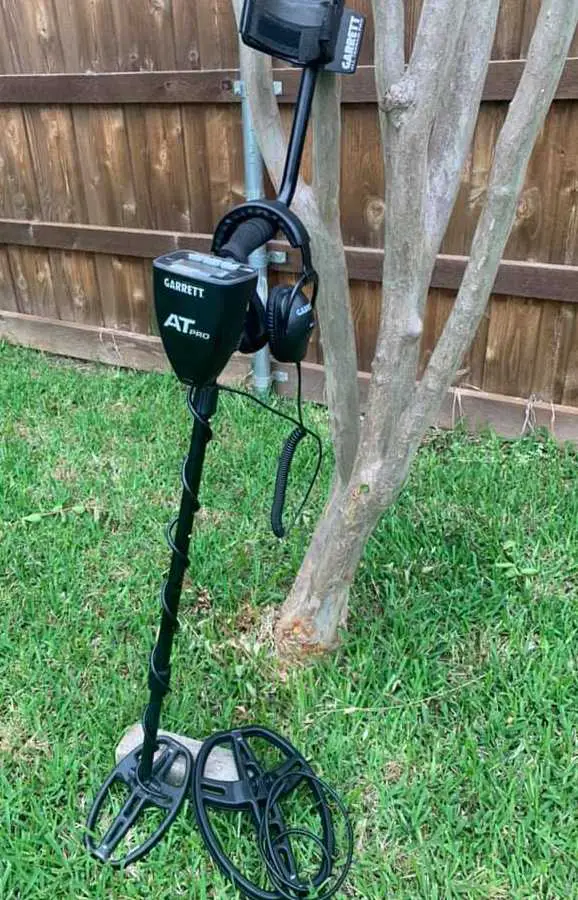 There is no homogeneity in the type of soil in Mississippi: you can find red clay, sand, chalk, sandy loam, etc. spread across the state.
Clay can pose some trouble for metal detectors in general, but it is only in few parts of the state. Mineralization is also not an issue for most places. The former is covered with pebbles while the latter is filled with sand. This is an important thing to remember while choosing a metal detector.
Considering your needs, the Garrett AT PRO (Check it Here on Amazon!) is an excellent device to have. Most importantly as it could (as the name suggests) work on all terrain (AT).
So you can use it on land, on the shore or even inside water as it is fully waterproof for up to 10 feet of depth.
It operates around 15kHz, has a 5"*8" DD Coil, and is very lightweight!
Finally, if you are willing to invest in a more technologically advanced model, then I highly invite you to Check my Favorite Machine Here on Amazon! It has a multi-IQ technology, meaning that it has the capability to operate on several frequencies all at the same time …
Looking for Gold in Mississippi
Unfortunately, this state is not the best state to look for gold! There have been only a few incidents of gold turning up in Mississippi over the years …
… Even then, the events occurred at locations scattered throughout the state. As such, even the most experienced detectorists couldn't name a site that can boast of having any significant scope of being a "gold site."
Furthermore, most of the gold that turns up is in the form of gold flour. It is increasingly difficult to detect and recover. There has been no gold mining activity in the history of the state. This is why gold hunters, which are abundant in the neighboring state of Alabama, seldom visit Mississippi!
However, this does not mean that there is no scope of finding gold in Mississippi – just not the way you might think … Being a coastal state, the state has had a long history of pirates!
Many times, they used to bury their loots in the coast to keep it safe from the law enforcement. Such treasures are widely believed to be still buried in these locations. Hence, if you are searching for gold, you should visit the southern portion of the state that touches the Gulf.
I've spent 2 to 3 weeks putting together this Gold Prospecting & Detection Guide! You should check it out if you want to increase your chances to come across more Gold Finds!
What other finds should you expect in there?
While gold is in shortage in Mississippi, there is no lack of other treasures to be found! The most interesting of these would be the fossils.
Indeed, the state is known to have once been the abode of pre-historic, now-extinct animals, and many fossils have been recovered over the years. Yet, it is believed that many more fossils are still buried below the ground.
If you are lucky, you might stumble upon fossils of animals that lived millions of years ago!
Pirate treasures are a central point of attraction for collectors, and they might yield much more than just gold. You might find coins, weapons, and other historical relics among them.
Detecting in Mississippi Lakes and Rivers!
Exploring the rivers always seems to be a good choice! This is not true anywhere more than in Mississippi, where its namesake river is filled with bountiful treasures.
The Mississippi River is the primary attraction! The river, being one of the largest in the country, has seen a lot of events through history.
The water transport through the river goes back centuries. As such, a lot of treasures could be found there. We have already talked about pirates a lot, so you already know about it … But there have been other ships too, like passenger and merchant ships that also got occasionally shipwrecked.
The river also sees great tourist activity. All of this ensures that there is an excellent possibility of finding something of value alongside the river.
There are many lakes in Mississippi, from very small to very large. The larger lakes like Sardis and Pickwick can occasionally turn up something on their shores.
However, the smaller ones like Lake Washington, Lake Whittington, and Tunica Lake offer higher chances of finding interesting stuff. Especially when the water is low, and you can go search more in-depth into the lakes.
This Rivers Detection Article includes more helpful info whenever you feel ready to start exploring these kinds of potentially valuable places!
Detecting in the state Beaches!
Mississippi is covered by land on most sides except a small portion in the south, which touched the Gulf of Mexico.
This small portion, fortunately, gives the states some 60 miles of shoreline to explore. Along this area, several beaches have cropped up and served as great tourist attractions.
The most famous beach is perhaps the West Ship Island; however, it is detached from the mainland!
The popular beaches on the mainland include Gulfport and Biloxi. These beaches saw a significant amount of activity, so you can be assured to find something modern and valuable in those sands.
However, being state property, you would need a permit before digging on the beach.
Are there detection clubs in there?
Sadly, Mississippi doesn't have a plethora of clubs! The most famous one is the Tri-State Coin & Relic Hunters Club, which operates in three states including Mississippi.
The well-organized club plans trips to well-known areas in the state and offers valuable guidance to the hobbyists.
However, it is about the only detection club in the state that has any kind of recognition. The state also doesn't have any gold searching clubs. This is natural, given the low probability of finding gold in the entire state. Still, you should try to join a club if you plan to go detecting there.
Detecting in Mississippi Parks!
Like all other states in the US, The hobby is strictly prohibited in Mississippi parks! Indeed, the parks are protected spaces where any kind of digging without permit amounts to the destruction of property and carry punitive actions.
In the case of federal parks, the penalty is even more severe. In fact, if caught, all your equipment could be seized; you could be fined and even arrested.
That's why, it is always critical to get a permit before you even visit any of the parks with your beloved gear!
Keep in mind that even public, recreational parks are considered state property, so you would need a permit to even dig in them.
Conclusion
I am not totally sure how useful this Article was actually for you … Really hope it has provided you with some helpful content that you will capitalize on to have more success Exploring this State!
The most important element, is to stick not only to the regulating rules, but also to the code of ethics … Thus, you will continue to give such a good example and this hobby … Something we really need to keep it alive and even growing!
For more places to explore, I invite you to check this metal detecting guide in West Virginia!