Montana known for its huge deposits of metals and minerals is without a single doubt a great place to have a ton of success metal detecting …
… The only little thing you should not sleep on is the regulations that organize this hobby in state … I really don't want you to have any trouble with the local authorities!
In this article, I address thoroughly all that, in addition to several cool topics I am sure you will enjoy reading …
… So, before further ado, let's Go!
What are the metal detecting laws in Montana?
This activity is governed by the Archaeological Resources Protection Act (ARPA) and the National Historic Preservation Act (NHPA) in Montana!
In fact, when you are detecting in there, you need to keep in mind that you should not dig up anything that you believe could be an artifact or any finding that could be older than 100 years, especially if you are searching on State lands!
In case you want to swing your machine on any private property, then you need to get written permission from the landowner. If you are kind enough and handle yourself well, then getting these kinds of permissions is not that hard!
In addition, keep in mind that it is illegal to search in a national park, national monument, or recreational area in Montana! It is also prohibited to use a detector on lands and water bodies of the Bureau of Reclamation.
At the same time, no person is allowed to destroy, injure, remove, or cause any type of damage to any natural property in the state. You are also not allowed to mutilate or destroy any tree, plant, or shrub, or any other geological, historical, and archaeological feature in Montana.
This, however, does not include flowers, berries, cones, or any type of fallen deadwood. Even the disturbance of the topsoil in Montana is prohibited.
Where to go detecting in Montana?
We are talking here about a beautiful state with a rich history that! Thus, there is no real shortage of places that you can actually aim for …
… Indeed, there are many different types of places across the state where you can enjoy the activity. Below some of the best places I recommend you check out (Just make sure that no permit is required beforehand as rules may change in the future):
Bear Canyon Campground
Boulder Hot Springs
Little Bighorn Battlefield – but only with permission
Glacier National Park
The Yaak Valley
Earthquake Lake
Grounds of The Anaconda Smelter Stack
Sacrifice Cliff in Billings
The Radon Health Mines in Boulder
There are also many old and abandoned railroads and rail stations throughout Montana that make an exciting spot. Some of these include:
Virginia City
Bannack
Garnet
Nevada City
Kendall
There are also many ghost towns in there in which you can try your luck:
Castle Town
Comet Ghost Town
Granite Ghost Town
Virgelle
Elkhorn
Marysville
Try out this Detector … It is Good for Montana Soil!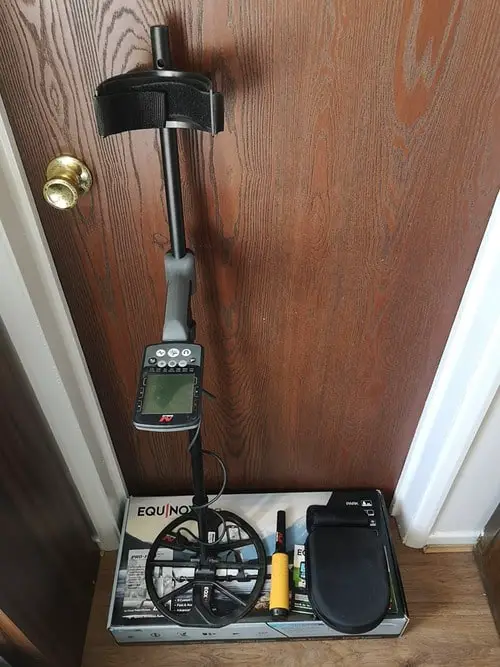 Scobey soil is the most dominant type found throughout this state! It is indeed the official state soil of Montana … This type is commonly found across the area of North Central Montana, known as the Golden Triangle.
Scobey soil is typically made up of very deep, well-drained soils on hills, moraines, and till plains. The soil is known for farming wheat.
In such type of soil you don't really need a machine with high discrimination capabilities … In fact, the Fisher F44 (Check it Here on Amazon) is definitely a very solid choice!
It is a versatile and weatherproof model that includes many high-quality features for hobbyists and seasoned practitioners …
… Indeed, some of the features it brings are:
Five search modes
A backlight
Adjustable iron audio
Weatherproof control box
Both automatic and manual ground balance
This is a lightweight model, weighing at only 2.3 pound … It also has adjustable iron audio, which allows you to easily and quickly identify trash from finds of real value.
Finally, if you are willing to invest in a much more established machine, then I highly recommend you have a Look at My Favorite Detector Here on Amazon! It is an all-purpose Minelab Model …
Searching for Gold in Montana…
The majority of the gold in this state could be found in the more mountainous section on the western side of the state!
Gold mining has been done in Montana since the early 1850s and there are many gold remnants that can often be found in the many rivers and creeks in the state. In fact, millions of ounces in gold have been found in the rivers and creeks of Montana.
Gold prospecting in the rivers can still produce some gold nuggets and fine gold. Here are some of the best Montana rivers that are worth checking out your beloved detector:
Missouri River: Placer gold can be found in the Missouri River located in the south of the town of Cascade. Another wonderful place for gold hunting can be found northeast of Hauser Lake, Lake Helena, and around the Canyon Ferry. El Dorado Bar, on the east banks of the Missouri River, is also one other place. (Learn more about

detecting in Missouri

)
Big Hole River: A tributary of Big Hole River known as French Creek was the first are in Montana where gold was first discovered. Since then, a lot of gold has been found in the river's numerous tributaries, such as Fish Creek, Basin Creek, Soap Gultch, Mouse Creek, and Camp Creek.
Boulder River: Even though there are relatively limited occurrences of gold found in Boulder River, but many of its tributaries are known to have extensive gold. Some of the places include Rocker Creek, Overland, and Muskrat Creek.
To expand your knowledge about this topic, which I recommend you do, Just have a Look at this Metal Detecting for Gold Guide … I've spent weeks to write it and you probably should check it out!
Is there other finds that you should expect?
There are plenty of treasures waiting to be discovered in this state! Some of the common items you can expect to find include:
Old and modern coins
Silverware
Metal relics
Gold nugget or fine gold
Gold and silver coins
Sapphire
The key to finding things of value is to do your research thoroughly … You should locate the places where the early settlers of Montana were living, and you should be able to find out the likely places where you can find coins, relics, and other buried treasures.
Even when you are searching along the abandoned railroad lines, you will find that they left behind a lot of coins and relics …
… In fact, these abandoned rail stations were also places where coins used to be exchanged, and there is a good chance that you will find some of these coins that got lost and got buried under the ground surface.
Detecting in Montana Lakes!
Sitting within the Rocky Mountains region, Montana is known for the different terrain, made up of many flatlands in the east and towering mountains in the west.
The state is known for its beautiful landscape full of beautiful lakes. The rick river valleys across the state ensure that there is a massive amount of lakes in Montana. In fact, there are over 3,000 lakes and reservoirs across the state, and these lakes are a huge draw for detectorists who are looking for valuable items!
There are no regulations (at the best of my humble knowledge) that prohibit the hobby in Montana lakes. Some of the best lakes there include:
Lake McDonald in Flathead County
Saint Mary Lake in Glacier County
Quake Lake in Madison and Gallatin Counties
Swan Lake in Lake County
Avalanche Lake in Flathead County
Hebgen Lake in Gallatin County
Canyon Ferry Lake in Lewis and Clark and Broadwater Counties
Swiftcurrent Lake in Glacier County
Bowman Lake in Flathead County
Echo Lake in Flathead County
For more info about this topic, you can check this Guide for Lake Detection! I am sure you will learn new things …
Are there detection clubs in there?
Metal detecting is a very popular activity in the state of Montana. As a result, there are many related clubs across the state. Some of them include:
Beartooth Treasure Hunters & Prospectors Club
Montana Treasure Seekers
P.A.A Headwaters Chapter
P.A.A Billings Chapter
Northwest Montana Gold Prospectors
Central Montana Prospectors
P.A.A Blackfoot River Chapter
P.A.A Belgrade Chapter
P.A.A Ravalli County Chapter
P.A.A Victor Chapter
P.A.A Lincoln Chapter
P.P.A Lewistown Chapter
Names my change in the future, yet,
Detecting in Montana Parks!
There are 54 state parks in the state … While there are no specific laws governing the hobby in those parks at the best of my knowledge, but you should still enquire from the park office about the rules pertaining to detection activities in that particular park.
It is always better to enquire and find out so that you don't run into any trouble while using your machine.
Below some good parks that you should try your luck with:
Glacier National Park
Lewis & Clark Caverns
Missouri Headwaters
Makoshika
Giant Springs
Big Arm / Flathead Lake
Lost Creek
Hell Creek
Medicine Rocks
Pictograph Cave
Lake Elmo
Black Sandy
Thoughts on getting your permit
There are no specific regulations about needing a permit to detect in the state of Montana (at the best of my humble knowledge), but it is still better to have one with you to avoid getting in trouble with the law.
You can apply for a permit by printing out the form from the Parks and Recreation department website. Once you have filled up the form, you need to mail it to the local city office of the Parks and Recreation department.
Conclusion
Honestly, at the beginning I wasn't aware of this state as a potential good place for hobbyists … But, as I've made my research, it appeared to me that's actually the case …
… That's one of the reasons, I've chosen to put on this short post to share this info, so hopefully, I will save your time and make your detecting journey a little bit better …
… Hope that was helpful for you!
Finally, for more metal detecting information, I invite you to check this metal detection guide on one of my favorite states!