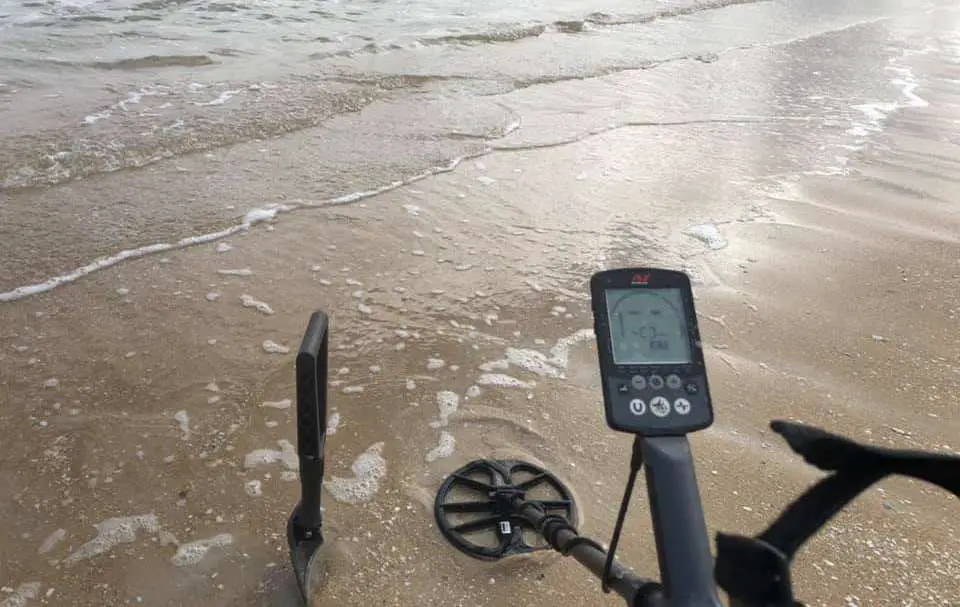 Virginia is, without a doubt, a great state for detection hobbyists who are looking for unique and valuable targets!
However, you should take the metal detecting regulation in the state pretty seriously, so you won't put yourself in a bad situation with authorities or the police …
… In this Mini-Guide, I talk about these topics:
The rules that you should respect in general
What locations you should go for there?
I recommend a good machine for the state type of soil
Some useful ideas on Gold Prospecting there
Relevant clubs that you can join
My thoughts on exploring the state beaches and state parks!
… As well as more helpful info!
What are the metal detecting laws in Virginia?
The hobby is fairly popular in Virginia, and the state is the home of many seasoned detectorists! Metal detecting in Virginia is governed by the Federal Archaeological Resources Preservation Act (ARPA) which prohibits any extractions and removal of artifacts from historical sites without prior government permission.
This law is essential, especially because the state is home to many Civil War battlefields, and these battlefields are popular for those who are looking for historical finds and treasure. Unfortunately, all battlefields in there are out of limits, as it is prohibited to detect anywhere in such locations unless you've got a license!
Due to the presence of so many battlefields, Virginia is also said to be one of the most difficult states to find places to detect in. Keep in mind that you can only detect in there once you have the required permit.
It is also allowed to use detectors on designated beaches unless otherwise specified!
On lands owned by the Bureau of Land Management, it is allowed to use a detection machine as long as you do not remove any artifacts! You need to report any artifacts you found during your detecting to the appropriate Field Office of the Bureau.
The state allows the use of detectors in the National Forests as long as you do not search in a place where known archaeological remains are present. It is also allowed to explore in certain State Parks unless it is specifically stated otherwise!
Where to go detecting in Virginia?
Remember that it is illegal to search on all of the Civil War battlefields located in there!
Nevertheless, there are still a lot of good sites that are present across the state that are perfect for hobbyists to visit. Some of these places are as follows:
Ghost towns of Yorktown
Grounds of the Wythe House
Grounds of the Ferry Plantation House
Union Level Ghost Town
Grounds around the Meade Pyramid, Fredericksburg
Natural Chimneys, Mount Solon
Ghost Town of Wash Woods
The Pocosin Mission Ruin, Shenandoah National Forest
The Great Channels of Virginia, Hayter's Gap
New Baltimore – it is believed that in the 18th century, a Scottish pirate hid his treasure somewhere in New Baltimore. It is said to contain $60,000 in gold and silver coins.
Culpeper County – It is believed that there is a treasure of more than $350,000 in gold and silver hidden somewhere between the Culpeper County towns of Norman and Culpeper.
Best metal detector for Virginia soil!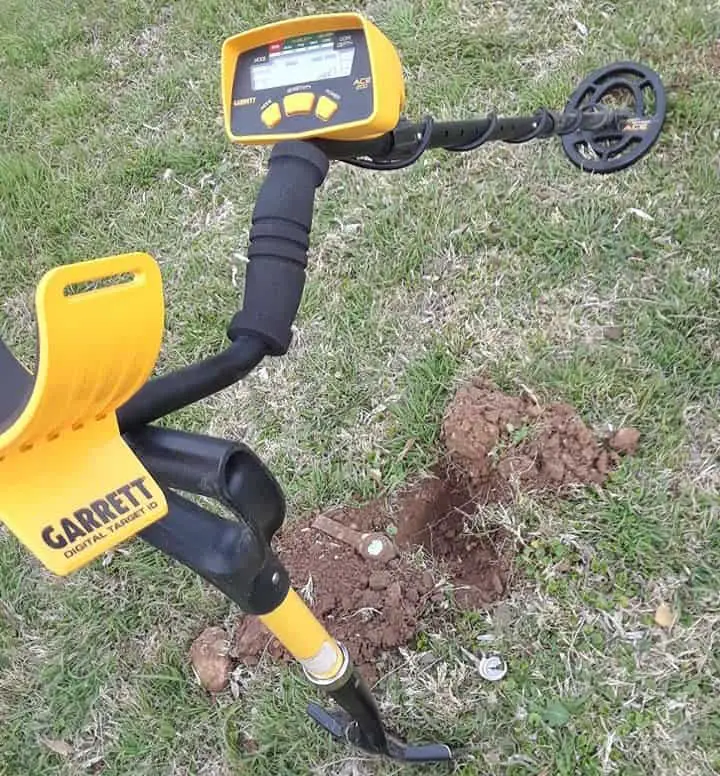 Virginia soils are extremely enriched by the river system that flows throughout the state. These rivers are known to carry soils throughout the state. That's why there is a deposit of rich soils in the lowlands of the state near the rivers.
Pamunkey soil is the official soil type of Virginia, and it is said to be one of the best soil in the United States, not just for agricultural purposes but also for metal detecting purposes.
One of the best detectors for such ground condition is the Garrett Ace 300 (Check it Right Here at Amazon!). This is a lightweight device that is great for beginners and also for those who are experienced. The device has botch discrimination, 5 search modes, and a lot of other features.
The Ace 300 is a VLF detector that has an operating frequency of 6.5 kHz. This frequency makes it perfect for finding coins, relics, and jewelry hunting. Since coins and relics are some of the most common finds in Virginia, this detector comes in handy for detectorists hunting in the state.
One of the drawbacks of the Garrett device, though, is that it is not too good for gold prospecting and is not able to handle highly mineralized soils. However, it works great in the soil of Virginia, which is not mineralized, and neither is there too much of gold to be found in the state.
Finally, if you are willing to invest in a much more established machine, then you can Check My favorite Detector Here at Amazon! It is a technologically advanced Minelab Model …
Beach detecting in Virginia …
There are no specific laws regarding the hobby on the beach. In fact, many detectorists have, in the past, called up the Virginia Beach City Office to find out the rules of using a detector on the beach.
At the best of my knowledge everyone is free to detect on the beaches of Virginia. Some of the popular beaches that you can explore there include:
Bethel Beach in Mathews County
Chesapeake Beach in Chesapeake City
Westmoreland State Park in Westmoreland County
Colonial Beach in Westmoreland County
Cape Charles Beach in the Chesapeake Bay
Croatan Beach in Virginia Beach (a smaller beach on the Virginia Beach boardwalk)
Chincoteague Beach on the Chincoteague Island
First Landing State Park at Cape Henry
Buckroe Beach also at the Chesapeake Bay
Virginia Beach
Ocean View Beach in Norfolk
North End Beach at the Virginia Beach
Assateague Island National Seashore in Chincoteague
Detecting in Virginia state parks
Metal detectors may be used only on designated manmade beaches and only with a DCR special use permit. Such a permit may be obtained from the park's manager.
Other rules and regulations can be found here:
https://www.dcr.virginia.gov/state-parks/rules-and-regulations
The areas that are off bounds for detection are generally clearly marked out with signs.
Some of the popular state parks in Virginia include:
First Landing
Hungry Mother
Natural Tunnel State Park
Twin Lakes State Park
Sky Meadows
Staunton River State Park
Douthat
Shenandoah River State Park
Kiptopeke
Caledon
Fairy Stone
Occoneechee
Belle Isle State Park
Pocahontas State Park
Gold Prospecting in Virginia …
There is not much gold present in this state, and it is scattered throughout the state! It is possible to pick up some amounts of gold with you beloved machine though…
… While gold flakes are not commonly found in Virginia, but there are many stories about hundreds of thousands of dollars' worth of gold and silver in buried treasure.
You can examine the rivers, lakes, and fields in the state for gold and other valuable treasure. Remember that it is prohibited to hunt on any of the Civil War sites in the state. Some of the best locations for gold prospecting in there are discussed below:
Shenandoah River: This River has been a site of many gold mining operations in the state and many detectorists have been lucky to find small amounts of gold along the banks of the Shenandoah River. Other detectorists have found valuable jewelry as well along the river banks.
New Baltimore: This is another place that is surrounded by tales of a buried treasure. The Scottish pirate William Kirk is said to have buried gold and silver coins worth $60,000 here, but the exact location is not known. Around 100 years after the death of Kirk, a huge amount of gold and silver coins were discovered at Snow Hill Farm, which was his former home. It is believed that additional gold and silver coins are still scattered throughout New Baltimore.
Here are some other places where you can look for gold in Virginia:
Annandale
Charlottesville
Clarksville
Culpepper
Dale City
Farmville
Floyd
Fredericksburg
Lake Anna
Philpot Lake
Quantico
Thornburg
Warrenton
For more solid info about this topic, I encourage you to check this Gold Detection Article! I've spent days to put it together so you will able to increase your chances to find this valuable metal.
Most common finds in this state …
Silver coins are some of the most common finds that have been found!
Many pirate treasures are also supposedly buried all over Virginia. The Shenandoah treasure, The Captain John Mosbey treasure, Hog Island bay treasure, and Cape Henry treasure are just some of the pirate treasures that are said to be buried in there.
In 2017, a group of boy scouts found buried treasure while they were helping renovate a small roadside park. They had unearthed a huge wooden box filled with coins, trinkets, and jewelry.
Are there detecting clubs there?
The hobby is popular in Virginia, and due to this, there are many clubs present in the state. Some of the main clubs include:
Central Virginia Historical Recovery
Hanover Metal Detectors Club LLC
P.A.A Gold Prospecting the East Coast
Hanover Metal Detectors Club LLC
Northern Virginia Relic Hunters Association
Hampton Roads Recovery Society
Central Virginia Relic Hunter's Association
Roanoke Coin & Relic Club
Virginia Historical Preservation Society and Metal Detecting Club
Rapidan River Relic Hunters Association
Tidewater Coin & Relic Club
Valley Coin & Relic Club
Springfield Detector's Club
Northern Virginia Mineral Club
The Gem and Mineral Society of Lynchburg
Gem and Mineral Society of the Virginia Peninsula
Richmond Gem and Mineral Society
Tidewater Gem and Mineral Society
Shenandoah Valley Gem and Mineral Society
Each club has its own rules and regulations regarding the induction of new members. Many clubs also organize group outdoor activities.
Some of them also allow you to participate in these activities even if you are not a member. It is best to follow up with one of these clubs yourself regarding their specific rules.
Are there equipment stores there?
Some of popular detection stores in Virginia include:
Cold Harbor Metal Detectors and Civil War Shop
Blue & Gray Detectors
Delta Precision Metal Detection and Recovery
Aldridge Metal Detector Sales
Belt Tech Inc.
Are there metal detecting events in Virginia?
For example, the Hanover MD Club is known to organize many group activities that involve searching at well-known locations in the state.
The event draws many people since it is open to non-members as well. The Club also organizes hunts (after getting the required permits) on Civil War sites located in Central Virginia and also hosts a barbecue lunch for all participants.
The Northern Virginia Relic Hunters Association, which is known to be the oldest relic hunting club in the US, also organizes such hunting events.
The Association also promotes the study and preservation of the American Civil War through the identification and preservation of historical artifacts.
Other clubs in the state also organize such types of events from time to time.
Detecting in Virginia rivers …
There are four major river systems in the state that flow into the Chesapeake Bay and then onwards to the Atlantic Ocean.
Almost all the rivers in there are known to be good sites for detection activities. Many valuables have been found along the river banks. Some of the rivers you can consider for are as follows:
Potomac-Shenandoah River
Rappahannock River
York River
James River
Roanoke River
Chowan River
New River
Tennessee River (Learn

where to metal detect in Tennessee

)
Big Sandy River
For more info about this aspect of the hobby, I've written this River Detection Guide! You will certainly learn a lot there.
Conclusion
Hopefully, I've got you excited to visit the state and try exploring it using your beloved device! At the end of the day, exploring new places is the best way to come up with the best and most unusual finds …
… I am sure that you will come up with exciting stuff!
For other states, you can have a look at this article on where to metal detect in South Dakota!