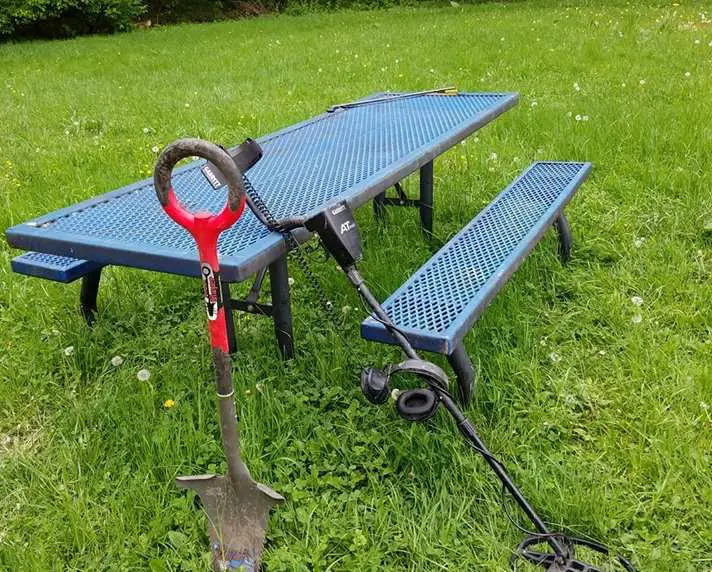 Tennessee, a beautiful state known for its rich culture, is also a very decent place for metal detecting hobbyists who are starving for finding valuable targets!
Nevertheless, it is extremely important to be aware and to respect the rules from top to bottom so you will always be in a safe spot from any unnecessary trouble …
… In this Article, I address these different points:
The detection laws in the state
Where to go detecting in Tennessee?
I suggest a good detector for the state type of ground
A little taste on Gold Prospecting there
Relevant clubs to join
… As well as more helpful info!
What are the metal detecting laws in Tennessee?
The laws about this hobby are quite different in Tennessee than the rest of the US states, as almost the activity is banned except with a permit!
The primary law you should know about is the Antiquities Law of 1906. Indeed, according to this law, digging up any 'artifact' (any item older than 100 years) is a crime and can lead to arrest…
…While this law is seldom implemented, it is still there and can be used against you if you are unlucky. Detection activities on the lands owned by State requires a permit, which pretty much means that any digging you might do in Tennessee requires a prior permit!
The laws in Tennessee prohibit any destruction or disfigurement of even natural property, so that explains why digging without a permit is considered a crime.
On the state beaches and state parks, getting a permit is even more crucial. Keep in mind that while there are laws against digging, there are no laws specifically against metal detecting. All it means that you can use your detectors for hunting for treasures; you just can't dig up to recover it without a permit.
Where to go detecting in Tennessee?
Before delving into details of locations, let's think about the general places which have the highest chances of yielding something valuable!
As far as gold is considered, old creeks near abandoned mines are excellent spots, as well as streams and their surrounding areas. The areas around Coker Creek and Tellico Plains could be great for gold enthusiasts.
Streams and rivers are known to yield a variety of valuable relics, both precious and historical. The area around Tellico and Hiwassee rivers might be great spots to go hunting.
Beaches are also great places to hunt for personal items. You run a chance of finding fairly new items, so that exempts you from the 'artifact' law. All you need is a permit, and you get a vast area with great potential for relics.
Historical places have always been a hotspot for searching ancient relics. Tennessee too has no shortage of such sites, but the law often stops people from looking for historical treasures. However, making a good case in front of the state authorities might allow you to keep your treasure after all.
Lastly, some great hunting spots might fall under the private properties of others. However, make sure you come to an understanding of the ownership of the find with the property owner before actually starting.
A Good Detector Recommendation for Tennessee Soil!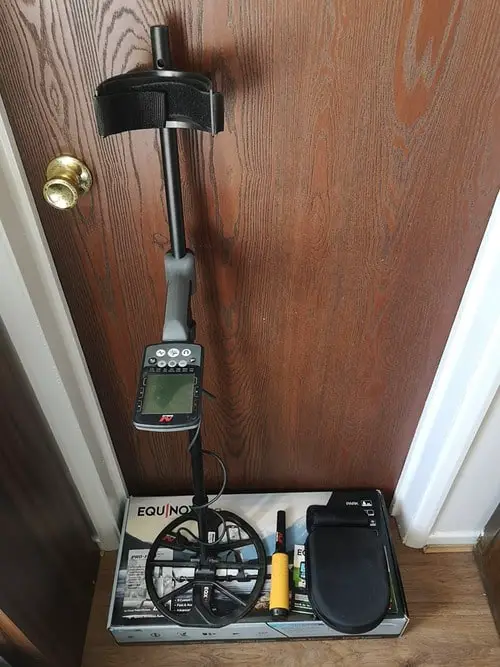 The soil in Tennessee is pretty varied. Some places like Chattanooga have very high mineralization, while others have relatively low. In general, the soil is dark and very soft. This makes digging quite easy. On average, most items are buried around 8-inches below the ground, so average detection capabilities are enough to find out the relics. The soil often gets frozen during winters, so that is generally a time to avoid for any kind of metal detecting.
All things considered, the Fisher f44 (Check it Right Here at Amazon!) is certainly one of the best metal detectors you can hope to use in there or any other similar place!
This machine is weatherproof and comes with a 5-year guarantee, which puts an enormous chip on its shoulder as far as durability goes. It has a fast processing speed, signaling targets immediately as they are detected. It is very light and easy to use.
The Fisher f44 also comes with digital target ID and iron audio. Though there is no adjustable ground balance in it, but it is only a minor drawback.
Finally, if you are willing to spend more on a much established model, then I highly recommend that you Check My Favorite Detector Here at Amazon! It is a Minelab Model with the multi-IQ Technology …
Searching for Gold in Tennessee…
For people looking for gold in Tennessee, the prospects are frankly bright. The State saw a mini gold rush in the early 19th century until it was soon found that there wasn't enough gold to be commercially viable.
But the loss of companies could be the gain of gold hunters. While it was confirmed that the State has some gold underneath, the short-lived interest ensured that many places were not fully scanned for their underground potential.
The creeks of potential and former mines serve as the best spots to look for gold. Alternatively, streams are also a great place to look for gold nuggets.
Some places you should definitely go hunting are the streams in Blount County, surrounding areas of Polk County, the creeks in Monroe County, and the area between Tellico and Hiwassee rivers. Many collectors have found gold in these locations, so the prospects are bright.
If you plan to only look for gold, you must bring an exclusive gold metal detector (Check this Gold Detector Here at Amazon!). Also, keep in mind the various regulations related to gold-digging. Keep in mind that there is a ban on dredging in most of Tennessee.
For more info about this aspect of the hobby, I invite you to have a look at this Gold detection and Prospection Post! You will certainly learn a ton of solid info!
What other finds should you expect there?
Even apart from the gold prospects, Tennessee stands to offer a lot more to collectors!
However, its Antiquities law and ARPA stand in the way. Since many historical relics can be older than a century, it makes ownership a topic of congestion. Nevertheless, that should not discourage you!
As mentioned earlier, too, the final say in the matter is of the state authorities. If the relic is not particularly rare and/or essential for national history, they might allow you to keep it. Not to mention, you can always find treasures which are not older than a century. This means you can find relics of the Second World War and Cold War era and keep it with you without a worry. Old historical places like war locations and monuments can be the best spot to find such items.
However, many collectors don't plan to search for historical relics at all, but actually more recent ones.
These include personal items dropped by people like jewelry, watches and other personal accessories of metal. Beaches could be a hotspot for such items, given the vast crowd of tourists they see every day. Lakes and streams can also be great places to look for recent possessions.
Detecting in Tennessee Lakes and Rivers!
It is common knowledge among detection enthusiasts that lakes and rivers could be a goldmine (pun intended) for valuable treasures!
Rivers, especially downstream, tend to carry a lot of materials with them over long distances. Many of these items settle on the riverbed on the way.
While most of these materials are pebbles and silt, sometimes valuable stuff could also be found. Gold nuggets have been historically found in riversides, so it makes up for an exciting location. While Tennessee boasts of the mighty Mississippi river (Learn about where to metal detect in Mississippi), it is unlikely that the massive river would allow you to find anything. Smaller rivers, on the other hand, could be exciting spots.
Hiwassee, Duck, Elk, and Tellico are some of the rivers you might want to watch out.
Lakes are stationary, so they don't have a fat chance of yielding gold nuggets. But they can serve as great reservoirs of human relics over the years, like coins, rings, watches, and other stuff. The State of Tennessee allows metal detecting in all lakes, both living and dried. Thus, you should hope to find something great at these lakes.
Keep in mind that if you aim to hunt in lakes and rivers, taking along gears and detectors which are water-proof would be wise.
I've written 2 in-depth articles that you should check to expand your knowledge about this aspect:
Check the out!
Are there detection clubs in there?
Despite the strict restrictions and regulations in this state, there are a considerable number of metal detecting clubs!
In almost all major cities of the State, you could find a related club for the enthusiasts. In all cities except Chattanooga, there is only one club per city. The major cities that boast of a detection club include Nashville, Ellendale, Knoxville, and Memphis.
The Middle Tennessee MD Club in Nashville is perhaps the most famous club in the State. These clubs usually consist of experienced hunters who can guide new members through the regulations and best spots.
Detecting in Tennessee Parks!
Like all other national and state parks in the United States, the hobby in state parks is also prohibited!
However, you can try to convince the authorities into giving you a permit. It must be kept in mind that the primary purpose of the prohibiting laws was to conserve the natural and historical aspect of the region.
So, all you need to search for is an area which is sufficiently devoid of vegetation and ancient structures. Most park rangers would have no issue in assigning permits for such. As responsible collectors, you must try to disturb the surroundings as little as possible.
Getting your detecting permit …
The State of Tennessee allows the use of metal detectors only for the search of personal lost items, so it is evident that you would need a permit for any kind of treasure hunting.
Almost all state-owned land, including beaches, requires explicit consent before you hope to begin the hunt!
Even then, the Antiquities Law takes precedence, stopping you from possessing any artifice that is more than 100 years old.
Keep in mind that this is applicable only for artifacts, not on gold nuggets. Digging up in local towns and villages require a permit from their local authorities. Digging in private properties requires permission from the property owners alone.
Conclusion
I really hope that I've contributed you become excited about trying your beloved machine in this state! Keep in mind that when you explore places you are not used to explore, chances are, you will come up with even more valuable finds …
… I am sure that you will be able to do so in Tennessee as soon as you get there!
So, enjoy the ride!
Finally, for more places to check, have a look at this guide to metal detect in Oklahoma!