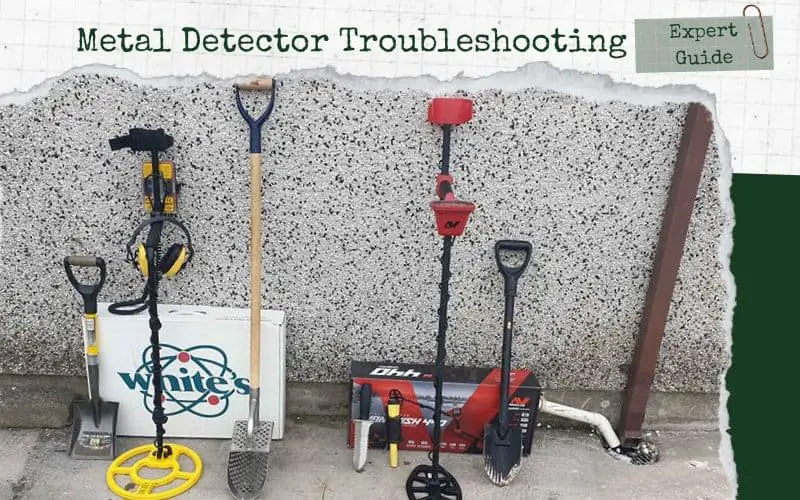 Metal detecting is an enjoyable hobby, as long as your beloved metal detector is operating well. However, once it starts presenting some issues, thing might start to get frustrating …
In this comprehensive guide, I cover the most common metal detector issues and how you can troubleshoot/solve them effectively.
Hopefully, you'll find that useful …
Key Takeaways

Regular maintenance and proper care are the number 1 factor to extend your metal detector lifespan and maintain its performance.
Factors such as soil mineralization, electromagnetic interferences, weather conditions … can impact the detection performance. You should adjust your settings accordingly.
In most cases, adjusting sensitivity, ground balance and discrimination is enough to troubleshoot common issues such as false signals, erratic behavior as well as ground balancing problems.
Metal Detector Common issues
1. False signals
When your metal detector keeps producing signals without resulting in actual targets, then you are likely dealing with a false signal problem. Below are the main causes …
Highly mineralized soil.
Too many electronic interferences.
Very high sensitivity settings.
The easiest way to troubleshoot such an issue is by reducing sensitivity to maximum and then keep shifting the frequency (if your metal detector allows that) for the same sensitivity level … Then you can keep increasing frequency little by little.
You can burry a coin or a ring to test the results until you get a feel that your machine's signals are back to normal.
If you are dealing with a trashy environment, then there are some metal detector models (Check This Quality Example) that offer iron discrimination feature. This will immediately remove those unwanted signals.
2. Erratic behavior
This happens when you start noticing unstable or inconsistent readings. You will notice that your VDI indicator is reporting different numbers for the same target area …
This is generally cause by:
Start by immediately checking your batteries energy levels. Try to replace them with new ones just to make sure that the batteries are not the source of the issue.
If not, make sure you are not swinging over or close to cell phones, power lines or other metal detectors. Sometimes, this could be caused by your boots if they've got metallic parts on them (Check out these metal detection friendly shoes)
Make sure your metal detector mode is adapted for the place you are searching. For example, the Equinox 800 (Check it Here at Amazon) has 4 different modes (Parks, fields, beach and Gold).
3. Low sensitivity
I personally hate this issue, because this causes missing many valuable targets even if they are not very deep underneath the ground.
Start by having a double check on your sensitivity setting and make sure that your depth indicator is working as normal.
A quick fix for such a problem is generally by switching your current coil by a larger one. This will significantly improve your detection depth.
4. Ground balance issues
If you are not familiar with this concept, then you can have a look at this helpful explanation of metal detector ground balance.
Below are the main effects of improper ground balancing:
False signals: This might happen by alerting you of nonexistent targets.
Reduced depth: Ground balance issues can significantly decrease your detector's abilities to detect targets at normal depths.
Inaccurate target identification: If your metal detector's not properly ground balanced, you might start noticing incorrect target identification which is completely different from what you are used to.
Below couple tips to troubleshoot that:
Perform ground balancing regularly following the manufacturer's recommended guidelines. If your machine offers different ground balancing types, then you might execute either one of them (manual mode or automatic mode). This should reduce conductive soil impact on your machine.
Reduce your machine's sensitivity as this can (in many cases) help minimize the impact of conductive particles on your machine.
Try a different search coil. Indeed, some search coils are designed to handle mineralized soils better than others. You can learn about the best coil size you should use.
5. Overload signals
This usually happens when a large target or a very close one overwhelms the detector's coil …
To help correct that, just try to move your coil away from the target and start reducing sensitivity quite a bit.
6. Inaccurate target identification
I personally hate it when this happens. Indeed, inaccurate target identification (VDI) either makes you miss a lot of valuable targets opportunities or keeps you digging for worthless targets …
This usually comes from poor ground balancing, very low sensitivity and even (in some cases) incorrect discrimination settings.
You can perform an air test so you can fine-tune discrimination and sensitivity levels.
7. Coil issues
Make sure your search coil is not damaged or malfunctioning. Otherwise, this would (in most cases) cause erratic behavior, false signals and decreased ability to detect deeper.
In such a case, I highly recommend replacing your coil with a new one!
8. Faint or no audio
This is not a very common issue, however when it happens, it usually does because of low battery levels, faulty headphones or incorrect audio settings.
Most Modern metal detectors offer a volume adjustment setting that you can play with to help correct the issue.
9. Unresponsive buttons or controls
This kind of issues usually happens after years of usage. In fact, it is mainly caused by dirt, moisture or just buttons damage.
The easiest way to help fix that is by cleaning your machine's control box & buttons with a soft cloth.
Otherwise, it would be wise to seek a Pro service for assistance & support.
Regular maintenance and care for your metal detector
A clever way to avoid having those issues in the first place is to adopt a regular maintenance & care for your beloved metal detector!
This is also essential to ensure your machine's longevity & optimal performance. Below are couple of tips …
Clean after use: After each hunt, don't be too lazy to not clean your machine. It won't take you more than 2 minutes to remove dirt and debris from the coil, shaft and control box. You can use a soft brush for that, or you can use a damp cloth (just avoid soaking its components)
Protect your search coil: There are several methods to do so, however, the one I recommend is by using a coil cover. This will protect from eventual scratches, dings and wear. Make sure to inspect your coil once in a while for any potential damage. Replace it when necessary.
Check connections: Connections like search coil cable and control box attachment might get loose overtime. periodically inspect those and tighten them if necessary.
Battery care: When they're not in use, it is highly recommended to remove them. This will help prevent corrosion. Also, don't wait until they are 100% dead before replacing. Rechargeable batteries are usually a better option.
Proper storage: Follow these guidelines to properly store your metal detector.
Avoid shocks: Avoid dropping or bumping your machine against hard surfaces. This might lead to unrepairable damage.
Protection against moisture: Even if your metal detector is advertised as being waterproof, keep in mind that not all components are. Never submerge your machine unless it is designed to detect underwater. Example: Minelab Excalibur.
Manufacturer's guidelines: This is by far the most common mistake that hobbyists make. They don't read the manufacturer guideline. Well, this article gives you general guidelines that could be used for most metal detectors, however, the user guide will give you very specific instructions that will keep you using your machine for so many years to come without any issues whatsoever.
Update your machine: Modern machines operating on a software (like XP Deus, Minelab Equinox series …) should be updated once a while. Manufacturer usually release a software new version on their official website that should make your machine operate much better. However, I don't recommend using it once it is released. It is better to wait couple of weeks until you get other users' feedback before committing to the new version.
When to seek professional help or consider an upgrade?
Sometimes, you have no choice but seek for professional help to fix your machine's issue. Below are couple of cases on when you should do so:
Persistent technical issues: Most manufacturer's user guidelines will offer some kinds of SOPs that you can execute yourself to correct issues like erratic behavior, false signals and unresponsive controls. However, if you are not able to fix that following those guidelines, then you probably should check with a Pro as this could be triggered by much deeper causes.
Wear & Tear: It is normal to notice that over time and after so many usages. However, this would definitely lead to decreased performances. If your coil or control box starts showing those signs, then you might check with a pro or even consider upgrading your machine.
Compatibility issues: If you notice that new accessories like coils, headphones are not compatible anymore with your machine, then you might consider upgrading it.
Specialized detecting: As a detectorist, you will gain more experience overtime. Consequently, you will definitely develop specific interests like gold prospecting and underwater detection. Chances are, your current machine can't accommodate with such needs. If so, you might opt for gold detectors or underwater machines to help you for those new interests.
Warrant expiration: If you start experiencing many recurrent problems that require professional repair. Then the cost of upgrading to a newer model might be much more appealing than just repairing it.
All in all, seek for Pro help when you've exhausted all troubleshooting options and consider upgrading if your current model seems to be lacking features or no longer meets your new specialized detecting needs.
Final Thoughts …
Troubleshooting your detector shouldn't be an intimidating task. Most issues are easier to fix than you think. Just double check the content of this article (bookmark it for future needs) and have a look at your machine's user guide when necessary …
Regular maintenance is key to avoid those common issues from happening in the first place.