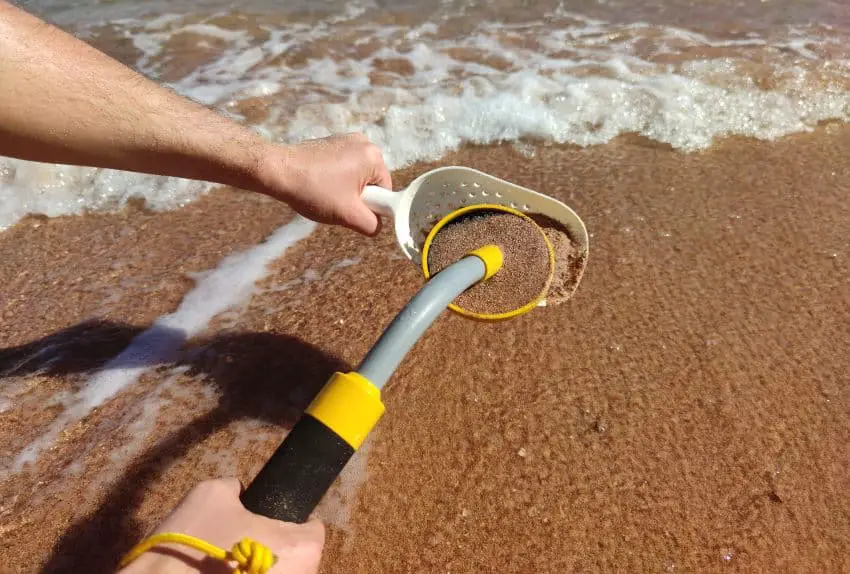 The other day, I've noticed that some people prefer to use small metal detectors which is totally fine. However, choosing the right small sized machine could be a little bit challenging …
… In this Post, I help you make your choice!
1. Bounty Hunter Junior
This junior detector (Check it Here on Amazon) is adapted for both amateurs and children who have an interest in treasure hunting.
It is affordable and offers a wide range of services with many advanced features – all packed into a small body:
Weight: 1.5 lbs.
Length: 20.5 inches to 31.5 inches
Coil size: 6.5 inches weather-resistant search coil
Folds down to fit the size of a child easily.
Sturdy built.
Has a simple display that indicates target information so that the child becomes aware whenever they are near metal.
There are only two knobs for easy control.
No need for separate headphones as it has a great external speaker.
Comes with a discrimination control that allows a child to avoid iron and other trash items they don't want to detect.
Can detect coins up to five inches deep.
The search coil is 6.5 inches and weather-resistant, but it is not waterproof, so remember not to detect near the water with this detector.
This is a compact and lightweight metal detector that is perfect for kids and newbies.
2. Garrett Pro Pointer AT
The Garrett Pro Pointer AT (Check it Here on Amazon) is one of the most popular detecing accessories from the Garrett House.
This fully submersible, all-terrain, hand-help pinpointer will help you hone in your target accurately.
One of the best-known features of this model is that it can be submerged in up to ten feet of water. This makes it ideal for those who want to metal detect while scuba diving.
It also includes a 'lost alarm' that alerts you if the device has been unused for five minutes. This has proved to be an invaluable feature that helps you find the device if it gets lost in the field.
Furthermore, the bright orange color also makes it easy to find.
It fast a re-tune feature that comes in handy when you are searching in mineralized ground.
It also comes with a 360-degree detection area, sensitivity controls, vibration, and an LED light to ensure that you don't miss anything important.
This is a must-have accessory for any detectorist who wants to save time and effort while out detecting.
3. Minelab Pro-Find 35
The Minelab Pro-Find 35 (Check it Here on Amazon) is a professional, all-purpose pinpointer that can be submerged up to ten feet of water. Here are the main features of this compact and lightweight device:
Has a bright yellow color that makes it highly visible
Has ferrous tone ID to identify trash
Comes with a 'lost-alarm.'
Audio and vibration indication
Able to go 30 hours of battery life
Has an adjustable sensitivity
Comes with a built-in flashlight
The device uses 9-volt PP3 battery
The sensitivity adjustment has five levels
This compact device comes in very handy when you are out detecting under challenging locations.
4. Nokta Pointer
With a compact and sleek design, it is easy to take the Nokta Pointer (Check it Here on Amazon) anywhere with you when you go out hunting for treasure.
Here are the features of this small and handy pinpointer:
Fully waterproof

and can be used both on land and underwater with equal ease.
Has an auto shut-off and a lost alarm. After five minutes of inactivity, the pinpointer will give out an audible alarm, and an LED will start flashing. After five minutes of the alarm ringing, the device will automatically shut off to save battery.
It has a 360-degree detection tip, which allows you to locate your target faster and more efficiently in any hole. You can also flip it horizontally to scan a bigger area.
Comes with separate sensitivity control, and the +/- buttons can be used to adjust the sensitivity to achieve the best performance in any type of environment.
It has coil interference blocking. This means that when the device is off, the coil's magnetic transmission will be disconnected. This prevents any possibility of interference from other metal detectors and also prevents your pinpointer from being detected as a potential target.
Has a LED light that allows you to easily find your target at night and in dark places.
This one could really be used at a professional level!
5. Wedigout Metal Detector 100Feet
Are you looking for a solid asset to detect deep down underwater without using a big machine. Then this small detector (Check it Here on Amazon) is a really a highly recommended model!
Here are the main features of the Wedigout:
Fully and operates on pulse induction technology that allows you to hunt for metal underwater, on land, and in any type of soil, including black sand.
Can function well under almost 100 feet of water, which makes it one of the best pinpointers if you want to go scuba hunting.
Has high sensitivity and also comes with depth detection stability. It has automatic tuning and advanced microprocessor controlled design.
The device has a rugged sealed construction and stainless steel hardware, which makes it very strong and built to last.
Also has a built-in low battery sensor.
6. GER DETECT Easy Way 3D System Metal Detector
The GER DETECT Easy Way 3D System (Check it Here on Amazon) is a professional deep seeking detector that can be used to find gold, silver, jewelry, coins, and many other interesting items.
This metal detector has been made explicitly in a compact size, but it is highly effective and with high accuracy to find any valuable target.
Here are the technical features of this small, but efficient, metal detector:
Functions on a 12-volt battery.
Capable of running for six hours continuously
Comes with an analytical imaging program
The central unit of the detector contains the control panel and processor
Has an antenna transmitter
It has a tablet feature that includes all the programs installed for your detecting.
Final Thoughts …
Hope these suggestions of small detectors have served you well and helped you get a clear idea on what you are looking for …
… Finally, for more tools I really encourage you to check this complete list of detecting gear! You will learn a lot.