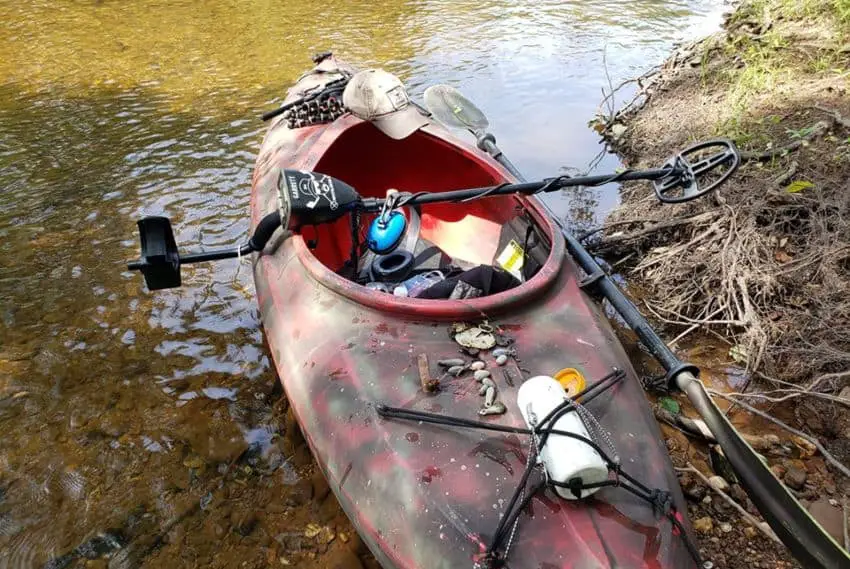 Under Water Metal Detecting is an amazing aspect of the hobby that you really should try! Believe me, the most valuable finds you can come up with are underwater …
… For such a purpose, you will certainly need a high performing underwater metal detector! That's actually why I've put this Post together …
… I breakdown 6 Models that I consider to be the Best detection models currently!
So before further ado, let's dive it.
Best Underwater Metal Detectors
1. Garrett AT Pro (Great for Beginners)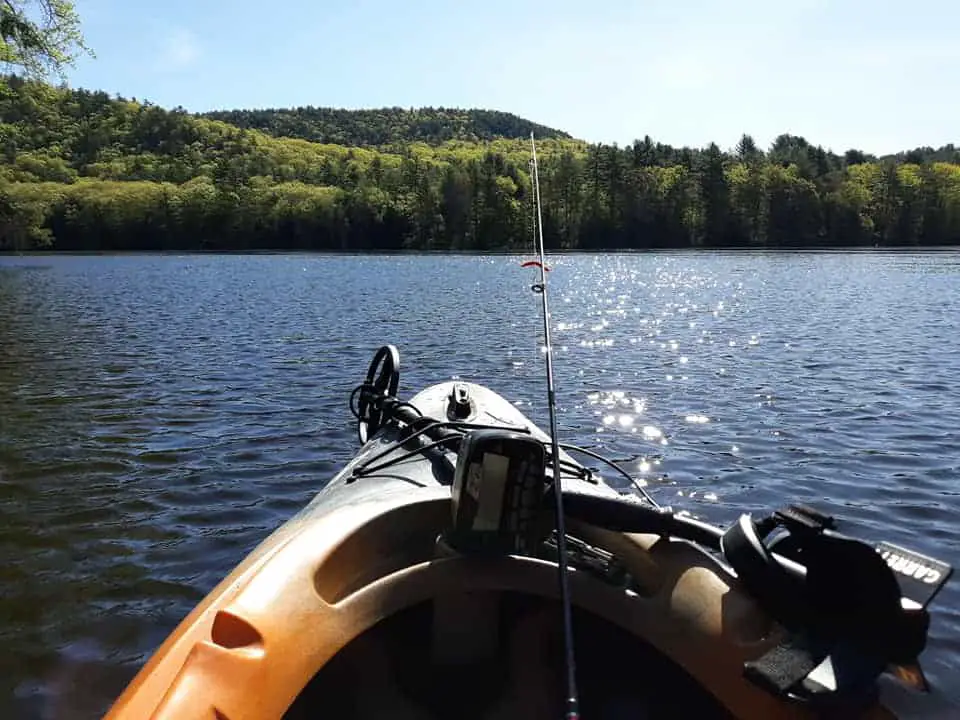 The Garrett AT Pro (Check it Here on Amazon) is one of the most famous detectors in the world period! It is part of Garrett's AT series, which stands for All-Terrain.
Some of the main features of this model include:
Notch discrimination
Iron audio
Manual and automatic ground balance
Pinpointing mode
Numerical target ID
Runs on four AA batteries (rechargeable batteries can also be used)
Has a padded armrest for extra comfort
Best at hunting relics, coins, and jewelry
Due to 15 kHz operating frequency, it can also decently find gold nuggets
Comes with an 8.5″ x 11″ DD PROformance coil
A lightweight machine weighing only 3.0.3 lbs
Most hobbyists use this model on land, however, the Garrett AT Pro operate just fine underwater. In fact, it is fully submersible to a depth of 10 feet. It is perfect for searching in shallow waters such as rivers, creeks, lakes, and even the sea or ocean.
Also, most detection machines only have a waterproof coil, but in this case entire detector is fully submersible with no issues.
Nevertheless, keep in mind that it is not suitable for deep-sea diving detecting. For this, you will need to get a detector with a higher depth rating that can be used in scuba diving and hunting on shipwrecks.
Also, note that the AT Pro does not come with waterproof headphones. You will need to get a pair (Check these Waterproof Detection Headphones)
2. Minelab Excalibur 2 (Great for Treasure Hunting)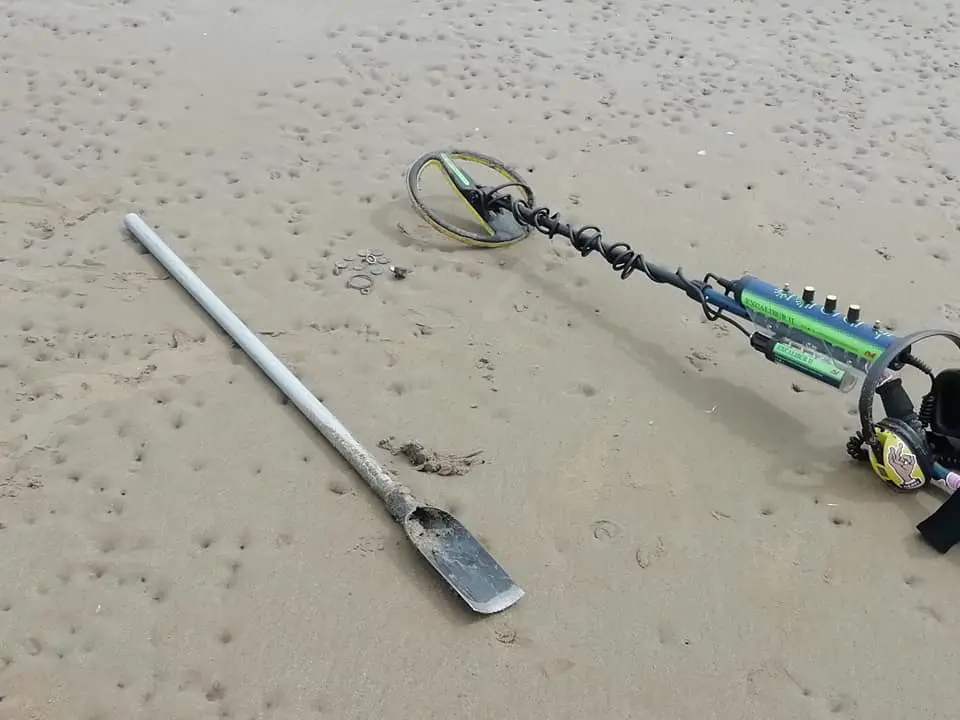 The Minelab Excalibur II (Check it Here on Amazon) is a solid underwater detection device that you can even use to hunt for treasure!
This detector has built an excellent reputation for itself over the years, and it comes with a unique set of features and technical specifications that allows it to be super capable!
Here are some of the major features that you should keep in mind:
It brings the BBS multi-frequency technology that allows it to operate on 17 different frequencies ranging from 5 kHz to 25.5 kHz.
The device is fully waterproof surprise surprise!
It can be operated at a depth of up to 196 feet
Highly reliable for finding small coins, jewelry, and other bigger items even at the maximum depth
Discrimination level allows you to sort out targets made of ferrous metals, and also separate out any metallic trash even underwater and at depth.
The device comes with smart ground balancing which helps avoid any distortion of signal due to ground mineralization. Also filters out any fake signals due to salty water.
Below, other features only related to underwater search:
Amplification of weak signals inside the coil
Lithium-ion rechargeable battery packs give this detector a runtime of 12 hours, and the detector continues to operate exceptionally well even if the battery is low
The fluorescent design, bodywork on the shaft, and the skid plate of the detector are made to be highly visible so that you don't lose sight of the device even you let it go in murky waters.
It comes with additional accessories that include a side mount shaft convenient for shallow and surf wading
The coil in the kit is manufactured in a manner in which the device's weight is reduced
Finally, for underwater treasure hunting, this model is without a doubt a huge asset!
BTW, you can check my favorite Minelab metal detectors!
3. Minelab CTX 3030 (High Discriminating Capabilities)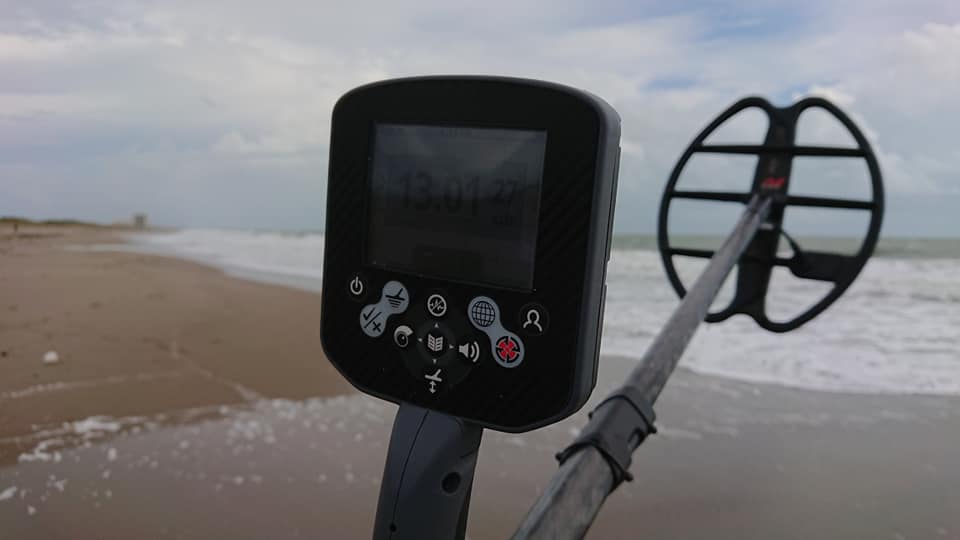 This VLF multi-frequency detector (Check it Here on Amazon) is well known for its underwater prowess. This advanced device comes with all the advantages and features that you need!
I wouldn't recommend using this model is you are a straight beginner. Indeed, it has a learning curve you need to go through …
… Let me list below the key features of the CTX 3030:
This machine is a little bit heavy as it weighs 5.2 lbs
The control box is placed higher on the shaft which ensures an excellent overall balance of the device
Comes with an 11 inch DD search coil
It has Minelab's built-in FBS technology that combines multiple frequencies.
Comes with give preset search modes including coins, beaches, high trash, silver, and relics
Has a built-it GPS that allow you to memorize places where you've your best targets to come back to them later.
If you love technology and challenges that come with it, then I would definitely recommend this model!
4. Garrett ATX (Effective for Raw Gold)

The Garrett ATX (Check it Here on Amazon) is a professional-grade model that operates on pulse induction technology.
It brings to the table some advanced features like:
13 sensitivity level setting
25 discrimination modes
Fully waterproof and can be submerged up to a depth of 10 feet or 3 meters
It has a superior ground balance system allowing you to use the detector from highly mineralized ground to saltwater, without needing to change to any special modes or even change coils
Comes with both motion and non-motion modes
Comes with a 12 inches DD search coil
It has a mono deep seeker search coil 20 inches wide
It comes with a separate travel case and is also topped with a hard case made according to military-grade standards
It is powered by rechargeable AA alkaline batteries
Not only could it be used as an underwater detection tool, but also great for gold nuggets prospecting.
5. Garrett Sea Hunter Mark 2 (Great for Deep Dives)
This is one of the rare pulse induction detectors (Check it Here on Amazon) on this list. This is a professional rank beach and underwater detector that can operate on 22 different frequencies.
The main features of this model include:
3-part shaft
Has a microprocessor operation system
Comes with advanced discrimination
Operates on pulse induction technology
Has 3 search modes
You can dive safely with this machine, even in deep-sea locations since the device can be mounted, making it easy to use and hard to lose.
It works perfectly in both fresh or saltwater, and it is ideal for hunting on the beach, snorkeling, or diving. The machine also comes with underwater headphones.
It is also effectively able to filter out trash from detection and has little to no effect on targets with a similar conductivity. It also has an advanced discrimination mode, in addition to the standard one, allowing it to differentiate between various targets.
How to use an underwater metal detector properly?
It is important to know the exact depth at which you will be searching since each detector comes with its own depth rating.
While some detectors are waterproof from 10 to 25 feet of water, others can be submerged up to 250 feet!
So, your choice will depend on the environment where you are going detect!
Other than that, I highly invite you to check these underwater detecting tips! This will give you a blueprint on how to approach that.
What is the Right underwater detector for Gold?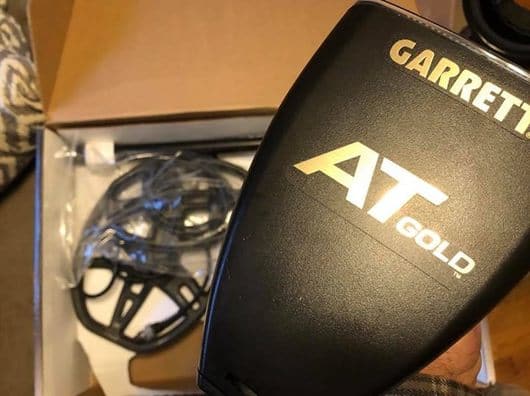 Until recently, there were not many good options for gold nugget hunting underwater. With the advent of new technologies in recent years, the design of these machines has significantly improved in the last years to now allow the detection of gold nuggets underwater.
There are 3 models I would definitely recommend for that:
How to Choose an Underwater Detector?
There are 2 types of such machines available on the market!
The pulse induction detectors function by sending several fast electronic pulses into the ground. These electric currents do not get affected by the ground mineralization or even by wet sand. They are also very sensitive to precious metals.
The other type of underwater searching devices is very low frequency (VLF) ones that are very sensitive to coins, jewelry, and relics. This circuit is more likely to be affected by ground mineralization, but it has a sensitivity adjustment control to allow you to cut down on these effects.
There are several questions you should ask yourself to help you choose the right type, these include:
Where do you plan to use your underwater machine?
Will you be hunting in salt or freshwater?
What depth are you going to deal with?
What additional accessories you will need?
How much budget do you have?
Answering these questions is what will help you decide the right model for you!
If you are planning to use your detector near saltwater, then it is recommended to buy a pulse inductor detector. You can also use a VLF detector, but you need to make sure that it has a saltwater mode.
If you are going to use your detector while diving, then you need to ensure that the depth rating is deep enough for where you want to use the detector.
Obviously, make sure your budget is enough to allow make such a purchase!
How to make an Underwater metal detector?
More Underwater Accessories …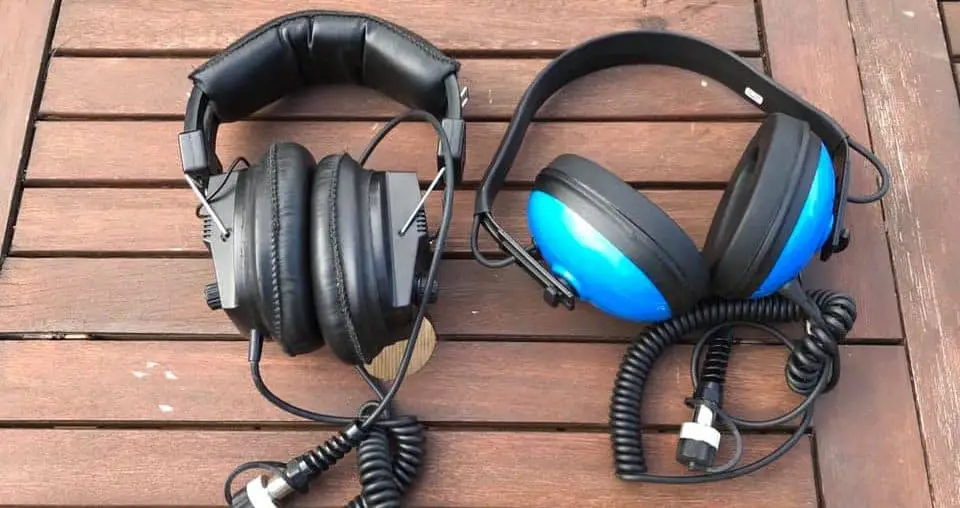 Whatever model you choose, you may need to have a short dive pole  to make your diving search more comfortable.
Other accessories you may need are headphones (Check it Here on Amazon) to easily hear the tones of the objects that are located at a deeper depth and also to help block out atmospheric surrounding noises.
Most underwater detectors already come with a set of waterproof headphones with the metal detector. You will also need a bag to carry your metal detector in, a sifter to make treasure hunting easier, and sand scoops (Check it Here on Amazon).
You will also need a drysuit (Check it Here on Amazon) while diving!
Conclusion
My main goal from writing this post is not only to introduce you to these underwater detection machines! I also want to encourage you to try this exciting and highly profitable aspect of the hobby …
… Indeed, once you start, you will certainly be addicted to it!
By the way, if you are interested in searching on the beach, then I highly recommend you check this Beach Detection Guide! You will learn a lot …