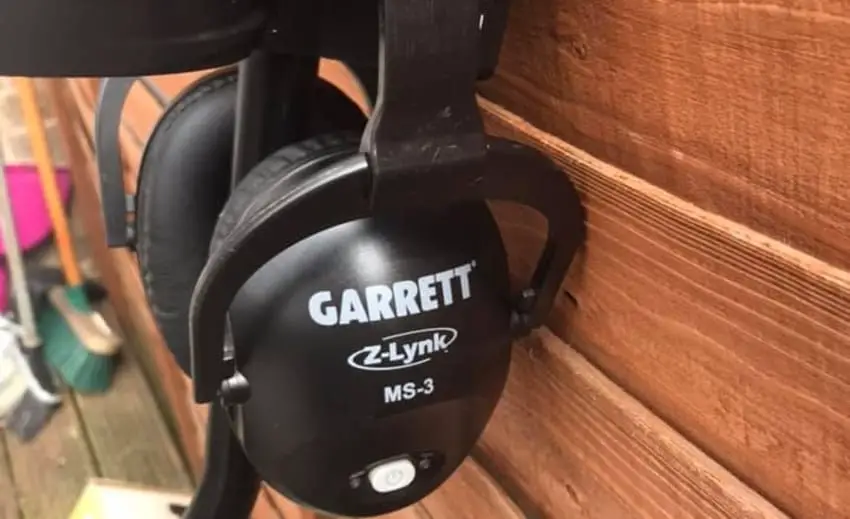 At the very beginning when I've started being interested about this hobby, I thought that all I need is a machine and I am ready to go …
… Then, I've soon understood that there is more to that! In fact, other equipment and accessories are actually needed, and one of them is the Wireless detecting headphones …
… So, what are the best wireless headphones for metal detecting? Today's market doesn't offer a lot of choices when it comes to wireless headphones. Yet, there are some models that have proven to be very reliable. These include Garrett MS-3 Lynk, Quest 1V_1604.104 and Quest 1V_1702.1000 for XP Deus.
It is OK to opt for these regular wired headphones for example … They provide good results! Yet, if you are going to detect for longue periods of time, then certainly the cord will bother you especially while squatting and digging … Thus Wireless accessories would certainly be more adapted for you.
In this Post I give you more details about these Products so you will be able to make you choice regarding the one that would suit you the most …
… I also list more models that are less common but may still interest you!
Garrett MS-3 Z-Lynk Wireless Headphones KIT (The one I prefer the most!)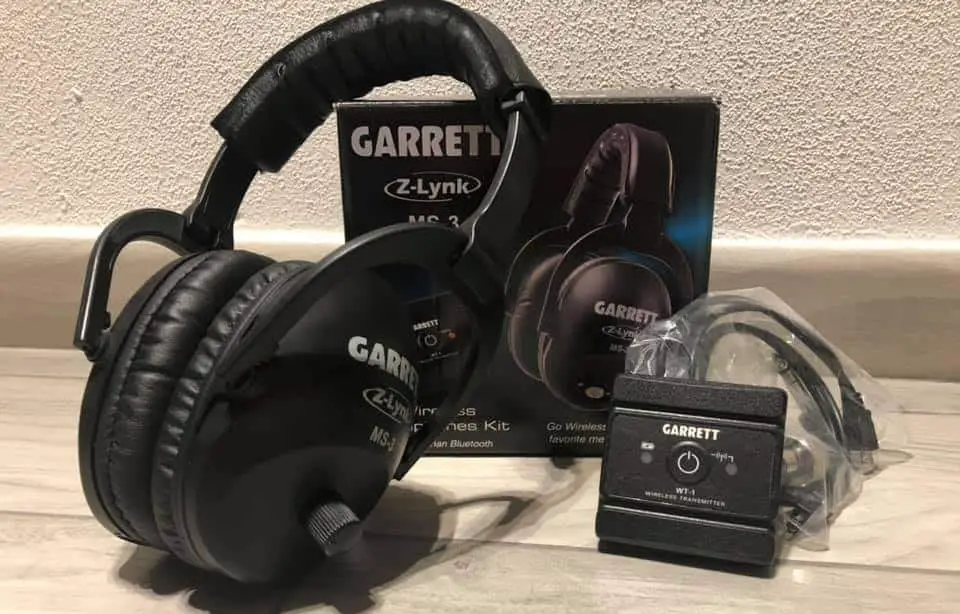 These headphones are designed to operate with all Garrett detectors, this means that you will get the best experience with them.
However, I've heard that they can operate well as they come with leads for the other models with a large jack. Yet, I just didn't try that out myself …
… If you did, please let me know in the comment section below!
In addition, one of the main problems that most wireless headphones have is the sound delays! This is a big confusing issue as you won't be able to locate your targets accurately …
… This is a non-issue for the Garrett MS-3 2-Lynk … The tones you are hearing are just on point and synchronous whenever you come across a potential find while swinging your coil.
Another feature that some hobbyists, I've talk with, have experienced is that it could be paired with the Garrett Pro Pointer! This feature is very useful as it will certainly give you more control and a faster recovery …
… The ear cushions are comfortable and the headband is adaptable to fit your head size.
Some additional features:
This Product has some other features that you should know about:
The Volume control is good, it will allow you to adjust depending on your hearing and detect the feint signals pretty well.
You can store it easily as it folds down.
The charging cable is included in the package.
The charge autonomy could hold up to 30 hours straight. This is way more than a day of straight detecting!
At the beginning I thought that it is waterproof … I've soon noticed that it is not the case. Instead they are water-resistant to a certain extent.
Lightweight, you almost won't feel its weight!
Finally, You can Check it Right Here on Amazon!
Quest 1V_1604.104 Wireless Headphones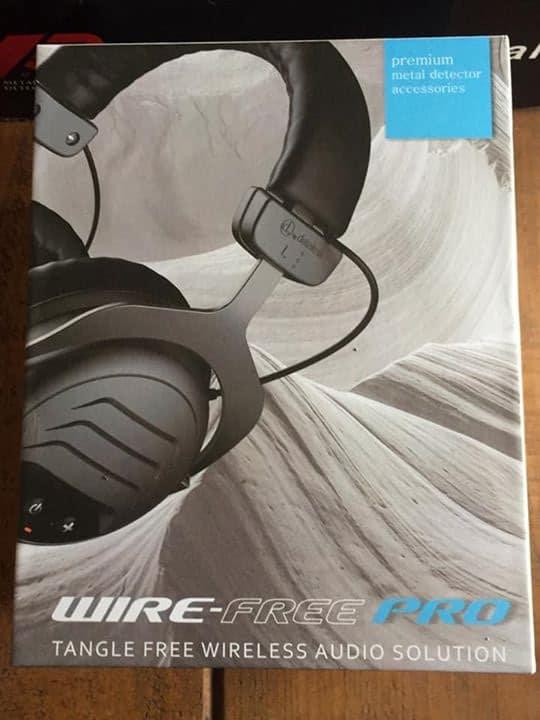 This is another Garrett designed headphone (Check its Current Price on Amazon!)that should work with other models too (still didn't try it with other brands). They are light in terms of weight and could be charged using USB cable (it comes with one anyway)…
… I like the design of this pair; it looks really cool and modern. Plus, the package it comes with is well done. Unfortunately, they are not waterproof … Thus; you can't go underwater detecting using them …
… Yet, the manufacturer claims that they've got a rainproof design, I am not sure what this really means … Probably, its design doesn't allow rain to touch the transmitter!
Honestly, knowing they are not waterproof I wouldn't use them even in the rain … I won't take that risk lol!
Unlike the Garrett MS-3 Z-Lynk the Quest 1V_1604.104 relies on Bluetooth! Yet, it is a low-latency … Meaning that there is no noticeable delay time. The latter is the main problem for most cheap similar products!
The charge time is very rapid and the received tones are generally good and strong!
However, the downside I see for this product is its battery autonomy which is under 14 hours! If you don't detect for many hours this autonomy should be more than enough. Otherwise, you should recharge it every time before you go out …
Also, I couldn't notice any indicator that this pair in running out of battery!
To sum up, I believe that this pair is worth trying … It is a solid product that will help you perform better while detecting.
Quest 1V_1702.1000 HD Headphones for XP Deus
Is a reliable product made by one of thebest manufacturers in the business "Quest M. Detectors". It is very light, even lighter than the headphones above …
… To be honest, I didn't use this one yet … I will let you know once I test it! I am recommending it simply because the manufacturer is a Solid one and those who have used it seem to be fulfilled with what they've got!
Anyway, let me list some helpful features that I've gathered and that you should know about:
Lightweight as I've just said, less than 1.4 pounds.
You should not complain about the sound as it is clear.
The audio delay is under 0.06 seconds… For the human ear it is instantaneous unless you are a Superman!
Still can't assimilate this, but it has a rainproof design.
All of its parts are replaceable.
It is considered as an upgrade for XP Deus Detector, yet it seems that you can still use it with other machines with an adapter. Some hobbyists confirmed that to me …
Mechanical locks are well done, plus it won't easily snap.
They are comfortable with good external noise isolation.
Finally, you can Check it Here on Amazon!
Other Good Wireless Headphones that you can consider …
The 3 wireless metal detector headphones I've listed above are, in my modest opinion, the Best right now in the Market! This doesn't mean that there are no other options out there … Indeed, I will list 2 more pairs that are good and might resonate with you:
1. Deteknix Wireless Headphone
Foldable for an easier storage and adjustable to fit your head size, it is not waterproof, yet it has a decent resistance towards water!
You can use it for some superficial underwater detecting; you should not dive with it though! Just don't do that …
One of the downsides I see for this Model is its battery autonomy which is about 6 hours! So, if you are one of those who spend a whole day out exploring, then it is very hard to convince you to acquire this one!
It has a LED Indicator to let you know about the state of your battery. Will turn off once it is fully charged …
… The package includes 2 USB charging cords and 2 rubber bands!
2. Gray Ghost
I consider this to be the little brother of the Amphibian 2, with the only exception that they are not water resistant.
They can only operate with the Garrett Models like (Sea Hunter, ATX, AT Pro, AT Gold and Infinium LS). Since these models are very popular, this should not represent a serious issue literally for most hobbyists.
Finally, when it comes to comfort and external noise isolation they are probably the very best!
Why you should consider using headphones in general?
I've noticed that significant numbers of hobbyists don't really understand the importance of using headphones while metal detecting. This also applies to several detectorists with many years of experience …
… For me, I just think that this doesn't make sense to miss on an accessory that will, for sure, improve your chances of you coming across more valuable finds!
In fact, I will list the main 3 reasons why you should consider using them:
Depending on which machine you are using, you will certainly start noticing that after long hours of usage, your detector will show signs of low battery … Especially, if you are not using a strong Brand! One of the most obscure ways to make your battery hold much longer is pairing it with headphones, especially if you are exploring trashy areas where your machine will emit signals more frequently!
Most treasures are found underwater more than lands! So, after gaining enough experience it would be maybe time for you to try some underwater detecting … This won't be possible if you don't use proper waterproof pair of headphones.
What generally makes the difference between a bad day and a good day of detection is whether you were able to pick up the faintest signals or not! Headphones are not only an additional accessory that you want to consider, it is more of a real Add-on for your detecting machine … In fact, it allows it to perform to its full potential, by picking up some signals that, normally, it won't be able to pick up without them.
If you are one of those who express a resistance towards using this accessory, hope these reasons above will make you at least reconsider!
If these aren't enough for you, then have a look at some more reasons why you should consider headphones …
Conclusion
I've done my very best to provide you with the most reliable choices in the market so you won't be a victim of a bad choice!
I understand that investing in this wireless product in not a light spending, that's why I wanted to make sure, as much as I could, that this will be worth every penny you will spend …
… Finally, I would love that you let me know in the comment section below about what Model did resonate with you the most and why?
Also, if you are using a model I didn't include in this Post, please let me know so other people will learn from you!
One more thing before I let you leave is an article that I've recently written about the easiest metal detectors to use! Please check it out, I am sure you will learn a lot!