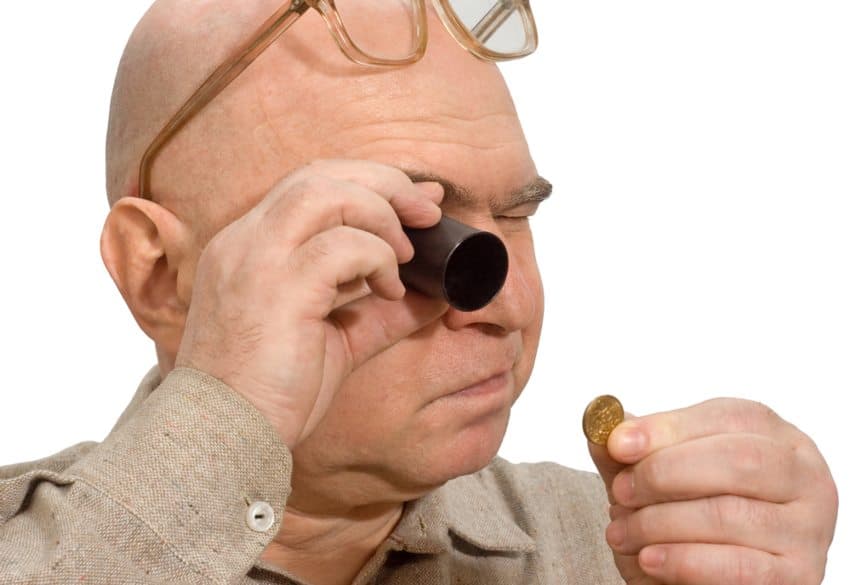 I get often surprised that many collectors out there don't even bother using a magnifier to check their coins properly! For someone (a Nerd!) like me, that's a Straight Mistake…
… In fact, like any activity, it is easy to get trapped in coin collecting by, for example, buying a fake coin for much more than what its actual worth, simply because you didn't take the time checking the coin details…
… That's why I've decided to put together this Post in which I walk you through the best coin collecting magnifiers out there!
As far as I am concerned, this is my favorite Magnifier (Check it Here at Amazon)!
1. JARLINK 2-pack 30X 60X Loupe Magnifier
Jarlink's eye loupe magnifier (Check it Here at Amazon) is a pretty cheap choice that you can start out with, yet don't let that fool you!
Indeed, they were able to construct a lightweight aluminum and plastic housing that contains two different focal magnifiers (30X, 60X) for a minimal cost.
Additionally, it has 2 LEDs that provide light to each lens. Plus a switch on the house that turns on each individual light depending on which lens you are using.
The primary lens measures at 30x22mm and the supplementary lens is 60x12mm. Both lenses have a cover that slides over the top to protect from debris and scratches. The overall dimensions of the eye magnifier are 3.1 x 2.6 x 1.6 inches. A soft fabric bag is included with the magnifier.
Obviously you can use it not only to check coins, but also to check jewelry and gems!
2. Blulu 2-pack 40X Illuminated LED UV Lens
Blulu's jeweler magnifier (Check it Here at Amazon) is a step above most similar products out there simply because it features an all metal construction.
I don't recommend doing so, yet you can drop it feel safe it won't break as easy because of the sliding cover. The overall dimensions are 5.1 x 3.5 x 1.6 inches.
It has a 40X glass lens with a diameter of 2.5 cm. The dual bright white LEDs are powered by three LR1130s (included). Another light featured on this magnifier is a UV light that identifies currency.
Why would you need a UV light? Well, if you are a coin collector that also collects currency then you can guarantee authenticity. Adding UV-phosphors to bills is a global practice to help detect counterfeit money.
The pack comes with two magnifiers with boxes, soft pouches, and cleaning clothes, so you've got a pretty complete package!
If you also want to collect bills, then I highly recommend this one!
3. ZHSX 40X Illuminated Jewelers Loupe Magnifier
ZHSX 40X (Check it Here at Amazon) deserves to be on this list because it is a direct competitor of the Blulu jeweler magnifier. It features an all metal construction with fold-over cover. The dimensions are slightly larger than the list measuring in at 5.8 x 3.8 x 1.7 inches.
If size is a factor when selecting a magnifier, just know that this is the largest one on the list. Those with large hands, or want a bigger magnifier to hold, this is the best one for you.
The 25 mm lens for the ZHSX magnifier is made of special optical grade glass. Its standard bright white LEDs and UV light are powered by three LR1130 (included). The larger LR1130s will provide a longer battery life over most other batteries.
If you don't mind the extra weight (about 4oz) due to the larger size, then that's a solid pick for sure.
4. Happy Hydro LED Loupe 30x & 60x Magnifying Lens
The Happy Hydro LED (Check it Here at Amazon) is a very popular magnifier for a good reason, too. It's a solid jewelers magnifier that could used as well for coins.
Just like the Jarlink magnifier, Happy Hydro decided to pack in two superior optical glasses. One of the lenses is 30×22 mm and the other is 60×12 mm. One interesting fact about the 60×22 mm glass is how it can provide amazing clarity to resin glands on medicinal herbs.
The bright, white LED on this magnifier is powered by three included LR1130 batteries. As mentioned previously, the larger LR1130 batteries provide longer battery life when compared to other magnifier batteries.
Although Happy Hydro did not include a UV light, they opted for an impact resistant ABS frame to make up for it.
The sturdier aluminum frame handles drop shock better than any other on this list. If you are worried about dropping your magnifier, then definitely choose the Happy Hydro.
One flaw I would say is the bulky design. It is felt like it was too cumbersome to get in and out of pockets. If it was left on a desk and used occasionally or never transported, then it's perfect.
Otherwise, anyone out in the field will probably have problems taking it in and out of pockets.
5. Fancii LED lighted slide out pocket magnifying glass
On to the last magnifier on the list, the Fancii slide out pocket (Check it Here at Amazon), unlike the others on this list, this one chose to be as compact as possible with a slide out design. When not slid out, the magnifier measures 3.2 x 1.8 x 0.7 inches. Needless to say, it will fit in pockets easily.
Beside it being the only slide out magnifier, it's also the only one here with three lenses: 10X(25mm), 20X(12mm), 30X(8mm)…
…Each lens is made of scratch-resistant acrylic (So, you've got several choices depending on your coin size). The frame is made of ABS material, but remains light only weighing 1.6 oz. One feature you'll like is the added grip on the frame for a firm hold.
Both LED and UV lights are powered by three LR44 batteries. For an added touch of elegance, this magnifier comes with a leather pouch for carrying around.
What magnification levels do you need to check coins properly?
You now have 5 quality magnifiers to choose from, but what about types of magnifiers? How much magnification do you reasonably need to view your coins? Does it matter? As a matter of fact, there's such a thing as too much magnification. You could be looking down deeper than what is important.
According to microscopeworld, 10X-30X is more than enough for viewing your coins up close and personal!
You are looking for defects, scratches and irregularities on your coins. Anything beyond the surface will serve you no good. Too much magnification will look past what's important and you'll get lost in the details instead of the larger picture!
Are magnifiers enough to determine the coin value?
One of, if not, the most important tool a coin collector can own is a quality magnifier. Will it be enough to determine the value of a coin? On its own, it can only do so much.
It's an excellent tool to see beyond what the naked eye can. However, you'll need a closer look to inspect for flaws, defects or errors.
That's not all you need. An up-to-date price reference guide (BTW, you can have a look at these Coin Collecting Books and References!) is handy just as much as the internet. The Official Red Book of United States coins comes out with a new, updated volume every year that you might want to consider owning.
How to use a coin magnifier effectively?
Believe it or not, you could be using your new loupe incorrectly? The device seems intuitive to use … Pick it up, look through the glass, and examine your coin! Seems easy enough, right?
Well, people have a tendency to throw out the instruction manual and figure it out on their own.
Follow these tips to get the most out of your magnifier:
Hold the it equal distance from your eye and then your coin – ideally, with about an inch on either side of the lens.
Find the sweet spot first, then move around to define the details clearer.
Brace yourself. Rest your arms on a hard surface or against your cheek to keep stable.
The more you use your magnifier, the easier it gets. Practice makes perfect!
When should you upgrade to a digital magnifier or microscope instead?
First off, there's nothing wrong with upgrading your equipment, as long you have reason to do so. If you are an amateur coin collector with a relatively small collection, then don't bother with anything beyond the 5 listed above.
Professionals on the other hand, especially dealers, will benefit from having a tabletop magnifier. The advantage is less strain on the eyes and neck. Tabletop magnifiers, and other more expensive magnifiers for this matter, are more ergonomic and intended for longer usage times.
If you are a hobbyist, you might want to save on your magnifier and use the money for more coins.
For more information, check these digital coin microscopes!
Are scan-o-matic coin magnifiers worth it?
Anyone who has been in the numismatic hobby for a long time may have come across a scan-o-matic before. For those that have never heard of it, it is basically a mini projector for your coins.
It works by inserting coins into a feed tube and then pushing a slider to view the coin. Unless you're feeling nostalgic, you may want to stick with your pocket magnifiers. Fortunately, places like eBay have plenty of these older coin viewers for sale.
Yet, I would still prefer a jeweler magnifier as far as you use it properly!
Conclusion
I really hope that this short Post has given you many ideas on what to choose and what to do to be able to pick the Best coins for your collection!
At the end of the day, magnifiers are pretty much a very small investment that will certainly increase the quality of your collection in the long term…
… If any questions, don't hesitate to contact me!
Finally, for more, you can have a look at this extensive collecting tools list for coins!