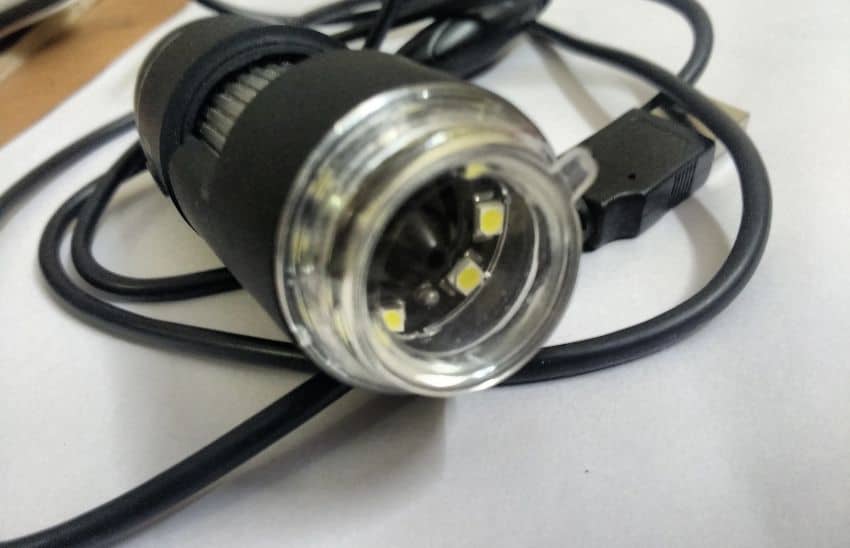 Being able to notice the tiny differences within and between coins is an important skill that you should master to refine your collection! And to be able to do so properly you will need a good microscope …
… Indeed, the main goal of a microscope is to magnify particular parts of an object. It enlarges the overall image in sections. This, in turn, makes it possible for us to see the tiny cracks, fissures, dents, and dirt collected on the surface of the coin.
In this Post, I list the best 5 coin collecting microscopes, in my humble opinion, with all details you will need to know about each one of them!
By the way, Among the models I am listing below, Check the Model I Recommend The Most Here at Amazon! I think that's the one that will make your grading much easier …
… Let's Go!
Best microscopes for collecting coins
1. The AmScope SE306R-P20
The AmScope SE306R-P20 (Check it Here at Amazon) is a stereo microscope that offers you two magnification options: 40x and 80x.
It comes with a forward-facing binocular. The eyepiece of the binoculars is made from glass and offers a 20x10mm wide field vision. This combines with the 2x and 4x objective lens to give a total magnifying power of 40x and 80x.
The microscope comes with two lighting options – an upper lighting option that prevents light reflection from a given specimen and a lower lighting option. These two increases the sharpness of the image and gives you a clearer view of the object being illuminated.
The stage of the microscope has a frosted stage plate for use with lower lighting and a reversible black and white stage plate to increase image contrast and hence increases visibility.
On the downside, it does not offer any USB functionality. As such, you cannot capture images with it; neither can you transfer images from the microscope to your computer or smartphone for later use.
Pros 
Two 10w halogen lighting option for proper illumination of objects
Very versatile
Interchangeable magnification option allows you to observe larger objects easily
Excellent magnifying power
Cons
Heats up quickly because of the dual light source
No USB options
2. Plugable USB 2.0 Digital Microscope
This simple pluggable microscope (Check it Here at Amazon) is probably the best in terms of portability, ease of use, and functionality.
It comes with a group of 8 adjustable LEDs. The brightness of the LED light can be adjusted over a wide spectrum. This gives the chance to customize the light as much as you'd like.
The light shines through a diffuser to combat glare, which is very common with LED lights.
It starts magnifying at 40x! You can switch it up all the way to 250x to achieve a clear and crisp image of the object.
Since this is a USB type of microscope, you can actually capture videos and images of your magnified object and view them later on your smartphone, windows, or Mac laptop.
The camera is only 2 mega pixels, though, and you probably may not get HD videos or top-quality images from the device. But in all, it is a powerful option for saving and viewing your images on your device.
Pros
affordable
The camera allows you to capture images and videos
High magnifying power
USB functionality will enable you to transfer pictures and videos between devices
Cons  
The interface on the device lacks in features
3. Opti-Tekscope OT-M HDMI
The Opti-Tekscope OT-M HDMI (Check it Here at Amazon) is a microscope with powerful magnifying power and a high definition screen for viewing images and videos.
This USB digital microscope is capable of magnifying an object up to 300x and is fitted with a screen. The 960×240 screen is where the image will be projected once an object is placed beneath the objective lens.
It also allows you to cast images to your windows screen using the windows ten plug and play camera app. Unfortunately, this feature is not available on Mac Os. Sorry Mac users.
All captured images on this microscope can be stored on to a micro SD card. The microscope, however, does not come with a micro SD card. You'll need to purchase one separately.
Pros
Allows you to cast images on your windows 10 screen
High magnifying power
Space for micro SD card
High definition images and videos
Cons
Not compatible with Mac OS
Micro SD card is not included
No traditional eyepiece
The time lag between the real and on-screen result
4. Jiusion WiFi USB Digital Handheld Microscope
The Jiusion micro (Check it Here at Amazon) is a handheld USB model specially designed for students, engineers, and jewelers with the constant needs for looking at the tiny details of objects.
It allows users to capture and transfer images between devices quickly!
This model comes with 8 built-in pieces of LEDs and two adjusting knobs for focusing and adjusting the brightness of the LED lights.
It has a magnification ratio ranging from 40x up to a staggering 1000x magnifying power. Compatible with a wide range of mainstream devices such as android, chrome, windows, mac os, Linux, iPad, etc.
Pros
Compatible with a wide range of devices
High magnifying power
Quite portable and easy to work with
Comes with a WiFi magic box
Captures images and can record videos
Cons
Software integration clashes on most devices
Images become less sharp as magnification increases
5. Koolertron 4.3-inch Full Color LCD Digital USB Microscope
If the convenience of use and portability is a huge deal for you, then you might want to consider going for this Koolertron model (Check it Here at Amazon).
It is quite portable and very convenient to use with a magnification power ranging from 50x to 600x. The device comes with a 2MP high-quality camera for capturing images of objects. Since it is a USB microscope, the images can be transferred to other devices for storage and later review.
The microscope does not come with the traditional eyepiece lens for viewing images. Instead, it features a full HD LCD screen for viewing images.
It has an image sensor that allows you to calculate the distance of objects from the device.
For illumination, the microscope comes with 8 built-in LED lights. These are all adjustable. If you constantly view your coins in dark areas or in places with low lighting, this camera might be a good option for you.
Pros
Full HD viewing screen for viewing images
High magnifying power
Quite easy to move about with
Automatically calculates the distance of objects
Cons
Do beginners need to use these microscopes?
In most cases Yes! The naked eye will not be able to give you as many details about the coin as a microscope; neither will a hand magnifier provide as many details.
As a beginner, however, you may want to consider investing a simple handheld magnifier (Check these Good Magnifiers) as they are far easier to manipulate and move about with.
Moreover, the handheld magnifiers give you more details about the coin and will let you study the coin more intimately without leaving any trace of doubt.
Beginners will benefit from having a microscope because of magnification, but ultimately it us up the collector whether or not they want to invest more into the hobby.
Do dealers need to use these microscopes?
A Big Yes right Here!
In fact, as a coin dealer, you are in the best position to judge the quality and worth of coins!
People will want to trust your judgment regarding their coins when selling them or buying them from you.
A microscope is a necessary tool as it allows you to get a detailed view of different sections of the coins. That way, you can study the coins in more detail than is possible with the naked eye or a hand lens.
Is a good microscope enough to tell the value of a coin?
While a good microscope or camera will be a huge help in helping you to determine the value of a coin, it is not always enough. (It is necessary though!)
For one, the coin grading system is based mainly on experience and individual opinions!
This is because it has to do with the clarity of the markings on the coins. This tool can help you view the markings on the coins and magnify them for better observation, it is left to you to judge the worth of the coin based on your previous experience.
Also, the market dictates the true value of a coin or at the least what the going rate is. A microscope can help land a coin's value close to its true value.
Learn more about what it takes to recognize valuable coins!
What are the minimum magnifying levels required?
Most people will prefer to judge the value of a coin based on what they can see with the naked eyes, even if it means squinting at the coins.
There's no general magnifying level when it comes to coin microscope. The level of magnification you'll need will most likely depend on what your end goal is…
…For instance, if you are cleaning a coin using a sharp tool like the scalpel, you might want to opt for a minimum magnifying level ranging from 10x-15x. To determine if a coin is fake, then use 5-10x, and to see all the details at a dealer's shop, a magnification of 1000x is recommended.
Are coin microscopes required to identify error coins?
Coin errors sometimes come in very fine details, which often go unnoticed. To find these errors in coins, you will need to make use of a microscope.
For instance, when observing the markings on a coin, it's very easy to pass the dirt that collects between the letters as part of the coin.
To correct this error and actually study the real markings, you will need to use a microscope. The microscope will provide a detailed image of the markings as well as the areas occupied by dirt.
However, most errors you come by will be obvious. Like double minting or the spacing of letters will be off.
Conclusion
I don't want you to feel the pressure to get a microscope to check your coins, especially if you don't have the money right now!
My main goal from this Post, if to have an idea on what makes a good microscope for coins and to be aware of the best models out there …
… Once you are ready to invest in a good model, then let's just do it!
Finally, I highly to check this ultimate coin collection tools list! There are some useful gear to discover out there.