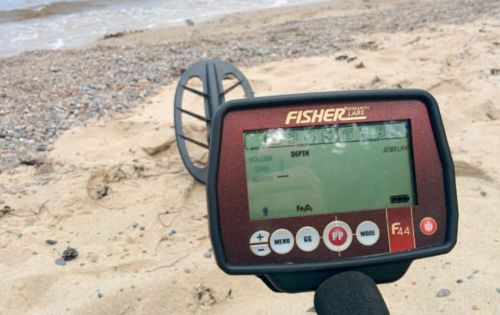 To be honest, I am a Fisher Labs Fan, I just like their machines, they are in the most part budget-friendly and perform just fine …
… I like the fact that they don't offer too much metal detectors, they made sure that each machine they offer serves a specific purpose!
In this Post, I breakdown the best fisher metal detectors out there … This will give you a clear idea of what each of these models bring to the table!
5. Fisher F11
Fisher F11 (Check it Here at Amazon) is a very good option for those who has never used a detector before!
I believe it was introduced in the market in 2016 by fisher labs and since then was pretty successful.
It is very light, just 2.3 pounds and is packed with several detection capabilities that you actually need.
The coil is small (about 7 inches) and it's waterproof. It has an elliptical and compact shape making it easy to carry around places to search.
It has basically 4 tones:
This is helpful and should allow you recognize most targets!
You won't need any prior experience for assembling the machine once you will first get it, plus the battery life for a single charge should allow you to use the detector for 25 hours give or take.
If you already have experience with other machines, then I highly invite you to do Air tests before you start using it in the ground! This will allow you to know its capabilities detecting different items, so you won't ask more from this machine than what it is really capable of.
Obviously, you should not use it in mineralized soil … This model is unable to filter minerals, thus you should be picking several also signals in those circumstances.
4. Fisher F22
If you are a beginner, then this model (Check it Here at Amazon) is the next best choice for you!
It is a very reliable if you are looking for classical targets like regular coins, relics and jewelry, yet, it won't be as useful if you are looking for raw gold.
It comes with a 9" triangulated and elliptical concentric coil which will allow you to narrow spaces like gaps between rocks, trash containing metals and other crevices.
Also, since it is waterproof it will allow you to search in shallow water!
The real advantage of this machine compared to the previous one is the discrimination …
… Indeed, when the jewelry mode is turned on, it differentiates all those items made of iron. The coin and artifact modes discriminate most iron materials.
Below other things I like about this machine:
The display is good; it is an LCD screen showing several useful parameters including target VDI, a depth indicator, a signal indicating iron trash and battery level.
4 different tones.
Dedicated Iron Audio to discriminate trash.
Ability to pick up targets up to 8 inches underneath the ground.
3. Fisher F44
The Fisher F44 (Check it Here at Amazon) is pretty much a better version of its little brother F22!
It is as light (about 2.3 pounds), and in addition to the 4 search modes (coins, relics, jewelry, artifact) it has a custom search mode where you can customize the tones and other settings like discrimination and sensitivity.
Another additional feature this machine has is the backlight that will certainly help you search in dark circumstances especially at night.
The discrimination levels are rich in my opinion, in fact, it has 9 discrimination segments where you can set exactly how much trash you want to ignore. Keep in mind that by increasing the discrimination level, this also means that you increase somewhat your chances missing valuables.
This machine is overall weatherproof, this means that you can use it in rainy conditions, however, this does not mean that the machine is fully waterproof … Only the coil is waterproof, the control box is not …
… In other words, you can detect in shallow water, but you just can't dive the whole machine underwater!
Fisher F44 comes with automatic and manual ground balance. This is solid advantage over its little brother F22, this feature will allow you have good detection performances in conduction soil!
Bottom line, if you are serious about this hobby, then the F44 will a very good fit for you.
2. Fisher Gold Bug Pro
Gold prospecting is, without a doubt, the most profitable aspect of metal detecting. However, most Gold machines are expensive …
… This is not the case for the Fisher Gold Bug Pro (Check Current Price Here at Amazon) which is definitely far from being as expensive as some gold machines like the GPZ 7000!
Also, if you want to dip your toe in gold searching starting with a relatively affordable model is the best way to go, at least in my humble opinion.
Below, the main features of this model:
Highly sensitive and has the ability to detect small gold nuggets and flakes in areas containing high mineral content.
Depending on the retailer, the device could come with a standard 11-inch elliptical DD coil,. There are other versions available with 5-inch round DD coil, 7*11-inch elliptical coil and a dual version with two coils (5-inch round and 5*11-inch DD coil).
The latest addition (as far as I am aware) is the 13-inch ultimate DD coil that has very high sensitivity compared to the previous versions.
There are both manual and automatic ground balancing systems that allows for better detection in mineralized soil.
Its battery should allow you to continually hunt for 15 hours on average.
Pretty accurate depth indicator.
Pinpoint mode for more accuracy. (You can check these

accurate metal detectors

)
Dual operating headphone jacks.
Finally, since it comes with an adjustable armrest, you can keep using it in a comfortable way for a long period of time.
1. Fisher F75
When it comes to mid-range detectors, the Fisher F75 (Check it Here at Amazon) is a really one of the best out there! This is a ruthless competitor of the Garrett AT Pro (Check it Here at Amazon)!
It is an all-purpose machine that you can literally use for any kind of search.
One of the good features of this model is the four AA batteries it comes with, which allow it to last up to 40 hours on average.
Keep in mind that the Fisher F75 does not come with headphones which might add to the extra cost for the user. Maybe, other dealers could include it, but from what I've seen, that's not the case.
Like other members, Fisher F75 also comes with a numerical target ID which appears on the LCD screen.
For more abilities to handle the conductive soil you can utilize the ground balance (Automatic and manual) feature of this model!
It provides signal strength threshold when it is available in the motion mode. The device also has auto pitch option.
You can adjust the notch and the sensitivity according to the metal he/she is in search of. The notch allows the user to include or exclude certain targets according to the scale provided in the LCD screen. The user can remove categories according to the need hence providing higher discrimination.
I don't advice you to use this machine for Gold prospecting (for raw very small gold), especially if you are doing it in an intense ground condition.
The machine offers several tones with different intensities! These tones depend on depend on the conductivity of the target metal. The more conductive is your target, the more intense the signal will be.
One of my favorite F75 features is the mineralization graph, where it tells you the amount of the minerals the soil has.
Conclusion
To be honest, I've rarely seen anybody who have use a fisher metal detector and was disappointed or had a bad experience …
… Its machines are highly reliable; just pick a model that fits your goals and your level of expertise!
In case, you are a beginner and don't know how to choose a metal detector, then I highly recommend you have a look at these criteria on choosing a metal detector!