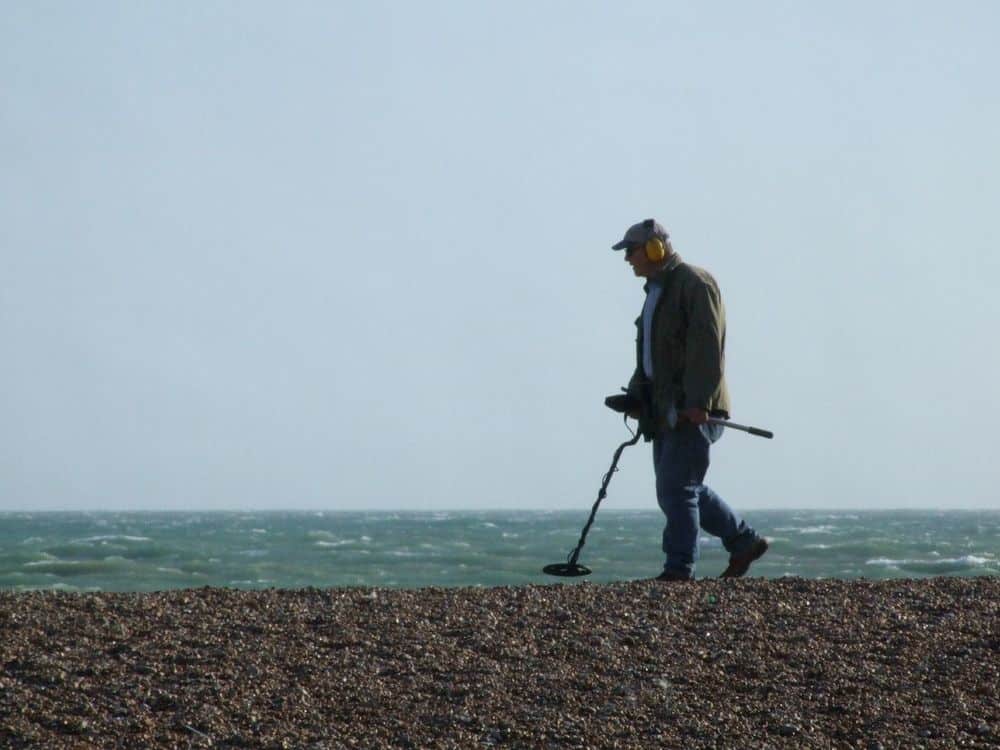 A couple of years ago, a treasure trove of gold and silver artifacts were discovered by a metal detecting enthusiast in Staffordshire, England. Enthusiasts of this hobby have spent hours poring over magazines that detail treasure hunting tactics and other tidbits. This was one of the things that have cached my attention about this hobby at the beginning…
… I was not into metal detecting before but I have come to realize soon that this is generally misunderstood by the public.
So my answer to those who've asked this question before: Is metal detecting worth it? Generally, this depends mainly on you! Indeed, if you love history, going outdoor, discovering new locations and territories, engaging and networking with people to get permissions, finding old coins and relics and from time to time collecting valuable items like Gold. Then, Metal Detecting is totally worth it.
In this Post we take a look at why this hobby is the right activity for treasure hunters and history buffs, and how there is actually an opportunity in this hobby to earn an income as well. We try and present some secrets here that will make you realize why metal detecting is definitely worth it.
This Hobby is worth it for History fans
With so many treasure hunters and history enthusiasts present everywhere, the hobby of metal detecting has become a great way for them not only to learn more about the history of a specific location but also to keep fit and make some extra money.
Unearthing the history underneath your feet is perhaps the biggest pull there is for history fans who love this hobby. While some history buffs are interested in finding rare and old coins. Others are looking for war relics, while some others are looking for anything that is historically important.
To be successful at finding some truly rare and old items or coins, one needs to know where to hunt. Finding out the historic areas around your place will provide you with the best shot at finding something rare.
Some people may feel that there is nothing historically important that happened where they live. However, regardless of where you live, there will always be a possibility that you may hit upon a valuable and rare coin since they are one of the most commonly discovered items with a metal detector.
For increasing your chances of finding something historically important, it is best to research and then hunt in areas that have a rich history.
If you are looking for old coins and relics, I recommand to use the Fisher F22 (Check it Here on Amazon!) it is a very good option …
Treasure Hunters and Metal Detecting
The prospect of metal detecting particularly enthralls treasure hunters who are looking for gold or platinum nuggets. Prospecting for gold with your metal detector cannot work at all places.
You need to identify the areas that are known to naturally produce gold, and it needs to be of a size that is big enough to be detected by the detector. Gold nuggets are typically the most commonly detectable treasures by a metal detector.
Finding a treasure with a detector is a challenging process, much tougher than hunting coins. There are some metal detectors that have been specifically designed for gold hunting. These detectors are adept at handling heavy mineralized grounds and are also capable of finding small gold nuggets and even the bigger, deeper, hidden treasures.
Some of the examples include Minelab GPX 4500 and the Coiltek Elite Coil. Carrying a pinpointer, such as the Garrett ProPointer, is also recommended as it speeds up that target recovery and helps you cover more targets. These are especially helpful if you are digging large holes to look for deeper and bigger targets.
Most of the gold nuggets that hobbyists find are relatively small, but they still fetch in quite a bit of money.
If you are looking for a good machine that will help you to dig for treasures then I recommand to use the Garrett ATX Pulse Induction (Check it Here on Amazon!) it is costly but it is a Robust Machine …
Metal Detecting is an opportunity to earn an income
Metal detecting can be a good way to earn some extra money. However, this hobby is not something that you can count upon to pay your bills.
Looking for jewelry that swimmers end up losing in the water is one of the most profitable ways to go. Even detecting at the beach can open up some avenues to earn some money. This is because you can find almost anything at the beach, ranging from everyday coins to some very valuable gold and silver jewelry.
The most valuable item that allows you to earn some extra income is finding lost jewelry. At beaches, people end up putting their valuables generally on their beach towel or they set it aside, where it becomes covered in sand.
Try hunting in the known affluent areas as you might just find some very valuable jewelry here. It is common to hear that a detectorist has found rings or even large pendants made from gold or platinum, or containing diamonds that have been appraised to be worth thousands of dollars. However, just remember that this activity requires lot of patience.
If you are looking for a machine that will help you to foxus on highly valuable targets like Gold then I recommand to use the Minelab Equinox 800 (Check it Here on Amazon!) it can operate on several frequencies all at the same time!
For more information about this, you should check this article: Can You Make Money Metal Detecting.
Your Kids will love this Leisure
Metal detecting is a great activity to indulge in with your kids. This is a sure shot way of getting the children away from their screens – phones, tablets, and of course the gaming consoles and TV.
It would be a great opportunity for them to spend some time outdoors and in nature. It allows them to move around and remain active and also creates a sense of accomplishment, especially if they find something that has a significant value.
On the other hand, if nothing is found, which would happen most often. The child still won't feel like it has something to with their lack of ability, but instead is just bad luck.
This activity is Decent for Travelers!
Metal detecting is not the first activity you think of when you go on vacation. But, have you ever thought just how fun it could be to go treasure hunting in a new city or place.
If you have some free time on your vacation, then there is nothing more exciting than this activity to really get to know a new location.
In fact, many places even have some excellent options for tourists to go snorkeling and diving along with their detectors. If you are traveling to a historically important place, then carrying your machine would be the ideal way to truly explore the new location.
For more info, I invite you to check this List of Countries in which you can use your detector! Some countries might surprise you …
Detecting is good for your health
Metal detecting is not only a hobby that has the potential to make you extra money. But at the same time, it provides you with many health benefits as well.
In fact, without even realizing it, you end up becoming fitter and healthier through the process. How does this happen? Well, to begin with, you will have to get out of your house and go somewhere to do the hunting.
Parks, lakes, farmlands, beaches, underwater, are just some of the common places where metal detecting activities are carried out. Your body gets fresh oxygen, you are exposed to the sun thus getting more vitamin D. You are continuously walking thus strengthening your bones.
You are squatting down to check out what the detector has picked up thus providing exercise to your legs, and the list is endless.
Not only does metal detecting help in toning your muscles, but it is also good for strengthening your heart and your respiratory system.
By waking long distances, sometimes climbing and hiking mountains and the squatting involved in the process works as a form of cardio and aerobic exercise for the body. If you look at it, metal detecting is truly a complete hobby that anyone can indulge in.
One thing, I would like to mention is these Detection Dangers! Please have a quick check at them, just to be able to avoid them!
How much is a metal detector worth?
Apart from the small shovel and some other small equipment, the major item you will obviously need to carry out metal detection is a good quality metal detector.
To begin with, you should consider buying a good entry level metal detector. Some of the commonly used models include:
(Disclaimer – these prices change pretty often, and the purpose is just to give you an idea)
While the Bounty Hunter Tracker IV seems to be priced on the lower end, it has many excellent reviews online and many people prefer to use it as a beginner's model.
While purchasing a detector, though, the most important feature you need to look for is it's capability to effectively differentiate between different types of metals that you will encounter on your hunt.
A good machine must identify and isolate the frequencies of metals that are undesirable so that you can specifically hunt the metals you are looking for. The depth of the metal detector is also equally important, but remember that the greater depth a detector can go to, the more expensive it is likely to be.
Metal Detecting is not worth it in these cases!
There are certain circumstances in which you are not going to find it worthy to invest in this hobby. Some of these could circumstances include:
If you want to become rich fast: there is no guarantee for this activity as to when, and if at all, you will be able to hunt down a treasure that will be worth tons of money. So if you want to get rich quick, then metal detecting is not for you.
If you hate walking: the activity is solely focused on walking around and hunting around. If walking is not your cup of tea then it is unlikely that this leisure will be the right thing for you to try.
If you are not willing to invest on a good quality detector: Understand that, to begin with, you need a good quality machine. If you are not willing to make that initial investment or if you try to save money on buying a lower quality detector, then it will not be worth the effort or time to indulge in metal detecting.
If you don't have the patience: this activity requires an immense amount of patience as you go through a series of hits and misses. With the misses being more than the hits! If you do not have the patience to keep at it, then it is unlikely that you will be able to continue with this hobby.
Conclusion
Hopefully, I've convinced you that this fantastic hobby is not only worth it, but also a great source of please and joy for you and your family.
At the same time, I don't want you to dive into it without having what it takes to do a good job. That's why I tried to list these things on this Post so you can be aware of them.
Finally, if you live in the US or closeby, then I really think it is worth using your metal detector  in some US states! The potential there is really amazing! Of course just stick to the rules to avoid any unnecessary issues!