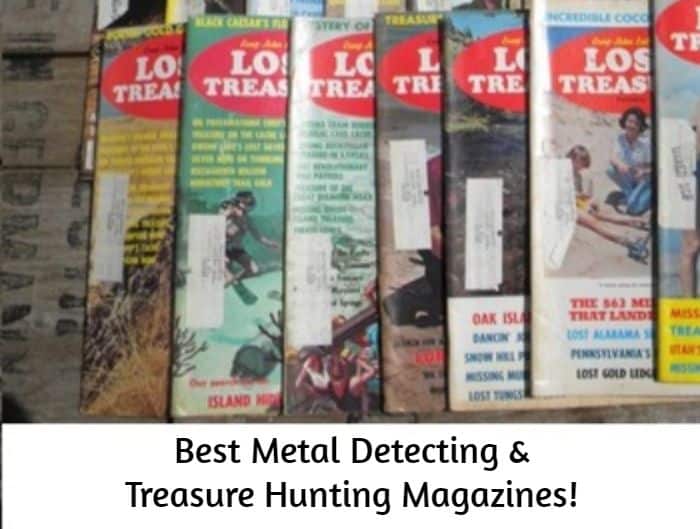 Going out and swinging your metal detector is, without a doubt, one of the best ways to learn more about your machine and the hobby in general …
… However, if you want to leverage your knowledge and skills, you should spend some time checking related magazines!
This will, first, keep you up to date regarding the latest techniques, technologies, locations and machines etc … related to the hobby and, also, will keep you consistently excited about this activity.
In this Post, I share with you 10 of the Best Metal Detecting and Treasure Hunting Magazines!
(By The Way, if you also love Books, then I highly encourage you to check these Metal Detection Books! They are highly informative!)
1. Treasure Hunting Magazine
One of the oldest magazines, Treasure Hunting, is a monthly magazine that is loaded with information and many useful features that can help you make the most out of your metal detector.
It has been published since 1977!
Below, what you should know about it:
It is a monthly magazine and focuses majorly on the activity mainly in the UK market
Each issue has at least 92 pages
The magazine is full of informative articles and many beautiful color photographs
Includes stories about what people have found, such as artifacts and coins
Regular field tests of new detectors are included in the magazine
Historical articles from some leading metal detecting experts explaining various artifacts and how some of these items were found
It showcases many of the readers' recent finds
Gives a round-up from the various metal detecting clubs in the UK – their discoveries, scheduled activities, etc.
The editor is Julian Evan-Hart, who has a keen history in archaeology, history, and fossil collecting.
Magazine is published by Greenlight Publishing.
The magazine is priced at GBP 4.50 and can be purchased online.
A one-year subscription costs GBP 44, while six months subscription is for GBP 24.60.
You can check their website.
2. The Searcher Mag
The Searcher is another in-depth magazine dedicated to the hobby in the UK!
Here are some of the main details about this magazine:
It is issued on a monthly basis!
Each issue includes exclusive stories on detecting finds, field tests of new and existing metal detectors, and also includes tips on detecting techniques.
They focus on useful tips on how to identify and put a valuation on your finds
Rally reports and expert guides are provided
You get to read the latest news and personal expert views
Detailed articles on various finds written by experts are included
News from various metal detecting clubs can be found here
A single digital issue of the magazine is available for GBP 3.99 per issue
If you buy an annual subscription, each issue will cost GBP 2.50
A 6-month subscription also costs GBP 2.50 per issue
The digital edition, though, does not include any supplements or cover mount items that can be found in printed copies.
A printed copy is sold for GBP 6.07.
You can check their website.
3. American Digger
Founded in 2004, the American Digger magazine is well-known a reputable!
Below the main details you should know:
The magazine is published by Greybird Publishing LLC.
It is based in the United States and carries valuable information about the metal detecting industry in the United States.
The magazine carries articles that cover finds made by detectorists, both professional and amateurs.
It covers details about surface hunting, underwater diving, and detecting, and also sifting.
The magazine also contains many photo-illustrated stories about the Civil War finds, old coins, stone artifacts, fossils, antique bottles, and even relics from the Revolutionary War.
It carries news from various treasure hunting and metal detecting clubs.
The purpose of the Publisher Butch Holcombe was originally to bridge the gap between professional archaeologists and amateur metal detectorists and historians.
The magazine prides itself on only promoting information about responsible excavation and documentation of artifacts.
It is available in all states of the United States,

Canada

, Australia, and Jordan.
The print version of the magazine costs $37.95 for a full year subscription.
The digital version of the magazine is priced at $19.95 for the whole year.
There is no monthly subscription option available.
You can check their website.
4. Western & Eastern Treasures
The Western & Eastern Treasures is a metal detecting and treasure hunting magazine that has been in publication since 1966.
Here are the main details about this magazine:
The magazine is published by a family-owned business, People's Publishing Company Inc.
Based in the US.
The primary aim behind publishing this magazine is to inform, educate, and also entertain the metal detecting and treasure hunting community.
This is a monthly magazine.
Each month's issue includes information and stories about new discoveries, how-to tips and techniques from experts and amateurs, and information about local US-based metal detecting and treasure hunting clubs.
The magazine caters to various interests, from coin shooting to relic hunting, beachcombing, gold prospecting, hunting in

ghost towns

, cache hunting, and many more areas of interest are included.
One-year digital subscription to the magazine is priced at $30, and you get round the clock access to not just the new issues, but also their entire archives.
A monthly digital subscription is available for only $1.25.
You can check their website.
5. The Coinhunter Magazine
This is a Dutch only magazine that was originally created for hobbyists and collectors of treasures.
Over the years, this magazine has now also become very popular amongst non-detectorists as well.
Archaeological services, associations, museums, and even universities and point of sale of metal detection accessories are stocking up the magazine for their readers.
Here are some facts about the magazine:
The magazine includes scientific articles about the frequently found and less often found objects.
It contains helpful tips on the latest developments in the field of metal detecting, such as cleaning techniques for your finds, search techniques, how to efficiently use your detector, etc.
Information on the findings by the member community and from expert detectorists.
Articles about any unique finds or fun experiences while hunting.
Results from tests done on metal detectors.
Book reviews where the most recent literature on treasure hunting/metal detecting is examined in an objective manner.
Advertisements for used and new metal detection equipment and accessories.
There is also a puzzle page to keep you engrossed in the world of metal detecting.
The magazine website keeps running various sales on subscriptions, so the exact price of the digital magazine remains unclear.
You can check their website.
6. The Archaeology and Metal Detecting Magazine
This magazine offers multiple platforms for historical, archaeological, and metal detecting articles, news, multimedia, research areas, etc.
It mainly aims to assist detectorists and treasure hunters in multiple areas of learning, communication and assisting.
This is a free website, and you can access the articles easily without needing to subscribe to the magazine.
You can check their website.
7. Gold Prospectors
This is a bi-monthly magazine that is published by the Gold Prospectors Association of America (GPAA). Members of the association are able to view the magazine and other publications free of cost, while others need to subscribe to the magazine.
The magazine contains articles and updated information on any new gold finds, tips and techniques on gold prospecting, where to buy the best equipment on gold detecting, and many other helpful and essential information is included.
You also get information on all GPAA clubs and their activities.
The cost of becoming a GPAA member is $84.50 for one year, which includes free access to not just this magazine, but also to the other informative materials available on their website.
8. Pick & Shovel Gazette
This is another bi-monthly magazine published by the Gold Prospectors Association of America (GPAA).
The magazine is only available for members of GPAA and magazine subscribers only.
The gazette covers all the latest news on gold detecting in the US, including the latest finds, gold prices, new claims, how members can help other members looking for gold, and even technology related news that can help members in their hunt for gold.
9. Temerity Magazine
Treasure and relic hunters from all over the world share their experiences in the Temerity Magazine.
The magazine is not only popular amongst metal detectorists, but also amongst yard sale pickers, rock hounds, bottle and privy diggers, gold panners, and many others.
It contains the latest news and opinion pieces from experts and amateur hunters. The magazine is available in both print and digital formats.
The print cost is $21.20 for every issue. Each issue contains 86 pages of exciting news and tips.
A free digital copy is also given on purchasing the print copy. The digital copy costs $1.21.
10. Lost Treasure/Treasure Cache Magazine
This is both a monthly and an annual national metal detecting hobby magazine that has a wide readership amongst treasure hunters of all kinds.
The focus of the magazine is primarily on various treasure locations so that you know where you should go searching with your metal detector.
The annual Treasure Facts/Treasure Cache magazine is published for treasure hunters. This is a 100-page coffee table style, '2 magazines in 1', publication.
The magazine Treasure Cache is published primarily for treasure hunters who enjoy reading stories and articles about treasure caches. Many of these stories even contain several little known clues or clues that have never been revealed before to help guide treasure hunters.
This one functions as a guide to discover more finds after reading the tips, techniques, tricks, and hints included by professional treasure hunters.
It is shipped globally to any location you are in.
The Treasure Cache/Treasure Facts Annual treasure magazine is usually available on sale at $10.95.
Conclusion
Hope those magazines are close to what you are expecting! I highly invite you to have a look at those a pick a magazine that has resonated with you and stick with it …
… I am sure, that by doing so, you will boost your metal detection knowledge and skills!
To learn even more, I highly invite you to check these Metal Detecting Books!