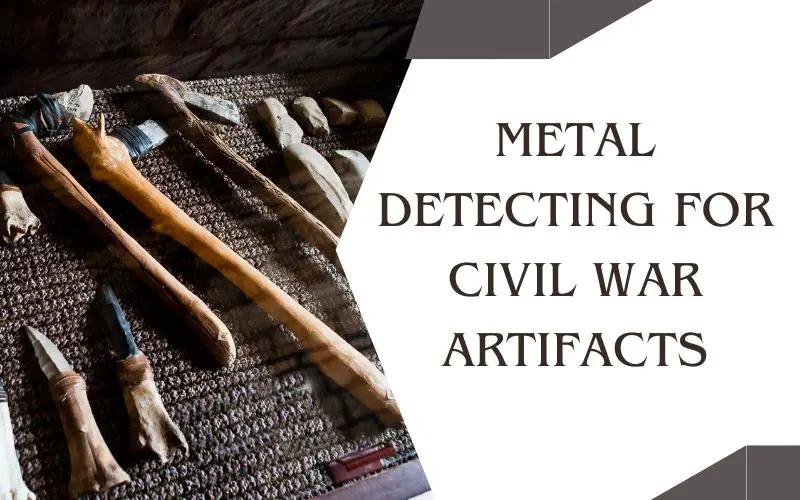 As you read this article, you will feel like you are embarking on a historical treasure hunt as we explore the exciting world of metal detecting for Civil War artifacts!
In fact, I share some practical ideas about the process you should follow to discover those relics. These include techniques, strategies as well as some important ethical considerations to properly unearth those important pieces of the past!
Key Takeaways

Metal detecting for Civil War artifacts is not only about excitement … It is also about education. You should learn a lot about the related history to be successful.
Locating relic sites is probably the hardest & most important part of the process. There are many ways to do so, one of them is by using Legit Old maps.
Always respect conventional ethics and laws with it comes to relic hunting. If a permission is required, then you should try to have one.
Why should you metal detect for civil war artifacts?
There are some detectorists who prefer swinging their metal detector in a beach rather than exploring civil war sites. Well, if that's your case, then the reasons below might change your mind:
Historical Significance: Most civil wars were pivotal moments in history and finding the associated civil war artifacts will connect you with the past like nothing else.
Valuable Finds: Due to their rarity, most civil war artifacts hold substantial monetary value. This could lead to some interesting profits.
Preservation: Most relics tend to deteriorate over time. However, through detecting you aid in their preservation.
Contribution to Knowledge: How would it feel if your finds provide new insight for historians. You will directly contribute to the overall knowledge of the civil war era.
How to locate potential Civil War relic sites?
Locating potential civil war relic sites is by far the most important part of the process. Below are couple of ideas that can help:
In-depth Research: Always study the history of the civil war as much as possible and focus more on battles & troop movement in the area.
Speak to Locals: Look for older generation residents and try to talk to them about the subject. You don't really need to tell them about your intention to detect there, just put it like if you are curious and want to learn about the war that has taken place in the area. They often have a wealth of knowledge and might reveal some nuggets that you might not be able to know otherwise.
Target natural landmarks: Keep in mind that in 99% of the cases, troops often camp near water sources, woods or hills so they can have a convenient shelter. These are great places to target.
Use old maps: Old maps will often reveal forgotten trails and camps for those era. You can overlay these with modern maps. You should first learn about the right process to find old maps for metal detecting.
Join a Club: Local metal detecting clubs often share rare information and organize group hunts to well researched areas.
Use the right metal detector …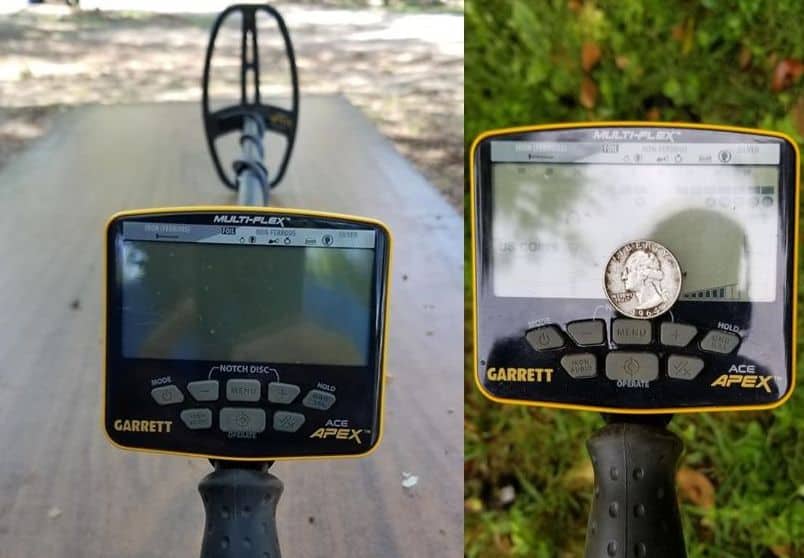 The Garrett Ace Apex (Check it Here at Amazon) is an excellent choice to find Civil War relics due to its Multi-Flex technology … This important feature allows a range of multi-frequency options to get the best detection results …
It comes with high-resolution ground balance that makes it adaptable to conductive soil where you can find these kinds of relics.
Iron Audio and Iron Volume will help distinguish between valuable relics and unwanted iron targets!
Lastly, I personally like its perfect lightweight design which will give you a sweet relic hunting experience, even if your hunts last for so many hours.
Other essential gear for detecting Civil War artifacts …
Other than a metal detector, you surely need couple of other tools to help make the search process more efficient. Below are some suggestions:
Pinpointer: This device will help you locate your targets precisely. If you don't have a pinpointer, you can have a look at these cheap models.
Digging Tool: Like a trowel or shovel to help you extract relics from the ground easily. I highly invite you to learn about the best digging practices.
Finds Pouch: To safely store and transport found relics.
Headphones: In case you are searching in a noisy environment, you probably should use headphones to isolate external noise and to properly hear signals. You can check those models to have an idea …
Gloves: Finding relics requires lot of digging and a good part of that should be done by your hands. You should use gloves similar to these to make sure your hands are well protected.
Preservation Supplies: Plastic bags or containers to protect delicate relics.
Tips & Techniques for detecting and recovering Civil War relics …
You should not approach detecting for civil war relics the same you do with your normal detection (In the beach for example). Take note of the following tips & techniques to maximize your finds:
Prioritize 'Hotspots': This depends on the history of the civil war you are dealing with. However, in general you should focus on where troops have gathered the most … Old buildings along with waterways and old roads are places that you should start with.
Use Appropriate Settings: The setting you should focus on the most is Discrimination. Relics are generally located among too much trash like nails and other iron junk.
Revisit Locations: If your research has proven that a certain location should yield good relic finds, then even if a first visit is not as successful as expected, then you should definitely revisit the place in a different season. Indeed, rain, wind and other natural phenomenon will shift soil and could make it easier for you to detect these relics.
Utilize Grid Pattern: Always use a grid pattern to cover an area thoroughly. Try to start from one end, then move slowly in a straight line before you back a step to the side and move in the opposite direction, and so on.
Listen Closely to Signals: Relics might give different signals & tones than what you are used to. That's why you should pay more attention & practice listening to the audio signals from your detector.
Practice Good Recovery Techniques: I've already talked about that earlier, yet I would like to point again that using the right digging tools and techniques is important to ensure preservation of artifacts and the surrounding environment.
Learn to Identify Relics: Familiarize yourself with common Civil War relics as much as you can in your free time. You can from time-to-time search and have a look at pictures of Items like bullets, buttons, buckles and badges. In the next paragraph I give you some ideas …
How to identify civil war relics?
I won't lie to you, that's not an easy task … This often requires real pros and even archeological professionals to be able to accurately identify such relics. However, there are still couple of things that you can do:
Educate yourself about the Common Items: Civil war relics often include bullets, buttons, artillery shell fragments as well as many others … You need to have in your phone or laptop a library of pictures that you can download from the Internet (forums & social media …) and educate yourself by reading available information about them.
Research the Marks: Some items might have marks indicating the manufacturer or inscriptions. These could help identify their origin.
Compare with refences: Use reference books like online databases or artifacts museums to compare your finds.
Seek Expert Opinion: If you're unsure, then I highly recommend to reach out to local historians, museum curators or Civil War experts. You can do so anyways, as this would give you additional information about your find that you might not be able to know otherwise.
How to clean, preserve and display your finds?
These are 3 things you should not take for granted …
Cleaning: In most cases, you should gently remove dirt using a soft brush. However, for stubborn soil, soak in warm soapy water, then brush. Avoid harsh chemicals or abrasive scrubbing that can damage relics and make them lose their original value (You can have a look at these tips to clean metal detection finds)
Preservation: You can treat metals with a rust inhibitor. For coat relics you can prevent corrosion with a clear lacquer. However, for non-metal items it is preferable to store in a cool and dry place. Each situation is different, that's why I would love that you do more research in that regard.
Display: This depends on your preferences and sense of creativity. You can use display cases with individual compartments to protect your relics. I recommend Labeling each item with the date and location of the find. You can learn more about the best practices to display your finds.
Ethical and legal considerations for relic hunting …
I will make it very simple. Always obtain permissions and necessary permits before metal detecting on private, state, or federal lands.
Some areas like battlefields may require special permission that not any body can have.
Please, never disturb or remove artifacts from protected sites. Otherwise, you will make the hobby look very bad.  Report to local authorities any significant historical artifacts. Preserving history for everybody is definitely a great approach that you should take.
Final Thoughts …
I really hope this article gave you enough knowledge and techniques to get started to unearth these historical treasures…
Remember to always detect ethically and responsibly to preserve the past for future generations to come!