Delaware is pretty underrated when it comes to metal detecting as a hobby … I still think, nonetheless, that it holds a very good potential in terms of valuable and cool finds …
… Just pay attention to the rules, so you won't violate them unintentionally!
In this article, I will address these rules real quick, and then I will tackle some cool topics that you certainly find pretty helpful …
… So, let's get into it!
What are the detection laws in Delaware?
The hobby is this state follows the ARPA law of 1906 The Archaeological Resource Preservation Act (ARPA) of 1906 ensures the protection of the archaeological resources in the state. The bill also takes into account any abandoned shipwrecks that may be found.
If you are using a detection device in Delaware, then make sure that you do not pick up or retrieve an artifact that is suspected to be 100 years or older.
It is not allowed to collect, excavate, recover, remove, damage, or alter in any way, any archaeological resource or the surrounding location.
As long as you do not dig up any artifact that is 100 years old, you can carry on detecting across the state without any challenges.
Remember that it is illegal to detect in any national park, national monument, or recreational area in Delaware. However, you can always seek permission from the park superintendent if you plan on exploring any of the state parks in this state.
Places to go detecting in Delaware?
It is said that Delaware was actually one of the first settled areas in the United States. This means that there are many ancient buildings and places found across the state.
The state has a rich history, and there are many historically valuable and worthwhile things to be found throughout the state using your beloved machine.
Here are some of the best places you should be considering (Please make sure that no Permit is required for these places beforehand):
Old Maggie's Bridge on Route 78
Grounds around the Addy Sea in Bethany
Long Cemetery in Frankford
The grounds of Fort Delaware
Roosevelt Inlet Shipwreck
Glasgow Park
Russell W. Peterson Urban Wildlife Refuge
Newark Reservoir
Lavender Fields Farm in Lewes
Marian Coffin Gardens
Woodland Beach
James Farm Ecological Preserve
Battery Park
You should try this Detector for Delaware Soil!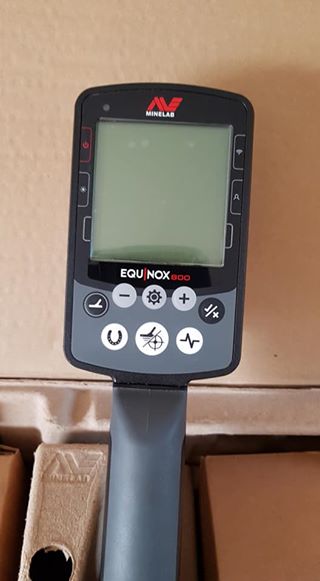 The primary type of soil found throughout this state is Greenwich Loam. It is considered the official state soil of Delaware.
Greenwich loam soils can be found all across the counties of Delaware, and this type of soil is known to boost water quality, wildlife habitat, agriculture, and natural landscape beauty as well.
In such type of soil, one of the best detectors to use would be the Minelab Equinox 800 (Check it Right Here on Amazon)!
It is a sturdy model for both professionals and beginners … It is a convenient handheld machine, and you will not find yourself getting tired of holding it very soon. The device operates on simultaneous frequencies at the same time that allows it to achieve maximum performance with a wide range of single frequencies. This feature is known as Multi-IQ!
The machine can also be easily adapted for all target types and ground conditions, including the beach, park, fields, and even to look for gold in ruthless mineralized soil!
It has a fast and accurate target ID feature, rapid recovery speed that ensures that most of the time you won't miss any valuable finds amongst the trash.
The Nox 800 is fully submersible, so you can use it at the beach and even in rivers, lakes, creeks, and streams. It can be submerged up to a depth of 10 feet.
Finally, if this model is above you budget limit, you can still have a look at this Cheaper Model Here on Amazon! It is a Fisher version that I generally recommend to beginners and that work pretty well …
Looking for Gold in Delaware …
There are not many resources such as gold or minerals present in Delaware! There is very little potential for finding any lode deposits, and even seasoned detectorists who have explored Delaware for gold haven't found much …
… There really isn't very much information available on whether any significant amount of gold has ever been found in there.
Furthermore, apart from the poor reserve of gold in this state, the other hindering factor is the small size of the state, which makes it very difficult to find much empty land for gold prospecting.
The majority of the potential hotspots that are there are located on private properties, and you need to get explicit permission before searching for gold on these properties.
So it is unlikely that you will find any gold here! Many local detectorists recommend driving down to nearing states for a better chance of finding gold. Consider looking in one of the following states if you are really serious about prospecting for gold:
Is there any other finds that you should expect there?
The Delaware coast was known to be busy spot for ships passing through due to the presence of many commercial waterways in the area.
Due to this huge ship traffic that goes by the state, there is a high chance of finding shipwrecks in there.
In fact, the Indian River Inlet is known to be the most searched stretches of the East Coast for wrecks. Some of the most famous shipwrecks you can expect to find near the Inlet are:
The Faithful Steward lost in September 1785
The DeBraak in 1789
Count Durant in 1783
You will find many detectorists out of the beach after a major storm, looking for treasure remnants that may have washed ashore from many of the shipwrecks.
You can also expect to find old and modern coins, ancient relics, bottles, buttons, belt buckles, and both old and contemporary jewelry.
In fact, searching the sand at Coin Beach will lead you to find many types of old trinkets and tokens that may prove to be valuable.
Exploring Delaware Beaches!
The coastline of Delaware is full of beautiful beaches where you can find many detectorists busy searching away.
In fact, the hobby is so popular on Delaware beaches that the coastline located north of the Indian River Inlet has actually been nicknamed as Coin Beach since there is a steady discovery of shipwrecked coins being discovered here.
There are no known regulations that prohibit the hobby on beaches (at the best of my humble knowledge), so you can explore these beaches without much worries:
Broadkill Beach
Lewes Beach
Fenwick Island
South Bethany Beach
Bethany Beach
Delaware Seashore State Park
Dewey Beach
Rehoboth Beach
Slaughter Beach
Sunset Beach
Cape May City Beaches
Are there any detecting clubs in there?
We are talking about a fairly popular activity in this state! As a result, there are several related clubs that are active in the area. Some of the known ones include:
First State Search & Recovery Club
Team Delaware
Mason Dixon Treasure Club
First State Treasure Hunters Club
I encourage you to check these or any other club, they will certainly help you to have better chances to succeed!
Detection in Delaware Parks!
You can detect in the Delaware state parks after seeking permission from the park officer or park superintendent.
Each state park is known to have its own set of rules when it comes to this hobby … This is why it is best to find out from the park personally about what regulations they have in place.
Most parks will give you written permission and will also make you aware of the places inside the park that might be out of bounds for detecting.
Some of the ideal state parks in Delaware for metal detecting include:
Delaware Seashore
Cape Henlopen
Fort Delaware
Bellevue
Fenwick Island
Killens Pond
Trap Pond
Fort DuPont
Lums Pond
Alapocas Run
White Clay Creek
Getting your detecting permit
Again, it is still better to get a permit from the Park and Recreations offices across the state! You can also get the required permission from the offices of the Bureau of Land Management (BLM) across Delaware.
Most of these permission forms are available online, and you can print out the form the website of Parks and Recreation Department, fill it up, and mail it to the Parks and Recreation Office in the county where you plan to metal detect.
Conclusion
My main goal from writing this short Post is simply to encourage you to explore new territories! I mean, there are many people who, not only have expressed their interest in the hobby, but also they've ordered their first metal detector, yet they've never used it …
… This is quite sad for me, that's why, if you are living in or close to Delaware or even intending to visit this state, then, you really should start your detecting journey asap …
… I am sure that lots of success is waiting for you!
By the way, are you interested to use your detector overseas?! If so check this post about using your metal detector in india … You will find it useful!