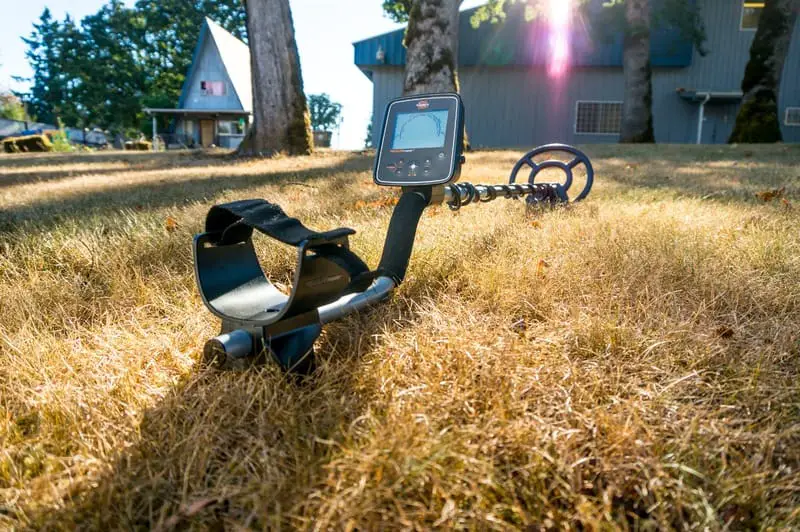 As an enthusiastic detectorist no terrain is out of reach for your machine including fields!
In fact, fields are one of the many popular places where people detect and the chances of finding a treasure buried there are also quite high.
So if you live near a farm or if you have a farm of your own, then it is would be a great opportunity to showcase your detecting skills!
Some Helpful Tips for detecting in fields
I want you to take note of these few tips that will make your journey much easier:
If you want to detect in a field and it is private property, then you must ask for permission Hein!? You don't want to get into any trouble, do you?
If you want to aim for an ideal timing to explore there, then the weeks between harvesting and planting of crops in a field would be the right time to ask for your permission.
Do some researches first! I mean by using an old map or just by asking old local people who may be aware of some events that went on in the field you are targeting might be very helpful to understand its historical value if any.
If you are a part of a metal detecting club, then getting your permission will be an easier task.
To get your permission easily, try to offer some helpful services to the owner like identifying his lost things, or a property stake or septic tank (Learn about

finding septic tanks

) of any! Try to make it look and be a win win deal!
Avoid inactive fields as much as possible! I don't mean that you won't find things there, I just believe that targets could be deeper underground than what your detector could see.
Instead, aim for active fields! In fact, farmers tend to plow the soil often; thus it will move around and will bring the valuable items underneath closer to the surface.
If you are aware of an owner of a farm field who has never allowed people to detect in his farm. Then, this is the place that you should try to get permission to detect in. Try all methods I've list above and more … Because, if you end up convincing the owner, you may come up with some amazing finds!
If you are aware of any additional tips, please let me know in the comment section below. Thus, other hobbyists will learn from you …
Best metal detectors for farm fields!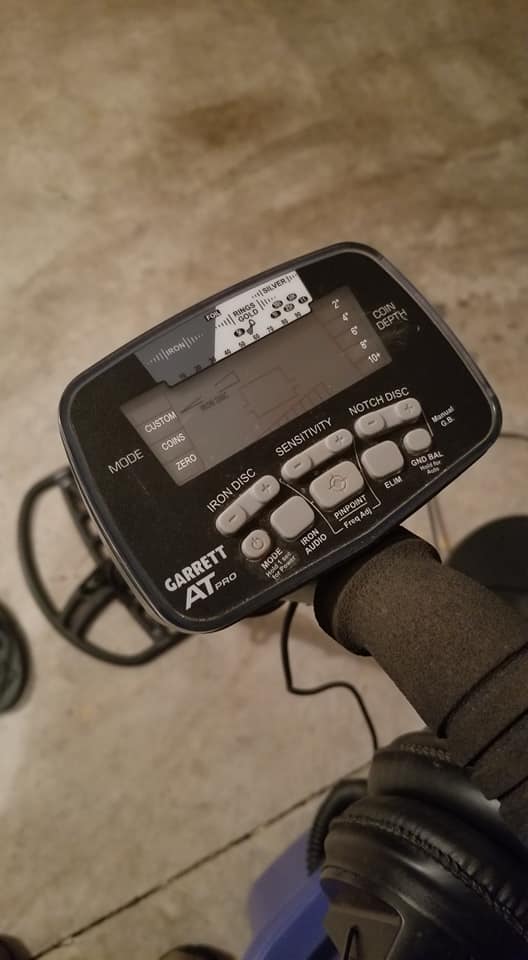 One of the best machines you can use for farm field is the Garrett AT Pro (Check it Right Here on Amazon!) It is ideal for beginners as well as for seasoned experts.
This is an All-Terrain machine! In fact, AT refers to All Terrain and therefore is ideal for detecting across terrains, even in farms.
You will find that the detector comes with both automatic and manual ground balancing! This feature is essential especially when you want to carry out coin detecting in a field where the depth of valuable targets may vary.
All the other extra features available in this model like target ID and pinpoint mode will be helpful for you.
In addition, features for high-resolution iron-detecting, mid-range adjustable frequency, and even super-fast recovery time. The latter, will have more time to continue your hunting.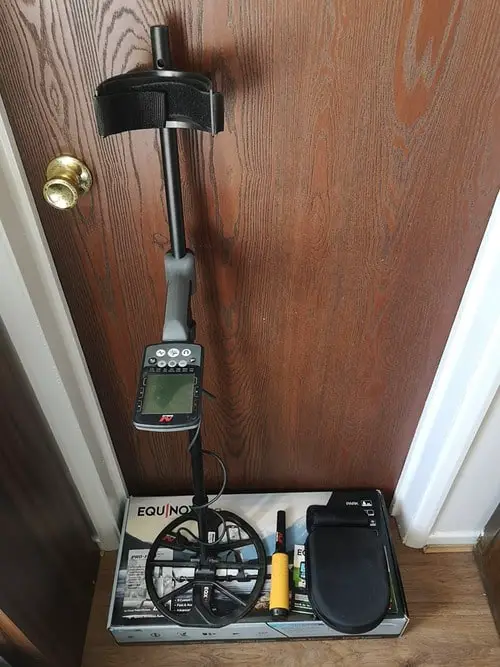 The Minelab Equinox 800 (You can Check it Here on Amazon!) is my favorite device by far not only for fields, but also for all kinds of terrains including the mineralized soil! The technology it brings to the table is seriously advanced …
… It has 4 different modes:
Field: For cleaner environments
Park: If you are searching in trashy areas.
Beach: This is actually the mode in which this device performs at the best of its abilities as it operate on all its frequencies at the same time.
Gold: In which the machine operate on its highest frequencies to pick up small gold nuggets!
… It is a lightweight and can operate on 5 different frequencies all at the same time (5 kHz, 10 kHz, 15 kHz, 20 kHz, 40 kHz)
You can also select to use one of these frequencies at a time if you are looking for something specific!
Advantages of detecting in fields
Below the 5 main advantages that come with detecting in fields:
Exploring farms can produce some interesting finds, especially if the fields were former sites of non-farm activities.
In rural areas, you can even get the opportunity to detect in fields that are over 200 years old. This is GOLD!
If the field was in use for many years, there are good chances that you may find some relevant relics from ancient times. That is, farmers continually plowing the soil bring items closer to the surface.
It is not easy to get permission to detect on Fields in general! This is not a drawback … Indeed, this means that they are under-explored, thus it will be easy to come up with great finds.
The field ground condition is not difficult to deal with! It is not like the beach or mineralized soil in which you will be confused by false signals.
A good resource to do some researches for a field will be to go through the old USGS (United States Geological Survey) Topographic or commonly known as the USGS 'Topo' maps.
These maps are available from way back to the 1900s and also indicate old home sites and other buildings clearly.
In conjunction with the recent Google maps satellite images, you will be able to find particular fields that are interesting as potential detecting sites.
How to get Permission to detect in farm fields?
I've already talked about that in this Post, yet I still want to highlight few things!
It is absolutely important that you get permission from the owner if you are going to be detecting on a private field.
It is totally worth it, not only because you won't have any trouble with the owner. But, also the finds there are promising.
Regardless of whether you decide to go alone or with a club, if you are unaware of the owner of the field; then you can use the OnXmpas Hunt Premium App Membership to find out who owns the property.
Also, always remember that a farmer's livelihood depends on the fields you want to metal detect on.
So if you get the required permission to hunt in a field, you should always follow any requests or rules from the farmer and make sure to leave the field in the same manner in which you found it.
Also, if you are refused, then taking a 'no' gracefully will also help in showing that this hobby is respectful of others.
Always, offer to share the finds with the owner so he will trust you. Plus, if you have any certificate that proves that you've already done a credit to community, don't hesitate to show it to him to trigger that trust.
Clever Tip that No One Talks About: Let's say you've got a permission from an owner to detect in his field. After all said and done, make sure you leave a great impression and ask the owner to give you a written/signed certificate that you've detected in his field and that he was happy with the overall experience and that he recommends you for other famers … This will be a great ASSET while asking for your next Permission!
Examples of fields you can target inside USA
Some of the best fields you can consider are listed below:
There are many world-class farms that you can approach!
If you are just beginning field detection, then you should ideally start with a smaller sized field and then move onto bigger fields as you get the hang of field detection.
Examples of fields you can target outside USA
Outside of the US there are farms and fields around the world that are worth exploring with your beloved machine.
Farming is a universal concept and you will thus find fields everywhere!
Always remember that the code of ethics regarding this hobby remain the same no matter where you are hunting!
So make sure that you leave the fields in the same manner in which you found it and always ask for permission from the farmer or owner before you step foot there.
Also keep in mind that metal detecting might not be a popular activity everywhere and many people in the rural areas might not even be aware of such an activity…
…That's why, you should keep an open mind when you approach owners for permission.
Below there are examples of fields you can target outside the US are:
Mudanjiang City Mega Farm in China
Modern Dairy in China
Anna Creek Station in Australia
Clifton Hills in Australia
Alexandria in Australia
Davenport Downs in Australia
Home Valley in Australia
El Tejar in Brazil
Mudanjiang City dairy development in China
Prodimex in Russia (Learn more about detecting in this country here)
Ivolga in Russia and Kazakhstan
Detecting in old farm fields – What you should know
Detecting in old farm fields can prove to be quite a surprise for you!
This is because they have years of history buried underneath and walking around with your metal detector can truly uncover some valuable treasures.
However, it is important that you do some research before you decide to detect in an old farm field.
Researching the area and the land beforehand will give you an idea about whether it is even worth exploring that particular field or if you should target some other field.
Metal detecting in open fields – Helpful Info
Open fields can also prove to be promising!
Some hobbyists prefer to start detecting at the lower perimeter wall of the field which falls closest to the road.
You might just be surprised at what you end up detecting in an open field …
… Some of the finds other detectorists have been lucky to find at open fields include:
22 caliber shell casing
Ancient coins
Coins that are still in use
Several bullets of various types and makes
Brass belt buckles
Vintage 12 gage shotgun shells
Bracelets and other valuable jewelry
These may sound like trivial finds, but some of the vintage items can sometimes prove to be worth quite a bit.
So never underestimate the opportunities that open fields could bring!
How you should deal with detecting in Plowed fields?
Plowed or ploughed fields are a delight for hobbyists all over the world!
The key to detecting in plowed fields is to do research before hitting the soil with your machine. Find locations in the plowed fields where there is a human activity, preferably for many years.
While at first glance, it might just look like a normal field, research may reveal that small villages, barns, farms, houses, schools, churches, old picnic spots, and other similar places might have existed in the field before.
Plowed fields mean that the ground has been freshly churned around thoroughly and this increases your chances.
Helpful Tip: Start detecting with the zero discrimination mode on your detector so that you can find the good spots easily. The chances of finding trash such as in parks, yards, and beaches, is also quite less in a plowed field, so your detector is less likely to give a false signal!
Finally, what about Metal detecting in Stubble fields?
Targeting fields covered in stubble is not an ideal scenario!
It is possible that rain softens up the stubble, but otherwise without rain, detecting in stubble is hard work.
The ideal thing to do if you want to detect in field stubble is to begin by detecting in the bits of the field you can comfortably get at and move around in.
If you are getting a signal at a place where there is stubble, I recommend that you tread it down and go over it with your machine.
You also need to ground balance your metal detector and turn up the sensitivity to full…
…Shorten the shaft length and go over the top of the stubble for best results.
Conclusion
I hope this Post was not too longue for you! However, I really wanted to include as much helpful information here as I possibly can …
… I recognize that the opportunities in all kinds of farm fields are enormous, that's why you should take note of the tips I've shared here so you will get the most out of you next detecting sprint!
At the end, I would be vey happy to know what you are actually thinking:
Did you ever have the opportunity to detect in fields?
If so, Could you tell me more about your experience?
If you are looking for tips to detect in a similar environment! Then you really have to check this Guide for Detecting in the Grass! You will learn some practical and helpful info …