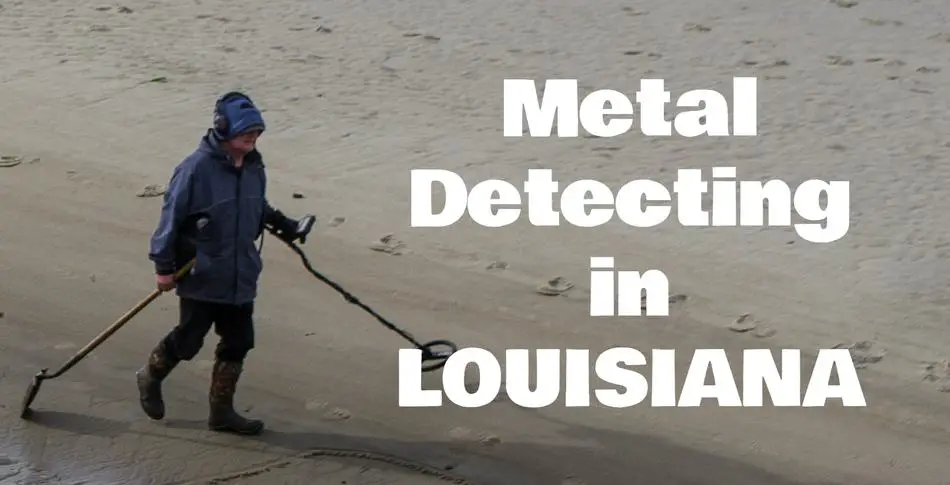 Louisiana is a state in which Metal Detecting is a very popular activity! Actually, it is a hub for many detectorists and hobbyists and also dozens of clubs that you can easily join.
In addition to the fact that the finds you can pick up there could potentially be highly valuable!
Nonetheless, it is seriously important to know more about the laws organizing this activity in that State. In fact, if you skip that, you might encounter some trouble with the local authorities …
… Besides that, in this Post, I list some helpful tips and hacks that you need to take onto consideration. This generally includes the areas that you should explore, plus the targets, clubs and other things that you can find there!
What are the metal detecting laws in Louisiana?
If you live in Louisiana, then you might notice that this hobby is controlled by many laws in this state. In fact, it is not just controlled by the State laws, but also by several Federal laws.
The first law that governs this activity there is the Archeological Resources Preservation Act (ARPA). At the same time, you need to be aware of the local laws.
You always need to ask for permission before detecting in there. Indeed, it is strictly prohibited at any archaeological places.
You are also not allowed to remove or excavate any archaeological resources that are located in any park in the state!
There is a metal detecting permit that you can find at the website of the US Army Corps of Engineers in Monroe.
This permit will allow you to use your machine on beaches and other areas that do not contain any archeological, paleontological or historical resources.
It is also against the law in Louisiana to cut, destroy or damage any timber on any site that you are exploring.
Best metal detecting sites in Louisiana …
Louisiana has an extensive and rich history that is why it is the perfect draw for thousands of detectorists from all across the country.
There are countless valuable coins, artifacts, and relics to be found there and have already been found at many locations.
It is even said that a simple walk along the creeks and Louisiana's shorelines with a metal detector can land you an old Indian relic.
These areas were known as the hunting grounds for the ancient Indian tribes that were camped here and therefore it is quite common to find an arrowhead and other valuable and interesting items if you keep your eyes and ears open.
A common place to detect for Native American relics is the Fallen Springs Campsite, which is located just near to the Toledo Bend Reservoir.
The state also has a rich Civil War history and there are many places where, with a machine, you can find some amazing Civil War relics. However, it is illegal to search for artifacts on protected areas and Civil War battlefields, but many detectorists have had luck in detecting the areas surrounding these protected areas and battlefields.
There are many hobbyists who live in the Baton Rouge area so you can ask for tips on some good places on these online forums as well if you are wondering about where to detect.
Best Detector for Louisiana Soil!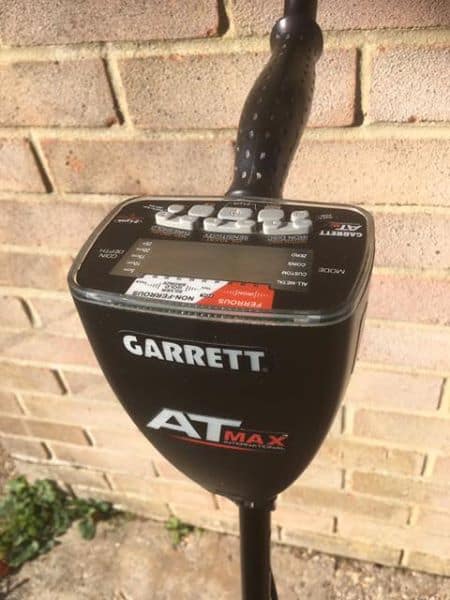 There are many types of soil found all over Louisiana. The soil development there is a result of the combination of various factors such as volcanic ash, plant residues, and weathered rock.
For such variety of soils one of the best detecting machines is certainly the Garrett AT MAX (Check it Right Here on Amazon!!), AT standing for All-Terrain…
…It can operate easily across all types of soil that you can find not only there but also almost anywhere! This also include the detectorist's nighmare, I am talking here about the conductive soil …
… This device is ideal for both seasoned experts and newbies with some preliminary ideas about the hobby!
It's not that hard to use! And you will find that the device comes with both automatic and manual ground balancing which is extremely important if you are dealing with variable ground …
… Finally, if you are not a Big Fan of Garrett Electronics Products which is the case of some hobbyists … Then you may want to Have a Look at my Favorite Machine Right Here on Amazon! It is a Minelab device that can Operate on several frequencies all at the same time!
Metal detecting in Louisiana State Parks – What you should know
As per state and federal laws it is not legal to detect in state parks in Louisiana. Not only you cannot excavate in state parks, but you also cannot damage, alter, or deface anything located in any state park.
However, according to the information available on some forums dedicated to this state; there are some state parks allowing the practice of this hobby. So the law should not discourage you …
The best way to find out whether or not you are allowed to use your machine is by contacting your local park or public area authorities.
Hobbyists based in the Baton Rouge area of Louisiana frequently carry out using their machines in state parks. Though they remain very careful of not detecting in a lonely area where there is a threat of being attacked or mugged.
In addition, some enthusiasts living in Kenner, for example, have contacted the Parks and Recreation Department. In fact, they were informed that there are no clear laws regulating in state parks in the area.
Detecting in Louisiana beaches – What you should know
There are many beautiful beaches around Louisiana that would be highly appealing for detectorists. To begin with, if you want to try your chance at Louisiana's only white sand beach, then you should head to North Beach.
Generally, you do not need any permission to detect on the beaches of Louisiana, but you might still want to confirm that within the local authorities. By doing so, you will put your mind at ease as you metal detect.
From the North Beach, you can head towards the Cypremort Point Beach, which is located in Vermillion Bay. It is a very popular destination and many locals and tourists gather here for picnics, boating, swimming, and windsurfing.
This is a man-made beach with a coastal marsh environment, so bring your equipment accordingly. It is also possible to stay overnight at the Cypremort Point Beach but check beforehand as there are few cabins on the site.
The Holly Beach, Rutherford Beach, and Grand Isle are just some of the other beaches in Louisiana that are ideal for metal detecting.
Don't forget to have your gear on you before you go for the beach!
Are there metal detecting clubs in Louisiana?
This hobby is fairly popular in Louisiana! That's why there dozens of clubs that you can join there to enjoy this activity even more. Some of the common clubs in the state include:
Southern Treasure Hunters
GPAA Arkalatex Chapter
Association of Christian Treasure Searchers
Acaiana Pastfinders
Louisiana Past-finders
Northwest Louisiana Treasure Hunters Association
Red Stick Raiders Metal Detecting Organization
Pelican Relic and Recovery Association
Raiders of the Lost World
Lake Area Treasure Hunter's Club
Southern Historical Research and Recovery Association
Joining a detecting club there will come in handy as then you do not have to detect by yourself. You will be able to join people who also enjoy detecting and your chances of recovering a treasure will also increase.
What finds and targets are common there?
There is a wide collection of things you can find there. In fact, you can find:
Ancient coins
Native American relics
Civil War artifacts
Different types of ammunition
Even gold nuggets as well as other interesting finds.
However, remember that if you are practicing for the first time, be prepared to also run into a lot of trash, this requires lot of patience…
… Await your chance and surely you will come across valuable finds in no time.
More information about metal detecting in Central Louisiana
Central Louisiana is also known as the Crossroads includes the communities of Alexandria, Pineville, and Natchitoches.
The region has a lot of physical diversity! This increases your chances of finding valuable finds. From extensive prairies to the piney hill region, there are also swamplands and deciduous forests as well in this area.
There are also many large rivers and sandy bottoms that are typically used to carry waterborne freight. The parishes of Rapides, Vernon, and Allen are also good places to detect in Central Louisiana.
More Info on detecting in north Louisiana
North Louisiana has many enthusiasts of our beloved hobby. The region is commonly known as 'Sportsman's Paradise'!
In fact, the hilly areas of LaSalle, Winn, Caldwell, Natchitoches, and the Louisiana Central Hill Country are all excellent places.
The Shreveport – Bossier metropolitan area also make for an excellent area. Indeed, you can find there some good clubs and dedicated online forums that can help you move around the area and understand all the good places that you can opt for.
More About detecting south Louisiana
There is nothing better than parks if you want to detect in south Louisiana! Indeed, there are many beautiful parks there that could potentially hold valuable targets. Actually, they are popular places for people to gather for concerts, fetes, picnics, and even sporting events.
You are likely to find many loose coins and if you are a savvy detectorist then you can actually put together a fair amount of tips from these parks.
Under a tree, around the benches, if there is a kiosk then around a kiosk, and at places where people have used the grounds, would be the ideal places to target.
Is it legal to detect in Fort Jackson?
A historic masonry fort there, Fort Jackson is a very important historic location in the state!
The Fort is no longer open to the public, though the gates remain unlocked so you can easily walk inside and look around if you want it.
Since there is no security as such at the place, you can still metal detect, though it is not legal to use your machine at any historic location…
… So keep this in mind that if you end up finding something valuable at Fort Jackson, then you will need to turn it over to the local authorities.
However, if you want to be sure of what you are doing. Then you should probably ask your local government office about whether you can explore there or not.
Is it legal to detect in Lafayette?
Lafayette is one of the largest city in the Lafayette Parish and it is deep rooted in history!
The heritage of this city is prominent and affects the city's traditions and lifestyle. It is legal to metal detect there as far as I know.
If you want a good place to begin metal detecting in Lafayette, then Avery Island will certainly be one of the best choices.
The city is located on the West Gulf Coastal Plain and the site was earlier a part of the seabed so chances are high of finding some ancient relics here.
Exploring along the sides of the Vermilion River can also be a good start!
Conclusion
If you are here in this Post, it probably means that you've done some prior searches on the metal detecting here in Louisiana. If so, believe me, you are doing the right thing …
… Indeed, many hobbyists don't read about a specific state, area or even country before exploring it. Thus, they may end up targeting non-valuable locations or locations that may cause some legal trouble for them.
So, hopefully, you've learnt new things here and you are more exited to explore this beautiful state!
Other than that, if you are aware of any additional information that I didn't include in this article. Please let me know in the comment section below. By doing so, other people will learn from you …
… Another cool state that you probably should be considering is Texas! BTW, I've put together this Texas Detecting Guide! I am sure you will end up learning some cool info!!