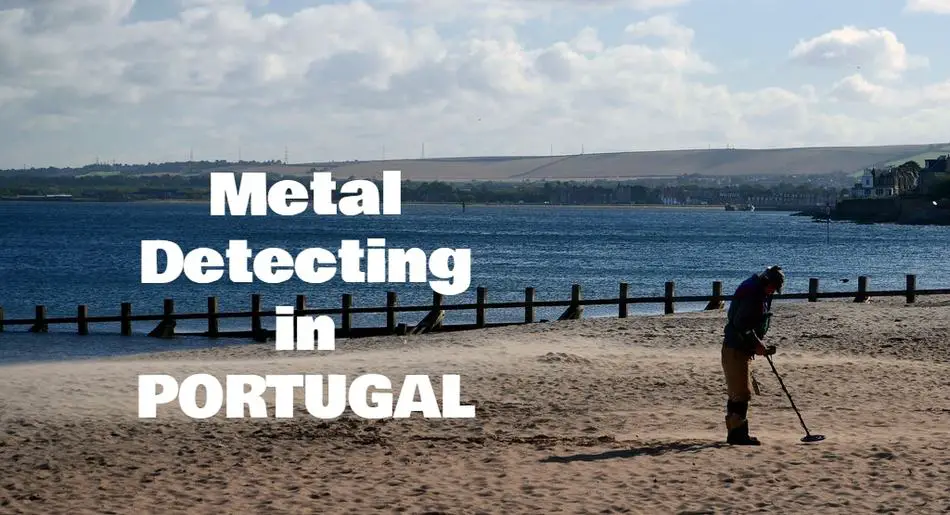 Portugal is one of the finest countries you can visit and enjoy your time. It is also a good place to enjoy practicing metal detecting as a hobby …
By doing so, you will be able to discover this country to its full potential!
However, being reckless and going out there using your machine could be a bad move on your behalf. Indeed, you need to learn about the laws plus being aware of the right locations you should be opting for.
Below I share with you all what you should know regarding Metal Detecting in Portugal …
 What are the metal detecting laws in Portugal?
Metal detecting is officially illegal in Portugal! However, even though there are a couple of treasure hunting clubs in the Portimao and Lagoa districts…
…Members of these clubs need to first get permission to use their machines.
Furthermore, detecting on the beach is pretty rare and that is allowed mostly for locals. They also need to obtain special permission from the local authorities before taking going in there and exploring the beach.
If you do not have the required permission and you get caught by the authorities, then the penalty is not only the confiscation of your detector but also a fine of 500 Euros.
It is said that before 2006, it was possible to get a daily permit to metal detect. However since then, it has become almost very difficult to get such a permit.
Is Metal Detecting popular in Portugal?
The popularity of this hobby is certainly on a good the rise around the world. Not only is it perceived today as a great form of exercise, but it also makes for a great social experience.
However, this is not a very popular activity in Portugal, especially because of the stringent regulations surrounding it.
In fact, if you are caught using your machine without the required licenses, then you may be is some trouble. That's why many people prefer to stay away!
Best Detector for Portugal Soil!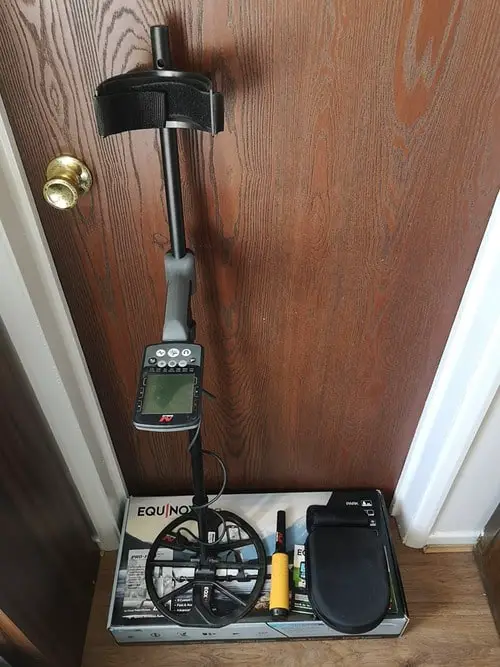 Portugal is known for its diversity of landscapes! There is a variety of ground types that you should deal with while swinging your machine throughout the country!
That's why it is always a solid choice to use a multi-purpose device that can operate on most kinds of soils! The Fisher F22 (Check it Here on Amazon!) is probably the Best low-cost device for this kind of usage … Otherwise, if you are willing to invest in an much established model, then I highly recommend the Minelab Equinox 800 (Check it Right Here on Amazon!), it is my favorite machine to date!
The latter can operate on 5 different frequencies at the same time or one at the time (from 5kHz up to 40kHz)! And it can also operate on all sorts of grounds including Fields, Beaches, conductive Soil, ferrous ground …
Beach metal detecting in Portugal – Helpful Information
As I've said before, it is illegal to detect in Portugal even on the beaches. It is a little bit weird as in most countries you don't really need a permission to detect on the beach.
Even if you apply for getting a permit there, it takes so long to come that you are likely to have forgotten that you even applied for the license in the first place!
If you do manage to get the required permits to use your machine on Portugal beaches, then here are some few tips you can follow:
First and foremost, make sure that your metal detector is tough enough for detecting at the beach.
If you want to be detecting at wet sand or even at the surf, then you will need a machine that can operate there properly.
Keep in mind that wet sand is usually mixed with black sand. Black sand is also mixed with iron and some other minerals. This is likely to confuse your machine into giving a false signal and you can spend hours digging at places where there is nothing. So, make sure you are implementing the right discrimination settings.
The next thing you need to do is to do some research on understanding the tides. Tides can change within minutes and many detectorists have lost their lives to sudden incoming tides. This is why detecting at low tide is the best time to look for.
Best Places to detect in Portugal …
In Portugal, while it is prohibited without a permit which is very difficult to get, metal detecting is most common in the region of Algarve.
Algarve is the southernmost region in Portugal, known for its golf resorts and Atlantic beaches. The region is also popular for fishing, the low cliffs, and the beautiful sandy coves that surround the fishing villages in Algarve.
Some of the best places to metal detect in Algarve are:
Praia da Rocha Beach
The area around Cape St. Vincent – this is a lighthouse and a cliff that makes for some good finds with your metal detector
The barrier islands of Ria Formosa that is not just good for hiking and cycling, but also for a spot of metal detecting
The scenic rock formations of Ponta da Piedade
Finally, I highly invite to have a deep look at this detailed article! I include in it about 50 locations that you might really find interesting to explore.
How to get a permit to detect in Portugal?
If you want to get a permit, then you need to apply for it at the Ministry of Culture. You will get to know the cost of getting the permit over there itself.
There are offices of the Ministry at each city and you need to fill out the form for the permit and submit it at the nearest office.
However, keep in mind that it may take a long time to get the permit, so be prepared…
… Also, be careful that you do not carry around your machine without the permit as it might get confiscated and you may have to pay a significant fine.
Your application for requesting a permit should include the following:
Your identity and your identification documents
Purpose of your detecting survey
Places you plan to opt for (Be specific as much as possible!)
Characteristics of your detecting device
What Finds should you expect in Portugal?
There are many types of treasures hidden in Portugal and with a decent machine, there's no telling what all you can find.
For example, in the Azores, you can metal detect in a former abandoned centuries-old village. From ancient relics to valuable coins and artifacts, you can find many things at the abandoned villages in the Azores.
There are also many legends of buried treasures in Portugal along with many shipwrecks off the coast. So, for all you know, you may just come across a lost treasure with your device.
Are there Metal detecting clubs in Portugal?
There are a couple of clubs in there, but very few. The lack of detecting clubs in Portugal is because of the prohibition of this hobby in the country and the difficulty in obtaining a license.
Some of the clubs that are there they organize beach detecting activities at some of the beaches in Carvoeiro and surrounding areas.
However, you can only join these digging hunts if you already have a permit.
If you are in Portugal, then it could be a good idea to join one of these clubs there. This will also help you understand the procedures of how to get a detecting permit as the local members of the club will be having a clear idea and will be able to guide you in the correct manner.
Joining these clubs will also help you find like-minded people who you can join on your digs. Especially in a place where it is prohibited, can be a lonely activity.
Are there equipment shops there?
There are not many equipment shops that sell metal detectors and other related equipment in Portugal.
If you are looking to buy detecting equipment there, then the best place to opt for would be online market places.
There are many online websites that sell equipment and deliver them across Portugal.
There are some shops that sell metal detectors in Cantanhede and if you stay around this area, you can try looking around.
Another way to get some good references for where to buy equipment is by checking online forums.
Conclusion
This was probably the hardest post I've put together! Indeed, it was a little hard to find proper and accurate information regarding this hobby in Portugal…
… Hopefully, I was able to answer all your questions and provide you with helpful data that you will take advantage of.
Finally, if you are looking for other worthy places to explore, then have a look at this Florida metal detecting article! You will learn a lot …