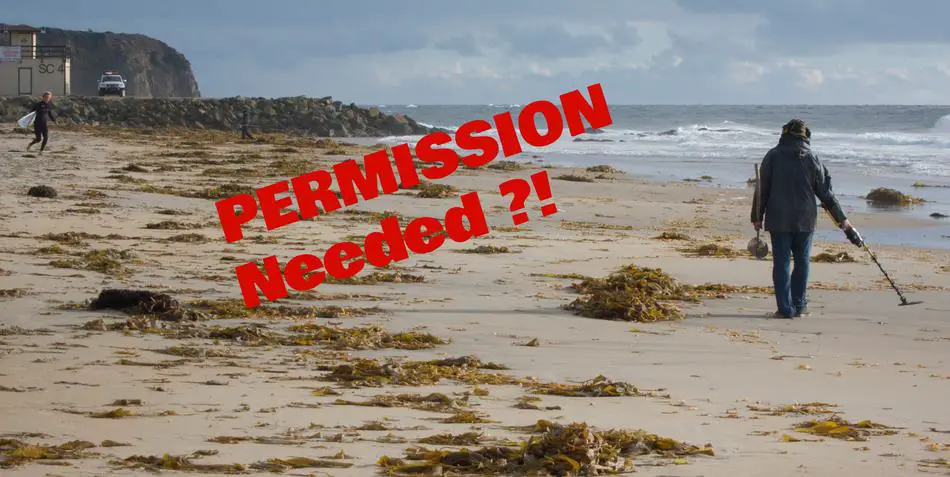 Metal detecting in the beach is perhaps (I would say certainly) one of the most popular places that hobbyists head to. That's why, you will more lately going to notice detectorists on public beaches more than any other place including woods, fields or national parks …
… However, one of the concerns that you may raise is about the permission to go detect in there!
So, do you need Permission to Metal Detect on the Beach? In most cases detecting in public beaches, do not require a permit or license. However, there are some countries like Greece that still asks for permission. This also depends on the beach, that is, there are some beaches that are archaeologically protected that you just can't detect in unless you have a license.
In countries such as Australia, Italy and many others, you do not need any permit for beaches.
For United Kingdom, all you need to do is get an open permit for metal detecting from the Crown Estate. By doing so, you will get the access to enjoy this hobby wherever you feel like except, of course, on somebody's private land.
Many times an enthusiast of metal detecting feels that detecting on the beach is not going to be as fruitful as in historical places …
… But keep in mind that it is not uncommon to find some great coins and artifacts on beaches as well! Plus, you don't have to go around from place to place looking for permission …
… The wise thing to do is that whenever you go to any new country or a new beach; just find out beforehand whether this beach requires a permission or not asking hobbyists or local clubs or even local authorities.
Before I forget, several people has asked about the best metal detecting machine for beaches which is also on a Budget! The one I recommend is a Fisher Model (Check it Right Here on Amazon)
These Equipments are as Important as Getting you Permission!
Besides the permission there are other things before you start hunting on a beach, ensure that your machine is adapted for it.
Your regular detector should work fine in dry and sandy areas, but if you are going to be detecting in the wet sand or even the surf, then you will need a specialized detector.
These metal detectors work great for wet sand! You can check the out to get more in-depth ideas …
… You can Check my favorite machine Here on Amazon!
Studying the tides will also help you understand what the best time is for using your machine. Following the towel line is perhaps the best way to detect there…
… The towel line refers to where most beachgoers will place their towels. This is above the high tide mark and this is the place where most people end up losing their things.
Remember that you will need specialized equipment for digging on soft sand. Fine dry sand will also cause a lot of frustration. Having a sand scoop (better yet, a stainless steel one) is a required in this case.
If you want to try some underwater detecting, you should definitely consider using these waterproof headphones.
Finally, to collect your find, you will certainly need a Sand Scoop, especially if you are dealing with trashy areas! This lightweight Sand Scoop on Amazon is one of the best out there!
So come prepared!
Countries where no permission is needed to Detect in the Beach …
Below I list some countries where there is no need (in most cases) to have any special permission to detect on the beaches:
Australia
Czech Republic
Latvia
Indonesia
Kenya
Lithuania
Maldives
Namibia
Russia
South Africa
Vietnam
United Kingdom – in most places
United States
Detecting on the beach can hold lot of benefits as you are likely to find many types of modern jewelry that sometimes proves to be quite valuable as well as modern spendable coins.
Sometimes you can run into some difficulties because of the highly mineralized soil conditions in some beaches. So if your machine suffers with such condition, you won't achieve much …
… However, if you have the correct equipment with the proper settings, then such problems won't even be noticed and you can get on with your hobby without a hassle.
Sometimes, when you detect on a beach, it is bound to draw the attention of many curious beach dwellers. So if you do not like to draw attention, it is recommended you visit the beach during off hours.
Countries where you need permission to Detect in the Beach …
There are many countries that require you to get a permit before you can use your machine on public beaches. Some of these countries include:
While the most appealing thing that draws scores of detectorists to the beaches is that they don't require any permit, there are several countries that need you to apply for a permit.
For most of these countries, the permit forms are usually available online and you can also just fill up these forms and submit them online.
However, for countries such as Greece, which had some serious financial and regulatory problems, it may take anywhere between six months to a year to get the approval you need.
So plan your trip according to the time it will take for you to receive the permit!
Countries where it is forbidden to Detect in the Beach
There are some countries where using your detecting machine at the beaches is completely forbidden for hobbyists.
Generally for these countries you need to have some particular credentials like working for police, military, government or even for an archeological institution to be able to do so.
Or you need to belong to a club/association with some big authority. Otherwise, it will be very hard …
Cambodia
China
Comoros Islands
Croatia
Cuba
Cyprus
Ethiopia
Iceland
Jordan
Libya
Malta
Moldova
Mongolia
Morocco
Saudi Arabia
Sri Lanka
Sweden
Tunisia
Out of these countries, there are some that not only forbid metal detecting on the beaches but do not allow it anywhere in the country even …
… For example, in Cuba, even the very possession of detectors is taken to be at par with the possession of weapons. In addition, in Cyprus, even if a machine is detected at customs, it is usually confiscated and returned to the person only when he/she is leaving the country.
That's why it is so important to find out the rules and regulations governing this hobby in a given country. You should do so before travelling there!
Getting the permission to detect in the beach
Obtaining permission to use your machine on a beach should not be that difficult! In fact, most countries have clear instructions on which ministry or which office will provide you with the permission you actually need.
In most cases, it is possible to fill up the form online with your name, email, the address you will be staying at during your visit to the country, and sometimes may also require you to fill in your passport number.
In most countries, the permission gets processed within 10-15 days. But in cases such as Greece, it may take a long time, from six months to a year!
Some departments may require you to physically fill out the form and come to deposit the same. In some cases, you may get the permit immediately upon submission of the form, or you may be called back in a couple of days to take the permit.
Always, remember that if the law requires you to have a permit, then do not try to circumvent the law and go around with your device on beaches …
… Though in most cases, nothing happens, but if you are caught by a local authority or the local police, then you might even face a jail term.
If there is a local detecting group or forum online, then try to find out all the information regarding how to obtain a permit from them. Being local enthusiasts, they would be able to guide you best for sure!
Beach Metal Detecting Permission Letter Template …
Many places require you to also submit a letter to get your permission. For this purpose, you can try to follow the below-given template.
To the Department Concerned,
My Name is (first name and last name) and I live in (give the name of your country and town). I am a lover of history and the beaches located in your country (give the names of any specific beach you want to detect at) has always resonated with my inner historian and explorer.
My motives for reaching out to your department is so that I could request you to grant me the requisite permits required to carry out metal detecting activities on the beaches here.
I would be honored to metal detect in your country and I will share whatever finds I make with the local authorities.
I will abide by and follow all the metal detecting code of ethics, filling in all the holes, never entering any restricted areas, and leaving behind no evidence of my presence.
I would sincerely appreciate your consideration in this matter.
Best Regards,
(First Name and Last Name)
(Your complete address)
(Your Contact Number)
Also, attach any travel documents that you may be having!
Some Good Beaches to Explore …
There are many beautiful beaches around the world that you can target! Some of these shores are lined with pink sand or black sand instead of white sand, while some spots are known for historic shipwrecks and stunning rock formations.
If you are looking for a historic outing, then there is perhaps no better place than Egypt. The Agiba Beach in Egypt is known for having the bluest of waters and the plushest of sands. With so much history in the country, it is no wonder that this beach is a spot for enthusiasts and hobbyists who come from all over the world.
If you want to detect at beaches that have shipwrecks still lying on them, then you can Turks and Caicos would be the ideal location for you.
It is estimated that there are over 1,000 shipwrecks that line the shores of Turks and Caicos, a chain of islands southeast of Bahamas. Even several Australian beaches are known to have shipwrecks lying off the coast.
Try visiting the Fraser Island in Queensland, Australia with your device for an out of this world experience.
Remember to check with the local authorities about whether you need to obtain a specific permit.
Conclusion
If you know any additional helpful information about this topic that I didn't include, please let me know in the comment section below. I will be very very grateful …
Other than that, the main purpose of this article is not only to answer your question. It is also to encourage you to enjoy this hobby as much as possible…
… Indeed, in most beaches in the world permission is just not required … And even if in some cases it is required the process to acquire it is not as difficult as you might think.
So, regroup and let's have some fun!
Finally, if you are interested about detecting in the beach! Then you really have to look at this metal detectin in the beach guide! You will learn a LOT!!!