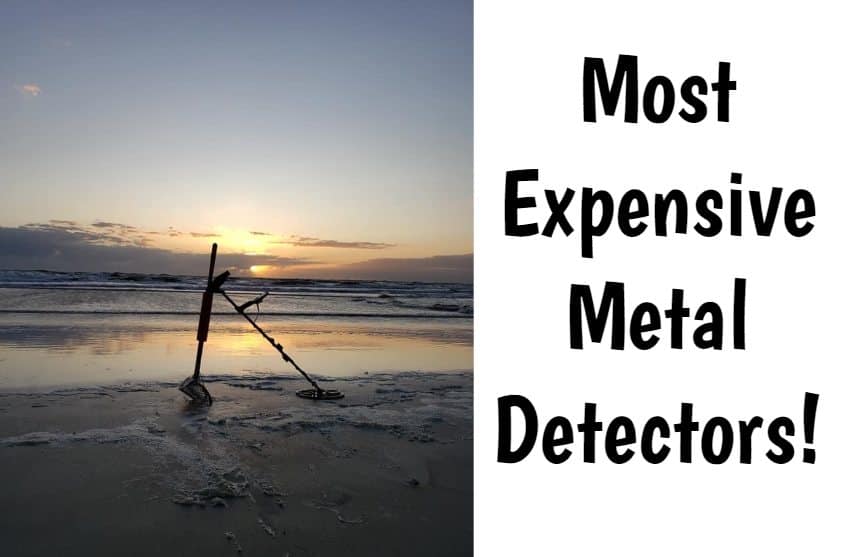 Metal Detectors are in most cases a significant investment, that's why most people tend to buy the best cheaper one! But what if I tell you that you should (in case you can afford that!) go for the most expensive detectors if you are serious about the hobby …
… So, what are the most expensive metal detectors? The GPZ 7000 is definitely the best candidate for such a status; however, you should approach this question depending on what category of machines you are targeting.
In this Post, I dive in each category and provide you with the most notable detectors for each!
First … Are Expensive Metal Detectors Worthwhile?
Metal Detecting is a hobby that requires a certain level of investment upfront and there is no other way around that! However, when it comes to your detector, you have the choice to go with a cheaper model, or go for higher end models depending on your budget, expertise and expectations …
… For example if you are just do it for fun with no pressure to find highly valuable stuff then an inexpensive device should be your go-to  most of the time …
… Otherwise, if one or some of the following conditions are verified, then investing in a pricy machine is definitely worth it:
When you are opting for highly valuable targets like gold nuggets.
You are looking for a robust machine that will last for many years to come
If you love using devices that bring lots of technological features to the table.
Also, if you are looking to use reputable branded machines (Minelab is a Good example!) that will offer a long warranty and good post-sale services.
This also applies if you want to use a machine that can operate under non-comfortable situations like underwater,

under rain

, highly conductive soil…
…
So, having a pricy detector, is not really about the Hype (that might be true in some cases though!), it is rather about what it brings to the table mostly in terms of technical and functional features!
Here are the most expensive metal detectors …
1. For beginners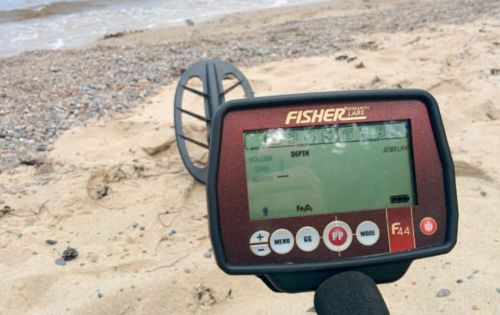 If you are looking for an entry-level machine and willing to invest pretty good in it, then the Fisher 44 (Check it Here on Amazon) is a very solid choice!
Indeed, in many cases I recommend it beginners as it is easy and intuitive to operate … You won't really feel intimidated by the equipment in your first few usages for sure!
Below, some of its main features:
5 search modes
Adjustable iron audio (to identify trash)
Weatherproof control box
A backlight (very helpful at night!)
Both automatic and manual ground balance (to Adjust to different ground conditions)
The detector is also lightweight, weighing in at just 2.3 pounds!
Below a very short breakdown of its 5 search modes:
Jewelry: This mode will overlook any iron signals and only signal when it detects jewelry
Coins: You can easily get rid of iron signals, pull tabs, and any other signals that come from trash and only get a signal when the detector finds coins.
Artifact: in this mode, you will get all the iron signals, which might lead you to find some great historical relics.
Custom mode: you can create your own search parameters with this search feature.
All metal search mode: You will be able to identify all metals with this search mode.
2. For Coin shooting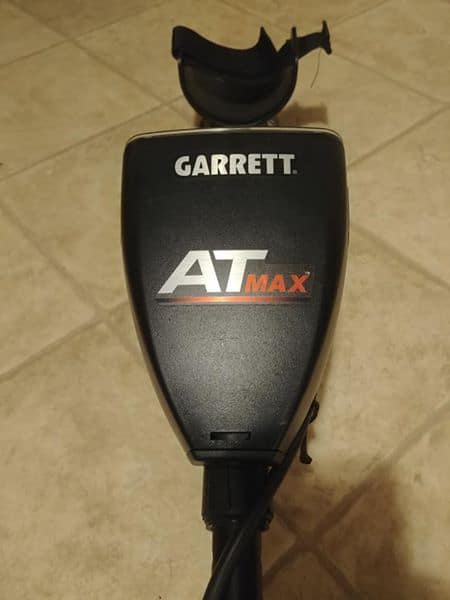 Maybe you are a coin collector, or just interested in finding coins and willing to get the best machine that could help you! To serve such a purpose, then the Garrett AT Max (Check it Here on Amazon) is probably the most expensive model for that …
… In fact, the AT Max is an all-terrain model, meaning you can use it for pretty much everything, yet it is mainly superior when it comes to coin shooting. Also, you can use it for that same purposes underwater as you can submerge it up to 10 feet (3 meters).
One of the best features of this device is the built-in Z-Lynk Wireless technology, along with the MS-3 headphones manufactured by Garrett itself.
Indeed, the Z-lynk wireless allows you to hear the target signal as soon as the search coil is directly over the target without any delay … It is 6 times faster than Bluetooth speed!
Another notable feature includes a true all-metal mode and an optimized frequency of 13.6 kHz. This provides great detection on a wide range of targets, including coins made of silver, brass targets, jewelry, and much more.
This machine is also highly sensitive to picking up gold coins or tiny gold nuggets! It was not designed for that though.
Also it has about 175 points of high-resolution ground balance, which means that it will work fine on highly mineralized ground and conductive soils.
This model is considered the Big Brother of the notorious AT Pro (Check it Here on Amazon) … In other words, it is an upgraded version of the AT Pro.
3. For Gold Detecting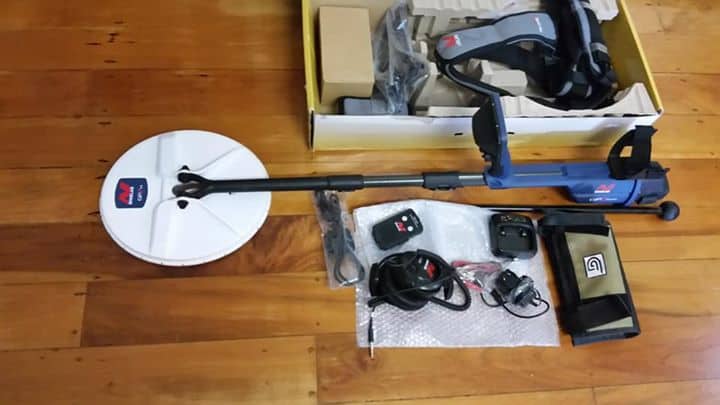 The Minelab GPZ 7000 (Check it Here on Amazon) is the Beast when it comes to gold prospecting!
The devices with the revolutionary ZVT technology that out surpasses any GPX detectors for detecting deeper and larger gold nuggets.
It comes with a simple LC menu system which has GPS locating and PC mapping options. There is one set of screen options that control the metal detector setting, and another set controls the integrated GPS tracking and mapping system.
The GPZ 7000 is (obviously) fully weatherproof and can be used in any weather condition. Also, it comes with a 14″ x 13″ Super D coil that provides access to both large and small gold nuggets on the very first pass itself.
Keep in mind that this is a heavier machine compared to other detectors, But for someone like me, I wouldn't consider that to be much of an issue.
So if you are really serious about gold prospecting, then I highly doubt there is a better or more expensive machine than the GPZ 7000.
4. For Underwater Detecting

The Minelab Excalibur II (Check it Here on Amazon) is the number 1 choice I know for scuba diving and underwater detection! This also applies for beach hunting …
… It is VLF machine capable of ignoring minerals and iron without even the need of setting a proper ground balance. Also, unlike most underwater models out there, the Excalibur II could even target a gold ring present under iron even.
Don't forget that when it comes to this aspect of the hobby, having a good metal detector is necessary, yet it is not enough! You still need to have a check at these underwater metal detection tips to be totally ready for such an experience …
… Anyway, you can use the Excalibur II with an 8″ search coil in most cases, or you can even opt for the 10″ coil to gain much more depth. For scuba diving, the 8″ coil would be ideal for less drag.
Other features include:
High Visibility (Hi-Vis) fluorescent bodywork and skid plate
CB amplifies weak target signals inside the coil, decreasing the noise and also boosts faint signals from deep objects
NiMH rechargeable battery pack that allows searching for up to 12 hours
Side-mount shaft to allow for shallow and surf-wading
Keep in mind that this machine is not for beginners … Indeed, it is better fitted for intermediate up to seasoned detectorists.
5. From Garrett Electronics

Garrett Electronics is one of the Best Detection Brands out there! That's why I wanted to include probably, the most expensive model from the Garrett house …
… The top candidate for that is the Garrett ATX (Check it Here on Amazon)! It has an outstanding design and has a specific military-style look to lend a sense of seriousness to your hobby.
The surface of the Garrett ATX is matte, and the coat makes it easy to clean the detector in case it falls into the mud.
The machine is comparatively heavier than some of the other Garrett devices that are available, but who cares! I mean, if you are treasure hunting, then that's you r baby right there!
It comes with a 12″ DD coil, ideal for hunting in extreme locations. The coil is fully waterproof and can be submerged, making it easier to search not just on land but also in water bodies.
The machine has an enhanced sensitivity that allows you to even find small gold nuggets.
Additional features include:
Comes with a travel case
Has a mono deep seeker search coil that is 20″ wide
Operate on high frequencies (that's a PI machine)
Topped with a hard case that is made according to military-grade standards
Has 13 sensitivity settings and 25 discrimination modes
Most Expensive Producing Brands
Minelab as a company produces some of the most expensive detectors available on the market. However, they are known for their durability, high quality and technological touch as compared to other brands!
Garrett Electronics also produce such models, yet, it also offers a high range of entry devices like the ACE series.
XP also produces some high end machines; probably the most notorious one is the XP Deus!
Cheap vs. Expensive Detectors … What's the difference?
Probably you've went to a store before, or even an online market place like Amazon and notice that there are cheap detectors and others that are much more costly …
… A normal question, would certainly be, what's the difference between both? In fact, that's a legitimate question!
I've written this article on the difference between expensive and cheap detectors! That you can refer to …
… However, to make it simpler for you, here are the main differences:
Resistance to water: The more the detector tends to be waterproof the more it will cost, keep in mind that some models are only waterproof to the coil, others are fully waterproof including the control box.
Depth: A machine that can go deeper will certainly cost more, for example, an entry level ACE 150 can go up to 6 inches deep, Yet, a more costly one like the AT Pro can do double that (about 12 inches).
Technology: when a machine has more technology on it, like the multi-IQ, Wireless technologies with low latency, then this will certainly plays a role increasing the end price.
Finally … What are the most expensive detection finds?
Acquiring such high end machines could definitely be worth it, as it would/could definitely pay for itself! Indeed, below, some historical detection finds that might inspire you:
The Hoxne Hoard – Valued at $2.6 million, the hoard was found by detectorist Eric Lawes in a field near the village of Hoxne. It contained different valuables such as silver spoons, gold jewelry, gold and silver coins, etc. After archaeologists excavated the site, they found 46,865 Roman coins and 200 other valuable items that dated back to the 5th century AD.
The Shapwick Hoard – Valued at $0.438 million, the treasure was found by an amateur hobbyist Martin Elliot while he was showing his cousin how to use a metal detector. He first found a Roman coin at a depth of 10 cm, and after more digging, 9,212 silver denarii coins were gound. The cache was found in Somerset, England, and was later acquired by the Museum of Somerset.
The Ringlemere Gold Cup – Found in the English county of Kent in 2001, this treasure is valued at $0.52 million. It was found by a hobbyist Cliff Bradshaw in a wheat field near Ringlemere in East Kent, England. The treasure was found at a depth of 45 cm, and the find has since then been purchased by the British Museum for $520,000.
The Escrick Ring — Valued at $44,000, the ring was found in a field near Escrick in North Yorkshire by an amateur Michael Greenhorn. It is a ring made of gold, glass, and has a large sapphire.
Gold Iron Age torcs – Found by a detectorist David Booth, this is valued at $0.57 million. This was one of the most significant hoards ever to be found in

Scotland

, with the torcs dating back to 300 to 100 BC.
Conclusion
Did this Post answer your questions and/or meet your expectations? Really, hope that was the case!
This was a fun Post for me and hope you've learnt something new!
If you don't think that such machines are worth it, so please have a look at these 11 reasons why some detectors are expensive!