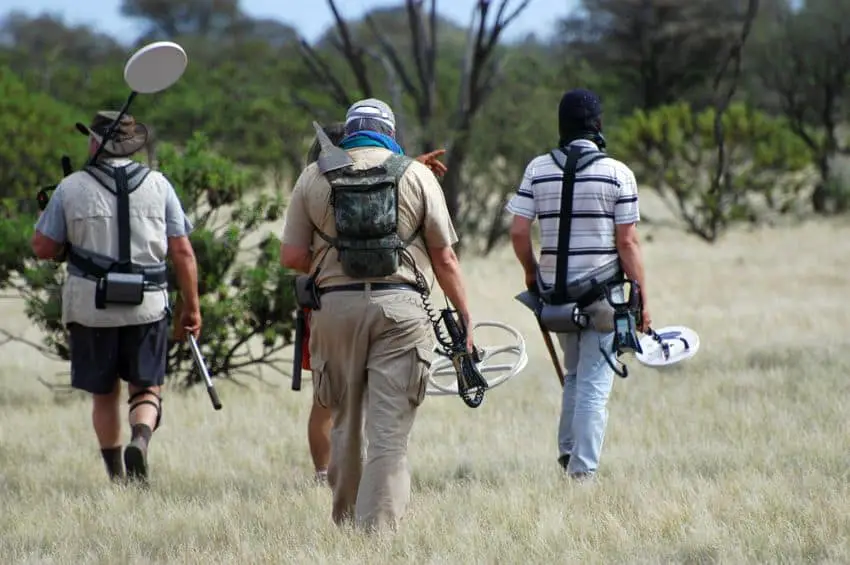 Finding a reliable metal detector could be a little bit challenging for someone who is just starting out with the hobby!
That's why I was thinking that putting together an article where I breakdown these machines is worthwhile …
… In this Post I list 5 detection models I believe to be reliable. Hopefully, one of these will serve your needs and resonate with you.
1. Fisher F44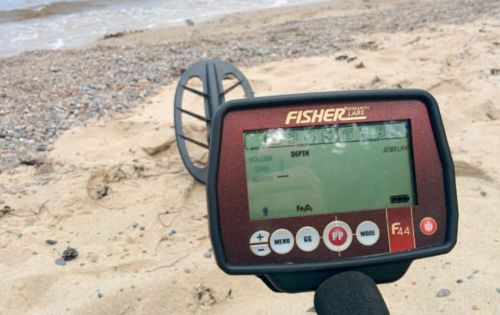 This detector (Check it Here on Amazon) is budget friendly with a very important feature (being waterproof) … This means that searching in the rain is possible, but it is not submersible!
One interesting pro about the Fisher F44 is the 5 preset modes: Jewelry, Coins, Artifacts, Custom mode, and All Metal mode.
Also, the FE-Tone adjustable iron audio allows you to set the volume of non-ferrous and ferrous targets. By doing so, you will make the decision whether you can dig junk to hopefully find good targets or just ignore it.
Additionally, the F44 has superfast retune speed with decent target separation! By switching to the custom mode you can fine tune this metal detector to your preferences … You can do this in some circumstances, but overall the default modes are more than enough.
The Fisher F44 runs on 2 AA batteries with approximately 30 hours of use. There is a backlight for low light conditions and non-volatile memory saves your settings.
| | |
| --- | --- |
| Pros | Cons |
| Weatherproof | Not submersible |
| 5 modes including a custom one | Not adapted for Highly Conductive Soil |
| Adjustable Iron Tone | |
| Easy to Use | |
| Backlight | |
| Relatively Cheap | |
2. Bounty Hunter land ranger pro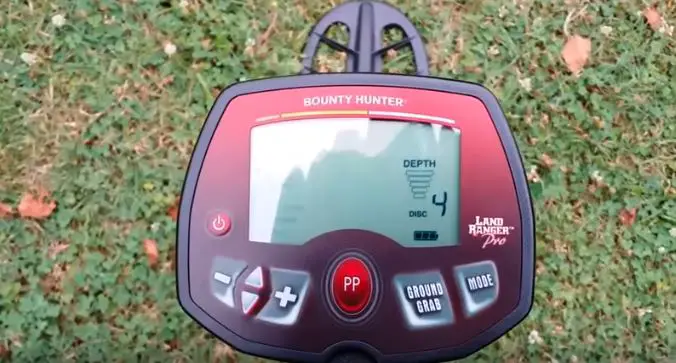 The Bounty Hunter Land Ranger Pro (Check it Here on Amazon) is a popular and reliable model which is decent for beach detecting or near any other body of water …
… Indeed, it has a waterproof coil that will allow you to detect your targets in shallow water pretty well.
It can go down deep up to 10 inches which is enough for most targets you should be looking for!
In addition, it features 7 modes, variable notching, and 4-tone audio ID.
Even if it is made up of 3 separate parts that assemble and adjust easily for various heights it is still lightweight as it only weight about2.4 pounds.
It was designed to minimize ground mineralization effect. Experience has showed that setting the sensitivity over 8 causes the detector to give a lot of false readings in mineralized soil.
Buttons on this model have been known to malfunction. It's a known issue for the Pinpoint button to work intermittently or not at all. Field testing in the backyard and taking advantage of the warranty is the best solution besides repairing the button yourself.
Keep in mind that you should keep the sensitivity relatively low to allow this machine to reach its maximum depth.
| | |
| --- | --- |
| Pros | Cons |
| Relatively Cheap | Not submersible |
| Waterproof Coil | The Pinpoint Button Could malfunction over time |
| Reliable for the Beach | |
| Lightweight | |
| Longue Time Warranty | |
| Easy to Assemble | |
| Work fine in moderately mineralized soil | |
3. Garrett AT Pro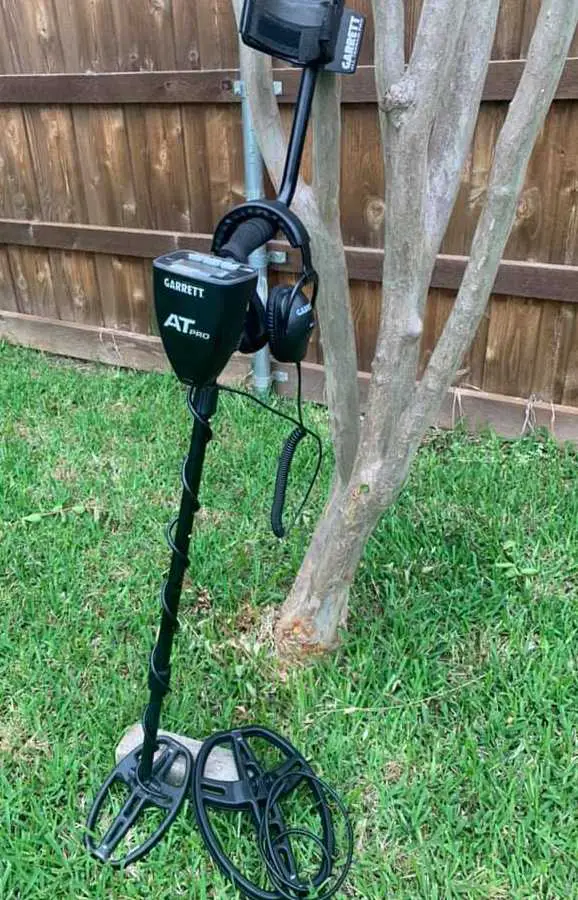 Since its release in 2010, the Garrett AT PRO (Check it Here on Amazon) continues to be mentioned in the hobby for how accurate and reliable it is.
It is particularity powerful picking up coins in general and silver in particular. I don't suggest you use it for gold prospecting, yet, it could still do an OK job finding raw gold.
However, if you are interested in jewelry, it will certainly do a solid job.
This metal detector weighs 3.03 pounds, come with land headphones, but if you plan on taking this it near water you might want to purchase the waterproof headphones (Check these Headphones).
In addition to all what I've just said, there are 2 more things that make me feel good about this model:
The Tutorials on websites, youtube and forums about this model are almost endless! It is very hard to have a problem or question about this machine without having someone with an answer to that.
Most veteran detectorists with many years of experience use this model consistently, this shows how good and reliable it is.
| | |
| --- | --- |
| Pros | Cons |
| Extremely Popular | Doesn't come with Waterproof Headphones |
| Fully Waterproof | No Backlight |
| Ideal for Coins, Silver and Jewelry | |
| Easy to Use | |
| Comes with 4 AA batteries (Last 100 hours) | |
For more Garrett models, you can check this article!
4. Equinox 800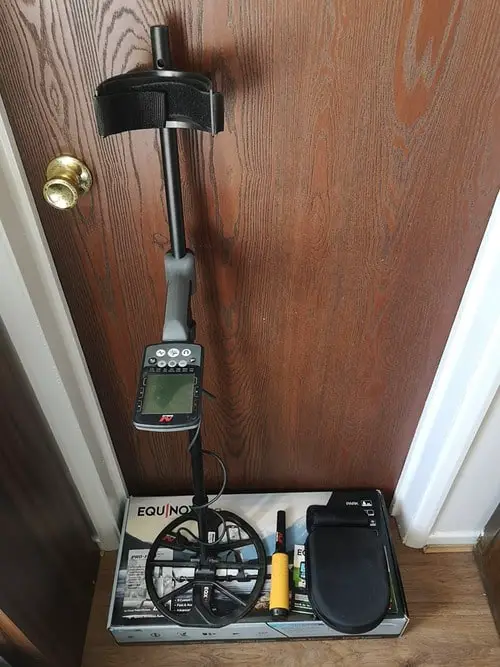 Now let's move to my favorite metal detector, the Minelab Equinox 800 (Check it Here on Amazon)!
This model has basically introduced the detectorists public to the Multi-IQ technology … This simply means that, unlike other detectors, you can operate on multiple frequencies (at the same time or one at the time) …
… This will allow you to maximize your chances to pick up more finds.
In addition, the Equinox 800 is capable of being more versatile in different types of soils without having to consistently fine-tune settings depending on terrain.
If you are looking for regular targets like coins, silver you can easily pick them up to 14 inches of depth. Otherwise, if you are searching in highly conductive soil for targets like raw gold, you won't be able to find them deeper than 6 inches …
… Simply because you need to use the machines higher frequencies (20kHz and 40kHz) in conductive soil to increase sensitivity And by doing so, the depth decreases as a consequence.
The model is fully submersible up to 10 feet and the LCD is backlight. It is beginner friendly because of its four distinct modes: park, field, beach and gold.
It comes with Bluetooth headphones which gives you more control of your audio. You can choose how much target info you hear.
While looking for a flaw for this model is difficult, some could argue the 12 hour battery life for the In-built rechargeable Lithium-ion battery is the only one.
| | |
| --- | --- |
| Pros | Cons |
| Multi-IQ Technology (Multi-Frequencies) | Battery Autonomy Could be considered to be low |
| Pre-set to operate on any Terrain | |
| Reach up to 14 inches of depth | |
| Possibility to Upgrade the Software | |
| Iron Bias | |
| Could be used for Gold Prospecting | |
| Fully Submersible. | |
5. XP Deus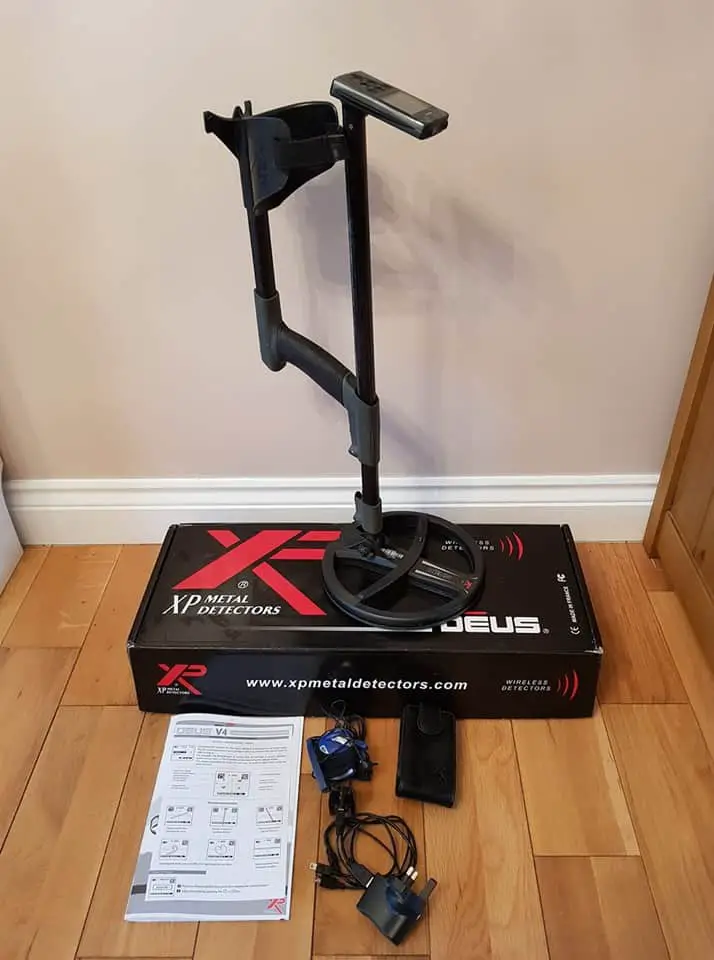 Let's finish this list with the Powerful and Reliable XP Deus (Check it Here on Amazon).
This model leans toward the more experienced detectorists as it has a pretty steep learning curve! This does not mean that a beginner could not use it as far as he has the patience and passion to learn …
… For one, this metal detector offers 35 frequencies from 3.7 to 27.7 kHz + shift plus/minus. This alone could be a little bit challenging to figure out, especially at the beginning.
However, if you take advantage of these 35 different frequencies, picking up targets will be a much easier task.
The 9″ carbon fibre impregnated 2D coil is both light and waterproof. To take it a step further, there is an optional 11" DD coil available that will allow you to cover more space while swinging.
The entire metal detector is wireless, which is a first. The breakthrough technology of the XP Deus works by communicating through the coil, a remote control, and a pair of bluetooth headphones. Rather than relying on cables to transfer audio signals, the XP Deus coil interprets frequencies it gathers, and then it analyzes and digitizes them to send to the remote control.
From there, the remote control sends the audio to the headphones. Doing it this way greatly improves the quality of signal acquisition.
You can expect similar depth results as the Equinox 800, however with far better accuracy between trash and treasure.
Overall, the XP Deus is one the most reliable metal detectors on the market once you learn to configure it correctly. It has a rechargeable built-in battery with a total battery life of around 20 hours depending usage.
It's worth noting that the most recent firmware is available and it's a must to have to get the most of this detector.
| | |
| --- | --- |
| Pros | Cons |
| Could operate on 35 frequencies | Learning curve could be steep |
| Fully Submersible | Quite costly |
| Could be used to search for Gold | |
| Totally Wireless | |
| Up to 14 inches in depth | |
Conclusion
Hope one of these detectors will serve your purpose and help you make your choice on your next metal detector …
… If you still have questions about what machine you should opt for, I highly invite you to check this guide on choosing your next detector.