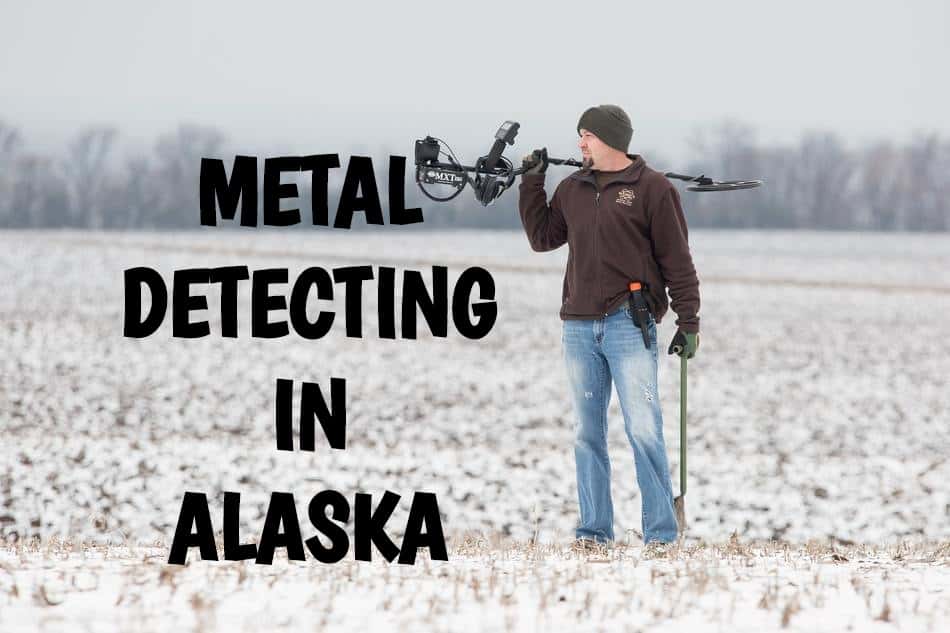 Without a doubt Alaska is not the most comfortable place you can opt for to use your metal detector! The very cold weather and the extreme conditions make it a bit harder for sure …
…. However, the rewards that you may get using your machine there could be way more than what you can possibly imagine!
In fact, Alaska is rich in gold nuggets and other valuable targets which is really cool!
In this Post I talk about several topics that would be very helpful for you:
The laws ruling this hobby in this state.
Valuable targets you can aim for.
Some great cities and locations you can detect in …
Metal detecting clubs and shops in Alaska.
What are the laws for Metal Detecting in Alaska?
The laws of antiquity apply to any metal detecting or treasure hunting activity being undertaken in Alaska!
Even though the exact words of metal detecting are not mentioned in the Alaskan law, it is still the only one that pertains to the digging of artifacts in Alaska.
In addition, the law there also follows the laws of the Archaeological Resources Preservation Act (ARPA). Indeed, it is illegal in Alaska to detect in:
National Parks.
Recreational areas.
Or at any National Monuments.
You also cannot use your beloved machine at any Indian burial grounds or archaeological areas. Any areas that are considered to be historically sensitive should be avoided.
Apart from this, you can always make inquiries from the local hobbyists clubs about what are the exact regulations that need to be followed at various places.
A very popular detecting activity that is allowed by the law in Alaska is in ghost towns. It is commonly referred to as the Eastern ghost town treasure hunt.
Metal Detecting for Gold in Alaska
There has been widespread mining in Alaska. However, it surprises many people to still learn that there is quite a lot of gold that can still be found there. Especially gold nuggets!
This is because the mining method that was used to recover the maximum amount of gold ended up excluding rocks that were larger than a certain specific size as the bigger pieces would get stuck in the sluice box.
Nearly 99 percent of all placer gold is still spread over in many places.
It is possible for people to find gold with their machine on a false bedrock layer of dense clay which is commonplace in Alaska.
This is because gold tends to stick to the clay and once it gets scooped up, you will be able to screen out the gold from the bigger rocks.
In fact, a detectorist was lucky enough to have once found a 294-ounce gold nugget! It has just rolled off the side of the dozer blade while moving dirt and clay.
Due to the nature of the land there, many of the gold nuggets tend to go unseen and unnoticed and simply end up in the tailings pile.
However, keep in mind that you cannot go detecting on any type of private property. Lest you get caught gold hunting, then you may even be put in jail or worse still, get shot, for claim jumping.
That's why you should always try and detect for gold in any of the public recreation places!
Best Detector for Alaska Soil!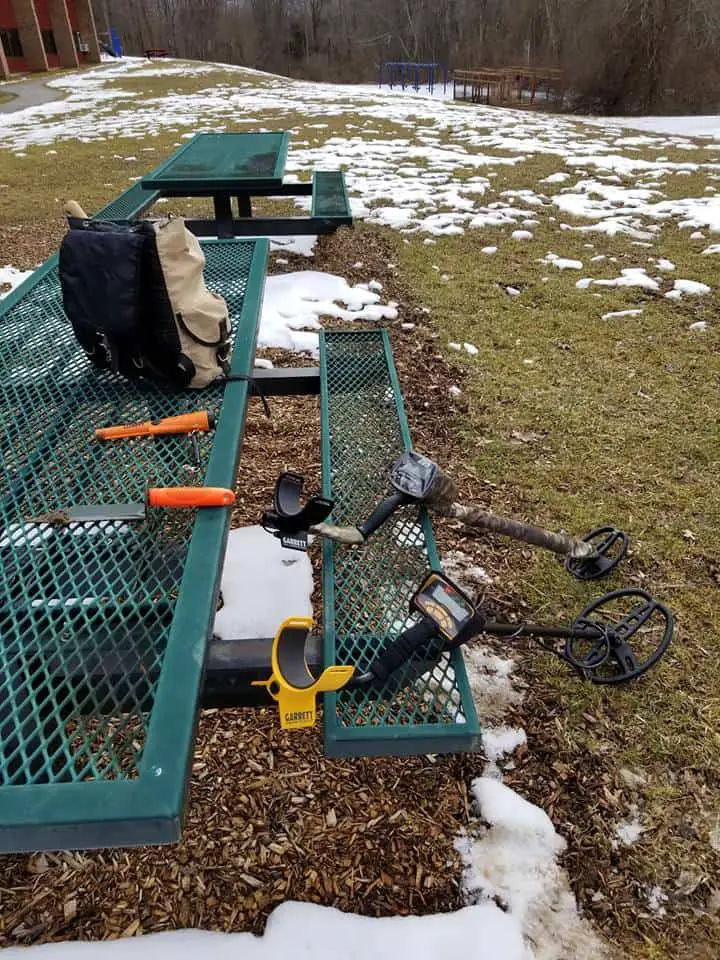 Alaska is known for its variety when it comes to landscapes! There is a diversity of grounds that you may deal with while using your beloved machine throughout the State!
That's why it is always safe to use a multi-purpose device that can operate on most kinds of soils! The Fisher F22 (Check it Here on Amazon!) is a very good choice … However, if you are willing to invest in a solid model, then I seriously recommend the Minelab Equinox 800 (Check it Right Here on Amazon!), it is my favorite machine by far!
The latter can operate on several frequencies at the same time! And it can also operate on all sorts of grounds conditions!
Metal Detecting in Anchorage Alaska – What you should know…
Anchorage is the biggest city there. it is famous for its activities ranging from exploring the wildlife to the beautiful mountains, and the icy blue glaciers. Natural wonders and metropolitan luxuries are both found here in Anchorage.
When it comes to this hobby, Anchorage has a good collection of enthusiastic hobbyists who frequent the hunting grounds there.
However, the most typical targets that are usually found while detecting in Anchorage include silver coins and jewelry.
This is perhaps because Anchorage is not a very old town and silver coins that were there probably got found a long time ago.
However, according to recommendations of the local detectorists, you can still try to hunt at the park strip or at the old part at the Spenard Lake to increase your chances of finding silver coins.
Local Anchorage-based hobbyists usually recommend that chances are pretty low that you will find coins of any real value in Anchorage since the town is quite young.
You should rather spend your time in searching for jewelry there. As this is a popular destination for luxury tourism, increasing the chances of finding valuable jewelry.
Metal Detecting in Fairbanks Alaska – What you should know…
Fairbanks is known to be the largest city of the Interior part of Alaska and it is also the second most populous city there.
Even though there has not been any permanent Native Indian settlement in Alaska, the town of Fairbanks is known for significant Native American presence.
In fact, a recent archaeological excavation even found a Native Indian camp that was around 3,500 years old.
The town is known for tourism that revolves around the aurora borealis, as well as its mountain ranges, rivers, lakes, plenty of wildlife, and acres and acres of vast empty areas, making it the ideal spot for using detecting machines.
Unlike Anchorage, the history of the town of Fairbanks goes back to several thousand years, making it more likely that you will end up finding something of historical value.
One of the favorite spots for hobbyists in Fairbanks remains around the Steese Highway. Finds from Fairbanks usually ranges from old coins, old ammunition, Native Indian finds such as relics.
In fact, one detectorist even came across a 1948 Revlon lipstick case!
The most notable find from this region so far has been a collection of military dog tags made between the late 1940s and early 1970s.
Metal Detecting in Nome Alaska – What you should know…
Nome is a city located in the Unorganized Borough of Alaska, situated south of the Seward Peninsula coast of the Bering Sea.
The city was once the most populated city of the state, but the population has since dwindled to only around 3,500 citizens.
The most interesting part about the city of Nomes is that it claims to be home to the largest gold pan in the world! This makes it a haven for us as hobbyists …
Alaska has been the site of many of the 19th-century gold rushes and every hobbyist wants to find buried gold there.
Not only can you find gold in Nome, but it has been a site of Native Indian culture as well. Thus increases the chances of finding valuable relics in the region.
In fact, Now was home of the last great gold rush in the American West and therefore, people from all over the US come to Nome to metal detect and treasure hunt.
The late spring, especially, sees a huge crowd of enthusiasts flocking to this city. In 2016, in fact, a metal detectorist was lucky to come across a full 1-ounce gold nugget in Nome.
Metal Detecting in Alaska beaches…
You don't generally tend to think about golden sandy beaches when you think about Alaska. In fact, the state usually brings to mind sheets and sheets of ice and snow!
There are many glorious beaches there that are ideal for practicing this wonderful hobby!
The best part is that most of these Alaska beaches are pretty much secluded. This makes it ideal for metal detecting in total peace…
… Some of the best beaches there include:
Black Sand Beach.
Eagle Beach.
The Homer Spit.
Yakutat Beach.
Kincaid Beach.
Schooner Beach.
Are there Metal Detecting clubs in Alaska?
You would be surprised to know that there is no dearth of detecting clubs in Alaska. In fact, there are so many clubs that you will be spoilt for choices!
Some of the most popular metal detecting clubs include:
AK Gold Prospectors.
Alaska Treasure Seekers.
And APAA-Interior Alaska, amongst many others.
You will be able to find their contact numbers easily online and you can simply contact them to find out about their next meeting location if you are interested in joining.
Even the Mat-Su Dirtfishers Association there is a very popular club that aims to hunt for historical targets.
Tips to detect in Alaska?
Beginners should ideally avoid going to Alaska to practice this hobby!
Many of the places there are covered in snow and ice for the majority of the year. In other words, you will need some specialized metal detecting equipment:
However, keep in mind that you are likely to find more junk than treasure when you begin.
In some of the cities in Alaska, there are many types of ancient relics that you can find. The laws governing metal detecting in Alaska, though, state that if you find anything of historical significance.
Then you will need to turn them into the local authorities. Remember to always seek permission if you are detecting on somebody's private land.
Are there Metal Detecting Shops there?
There are several shops you can choose from:
Alaskan Prospectors.
HHH Mining.
Alaska Mining and Diving Supply, Inc.
These are just some of the many shops that sell equipment there!
One of the big advantages for hobbyists in this state is that it is also possible for you to rent out metal detecting equipment for a small fee for the duration of your stay.
You can find all types of equipment in many of the shops there, especially in Anchorage and Fairbanks.
It might be difficult to find metal detecting shops in the smaller towns though.
More Good Locations in Alaska to practice this hobby
Anchorage, Wasilla, Hatchers Pass, Chitina etc., are some of the good locations for metal detectorists to head to in Alaska!
If you want to practice your hobby there, then it is always wise to find out from local practitioners about what would be the best places to metal detect at and which cities you should head to.
Remember that there are vast lands that are lying empty in Alaska! However, this does not automatically mean they are public lands!
Always make sure to find out whether the land you want to detect on is private or public and take the necessary approvals and permissions.
Seek out the owner and request permission before you start your hunt!
Conclusion
Most detectorists, when they visit this state, even the most experiences people tend not to use their machine. This is quite a shame as this make them miss some huge opportunities.
Hopefully this Post made you aware of some of the rewards you could possibility reap.
Always be aware of the laws governing this hobby as much as you could. So, you won't encounter any trouble whatsoever with the local authorities.
Finally, if you are aware of any information or detail that I didn't include in this Post. I would be very thankful if you let me know in the comment section below …