United Kingdom is a sovereign country with an extremely rich history! This makes it almost a heaven for metal detecting hobbyists, not only the British people but also those from around the world …
… Nevertheless, you should pay attention to the regulating laws, so you will be able to respect them! By doing so, you will make sure you will avoid any unnecessary trouble with the local authorities … Don't' worry too much about that, I will give you all the details you need so you will detect legally!
In this Complete Guide, I address the following subjects:
General overview about the detection regulating Laws
The Best Places to explore there
How to approach Gold Prospecting in UK
Detector recommendation for British Soil
Examples of Clubs you should think about joining
Getting your permit there
Most relevant equipment dealers
As well as many more Extremely Helpful Info …
So, without further ado, let's get into the Good Stuff!
What are the metal detecting laws in UK?
The United Kingdom is a heaven for detectorists due to the relaxed and easy regulations that are in place. You can search for any type of archaeological finds in the UK only after getting permission from the government! According to local detectorists, it is relatively easy to obtain a permit there and for a decent period of time …
… The critical thing to remember when you want to use your detector in there is that most of the land in the UK is privately owned. Due to this, you will need to get additional permission from the landowner (People there are pretty cool and if you present yourself the right way, you will certainly end by getting it!)
If you are detecting on any private land, then any valuable object that you find will need to be shared with the landowner as well! The museums also have a priority right to acquire your finds if they are of historical value.
If you conceal the find, then you are liable to get punished with a fee or even jail time if the find is valuable.
In England, the exact value of whatever you find is determined in a unique manner. For instance, if you find a Roman lead plate that actually costs over $300,000, it is still not viewed as a valuable treasure in the UK.
The hobby there is governed by The Treasure Act, which states that any metallic object, except for a coin, is made up of at least ten percent in weight of any precious metal, and the item is also older than a minimum of 300 years, it is classified as a treasure.
Hobbyists, who detect illegally without having permission from the government, are not going to benefit from the rules of the Treasure Act…
… It is also known that those who do that illegally can have their equipment and finds confiscated and can also face a hefty fine as well as a prison sentence.
Best Places to Metal Detect There …
The UK is one of the most popular spots in Europe for detecting activities!
Norfolk County is one of the best places to begin searching for treasures with your beloved machine. The county reports of having the maximum number of finds by hobbyists.
Here are some of the best places in Norfolk where you can try your luck:
Castle Rising Castle
Thetford Priory
Norwich Castle
Elm Hill
Binham Priory
Devil's Alley, King's Lynn
The Devil's Punchbowl
After Norfolk County, one of the best places would be in Essex. Here are the best locations that you may want to target there:
Borley Rectory
Colchester Castle
Harwich Redoubt Fort
St Osyth
Coalhouse Fort, East Tilbury
Canewdon
The Strood, Mersea Island
The Broomway
Greensted Church
Pond on Thriftwood Estate
Churchyard near Kelvedon Hall
Warley Lea Farm
Best Detector for British Soil!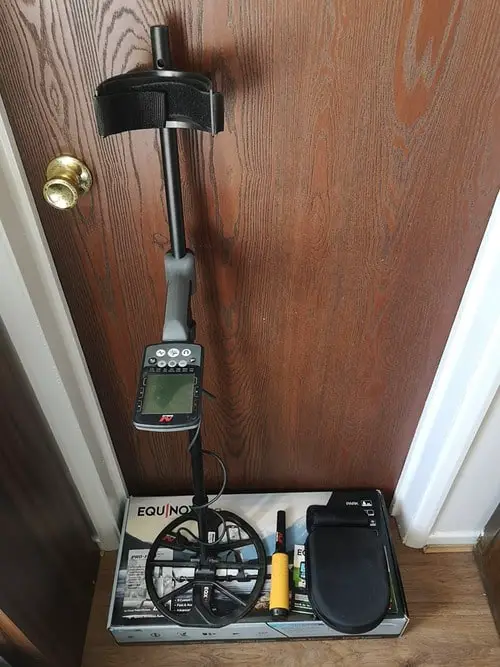 Unlike other countries, the United Kingdom is known to have over 700 different types of soil. With such a wide variety of soil types spanning the country, it becomes difficult to understand which metal detector would be the best to use!
Due to this, it is better to narrow down the soil type that is the most widespread – Brown Earths. Brown earth is characterized by a dark brown surface and is known to contain organic matter.
The best detector for using on such type of soil would be the Minelab Equinox 800 (Check it Here on Amazon!). This multi-frequency VLF machine is ideal for both beginners and professionals, and the functions are also pretty straightforward for anyone to use.
The Equinox 800 is a lightweight device, weighing only 1.34 kgs, which is a vast improvement from the previous models of Minelab.
The device comes equipped with the technology of 'Multi-IQ,' which is basically a VLF induction balance technology, but it is more advanced than the previous machines since it has the capability to transmit five VLF frequencies at the same time. These frequencies are:
5 kHz
10 kHz
15 kHz
20 kHz
40 kHz
It is also possible to select all these five frequencies to use as one single frequency.
The device has an 11 inch DD coil, and the battery type is Lithium-Ion.
Its most significant benefit of the Equinox 800 is that it is a waterproof machine, so there is no need to buy any separate cover for it or go into panic mode if your machine gets exposed to the rain.
It also has Bluetooth capability, so you don't need to struggle with tangled wires. Plus, the device also has noise cancellation and ground balancing ability.
Finally, if you are not able to afford this Minelab Device right now, then you can still Check this Cheaper Detector Here on Amazon! It is a Fisher model that has several powerful features …
Can you make money metal detecting in the UK?
Making money with this hobby there is not the most lucrative deal! It is not so simple as merely going out with your detector and start detecting expecting to come by a massive treasure on your first attempts…
… This is a fun hobby for sure, but you should not count on it as something that can help you pay the monthly bills!
Finding lost jewelry, which turns up to be valuable is one of the biggest ways of earning money this way! Furthermore, if someone hires you to find something in particular and you end up finding it with your detector, then also you can make some money.
However, when you add up the results of whatever finds you discover from one full day of detecting, and compare it to how much money you could be earning in a job, it is unlikely to match up.
I've written these 2 articles on how to make money with your detector, I am sure that you will find it helpful:
How to start the hobby in there?
Before you start this hobby, remember that it is not a cheap one but do not begin by investing all your money into buying the latest gear, clothing, books, boots, and the top of the line detector…
… Furthermore, remember that you will end up finding more trash than treasure. But if you are serious about the hobby, then you should not give up.
To begin with, buy a machine that you can afford (Check these Cheap Detectors!). Even if you have a small budget, buy the best device that you can afford within that budget. Remember that if you scrimp on quality, then you will only have to spend more money in the future to upgrade your equipment.
Next, do some research and get to know the area where you plan to be detecting. You will be surprised to see how much you do not actually know about the local area or the area you are visiting.
It is also necessary to have a map of the area you want to detect at, and the map will also show the areas of interest such as moats, abandoned villages, churches, footpaths, medieval ponds, and baileys or rivers.
Don't forget that before you actually begin detecting, you will need to get a permission in the UK and if you plan to detect on private land, then you also need permission from the landowner.
Is this hobby popular in the UK?
The quick answer to this is a Big Yes! In fact, with more and more finds becoming popular and being covered on the news, the popularity of the activity is growing every year…
… Furthermore, the popularity of TV programs such as the Detectorists and Time Team are tempting more people to take up the hobby of treasure hunting.
In addition, statistics released by the UK Department of Culture, Media and Sport have indicated that the overall number of treasure discoveries has grown to 1,121 in 2016, which is a sharp increase from 1,005 in 2015. The last couple of years has only seen these statistics grow….
… Many of the people who are coming into this hobby are beginners and have high hopes of finding treasure. Also, the popularity of archaeology in TV shows and movies has also contributed to the rise of metal detecting in the UK.
Gold Prospecting in UK …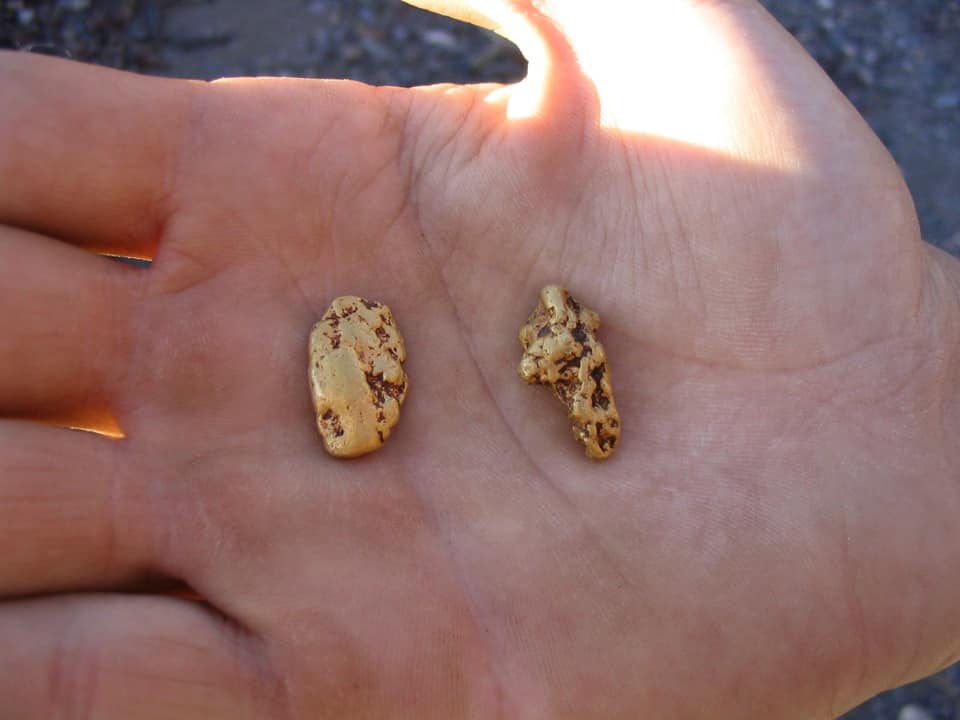 People have been prospecting for gold in the UK for many centuries. A 12-year-old boy even found a 16th-century gold pendant with the use of a metal detector. The pendant was later valued at GBP 2.5 million.
Gold continues to exist in the many rivers, creeks, and hard rock areas in the UK, and if you live near any river system, then you can consider panning for gold in the river.
In England, gold has been known to be found in the following places:
The Lake District – Dunmail Riase, Mungrisdale, and Blencathra Mountain. Gold is also known to be found in Sedbergh and Troutbeck.
The Northern Pennines – this place contains a wealth of minerals, including gold. The River Swale and Nenthead are both known to contain gold.
The Forest of Dean – Since the 1900s, there have been reports of gold being found in the Forest of Dean near Wigpool. It is believed that a substantial amount of gold still exists in the ground there.
Parys Mountain – It is believed that there is quite a bit of silver and gold here. There are also reports that there is more than 6.5 million tons of copper, zinc, and lead to be found here. The gold is not so much in value to start a mining operating here, but in terms of prospecting for gold, this is considered to be a real gold mine.
Camborne and Falmouth, Cornwall – A gold mine has recently been opened in this area, and there is no doubt that the surrounding water bodies here will contain alluvial gold.
To learn more about this valuable Topic, I've put lot of time writing this Gold Search and Prospecting Guide! You will learn a ton of helpful info in there …
Beach Detecting in the UK …
Detection activities on UK beaches are in many cases allowed without a permit! The UK Home Office scrapped licenses for beach detecting in 1980, but it is still required on specific beaches …
… For example, if you want to use a detection machine on a public beach, then you will need to ask the local authorities for permission. On the other hand, detecting on any of the River Thames beaches, as long as they are within the boundaries of London, requires you to pay a fee.
Some of the best beaches in there that you can explore are listed below, but make sure you find out the permit rules before you head over for detecting.
Watergate Bay, Newquay
Saunton Sands
Pentle Bay, Tresco
Porthcurno, near Land's End
Blackpool Sands
West Wittering
Studland Bay
Compton Bay
Botany Bay
Walberswick
Whitstable Beach
Seven Sisters Beach
Brancaster Beach
Pentle Bay
Exploring the Rivers …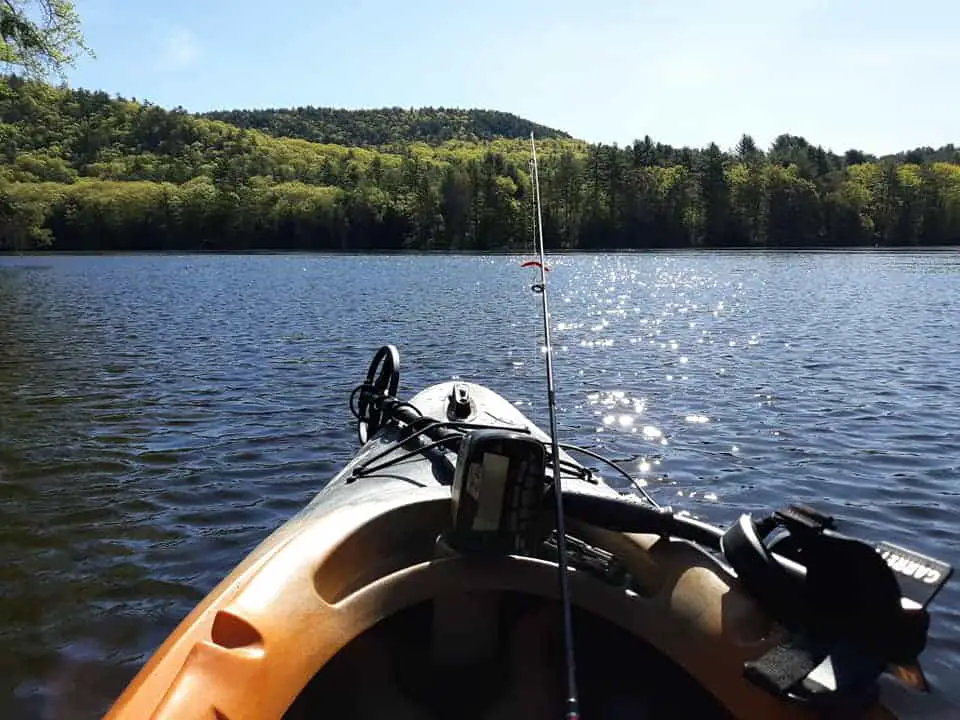 Detecting in the rivers there is an excellent activity, especially in the summer months of June and July!
Indeed, if you want to explore the rivers, the first thing you need to get is a waterproof metal detector (Check these Waterproof Detectors!). An important thing to keep in mind is that in the UK, a landowner generally owns the riverbed. This can be problematic if you do not get permission from him/her. Furthermore, more than one owner can share ownership of a stretch of river.
Some of the best rivers that you can search include:
River Stour
East Lyn River
River Wye
River Itchen
River Trent
River Severn
River Tyne
River Wharfe
River Dart
For more information about this Topic, I've written this Rivers Detecting Guide! You should learn some helpful info in there …
What about detecting in UK Parks?
Detecting in parks is only allowed with a prior permission! There are several local authorities that have special policies that restrict the use of any detectors on their land…
… This is why it is recommended that you contact the County Council and the relevant District Councils and find out whether you are allowed to detect in your local park. A lot depends on the attitude the local council has towards the hobby in general.
Many of the older parks and commons have been used frequently by people for many years now for setting up fairs, holding special functions, etc.
This is why the older parks are an excellent place to detect in as you can expect to find a large amount of items beneath the surface.
Good places to search in the parks would also be around the very old trees in the parks and any areas where people tend to sit!
Searching in the Forests …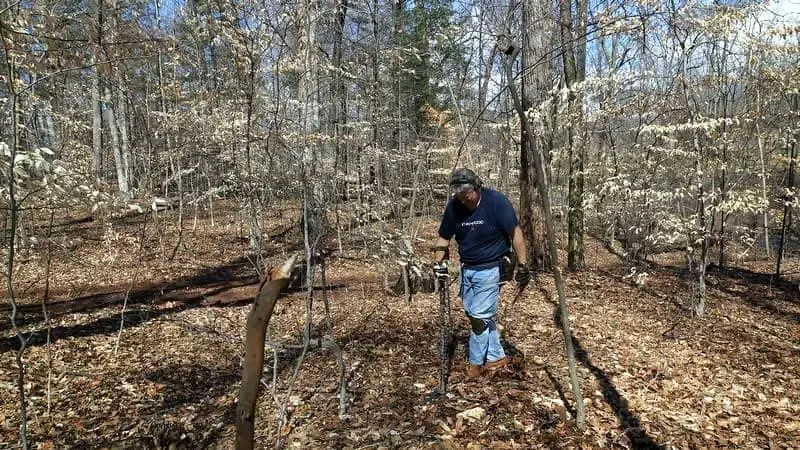 Exploring UK forests is not allowed! Even though the permission system for metal detecting on land under the Forestry Commission in East of England was withdrawn in 2008, but the activity on any forest land is still prohibited!
In fact, if you contact the Forestry Commission about getting a permit in any forest, you will be informed that they do not supply any detecting permits!
If you have any doubts, it is always best to contact your local authorities and get a clearer picture of what the law has to say about detecting in forests in the UK.
Just remember that detecting illegally will draw a hefty fine and even jail time!
For more info about this Topic, I've put together this Woods Detecting Article!
What Finds should you expect there?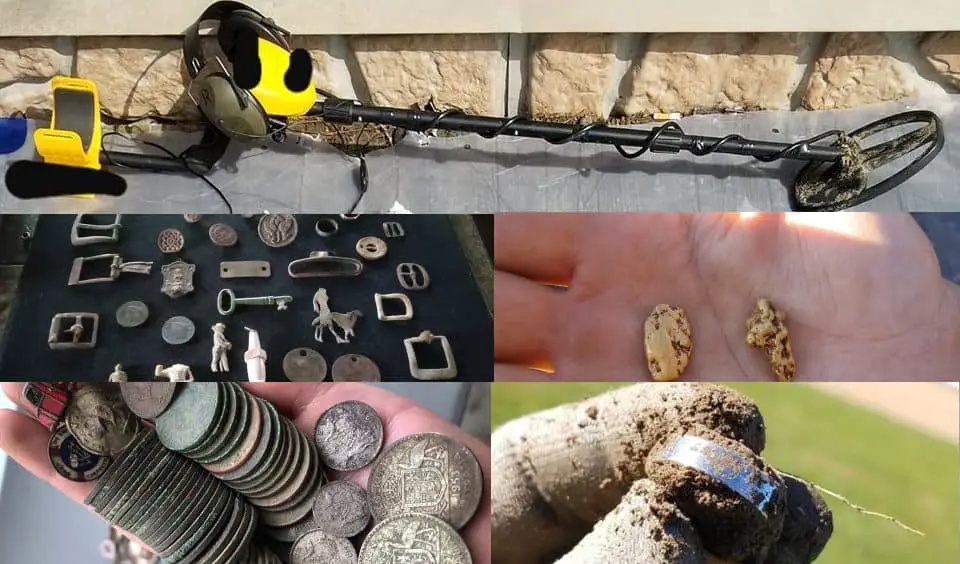 The UK is one of the best places to come up with some highly valuable finds – not just because of its rich history, but due to the relaxed laws towards the hobby which opens up many opportunities for us!
You will find the usual finds that can be expected with a detector including jewelry, coins, trinkets, belt buckles, bottle caps, and the many other usual items that can be found.
Some of the recent finds in there include a large stash of Roman coins in Herefordshire, an extensive collection of Anglo-Saxon and Norman coins in Buckinghamshire, and a collection of Viking jewelry in North Yorkshire.
England boasts of having more treasures finds every year than any other country in the world. In fact, it is believed that in the last three years, the county of Norfolk has had 116 finds each year, Essex had 71 finds, Suffolk had 65, and Lincolnshire had 59 finds.
Getting your detection license/permit/permission …
The Crown Estate is the body responsible for giving out detecting permits!
According to their website, if you want to explore any Crown Estate land, then you do not need any formal consent or permit from the government. Generally, you get an open permit from the Crown Estate that allows you access to enjoy using your machine wherever you feel like, except on somebody's private land.
However, if you want to detect on the River Thames foreshore, then this requires a separate permit that you need to get from the Port of London Authority.
You are also obliged to report any finds to the local coroner within two weeks. You can also contact your local finds liaison officer if you have any concerns or doubts.
Are there Detection clubs?
Again, due to the hobby's high popularity, there are many detection clubs that are active within the country. Some of these are:
(MD Stands for Metal Detecting)
Wessex MD Club
Central Searchers MD Club
Phoenix MDC
Ramsey MD Club
St Neots & District Artefacts Club
SLC MD Club
West Kirby MD Club
Crewe & Nantwich MD Society
Mid Cornwall History Hunters
Dunelme MD Club
Kendal & District MD Club
Torbay Metal Detectors Club
Weymouth & Portland MD Club
Essex Detector Society
Taynton Metal Detecting Club
Weekend Wanderers
Herts & District MD Society
Isle of Wight MD Club
West Kent Detector Club
Invicta Seekers MD Club
SLC MD Club
Loughborough Coin & Search Society
Lincoln Historical Search Society
Scunthorpe MD Society
Ashfield MD Club
Warsop MD Club
Kings Lynn Metal Detecting Club
The Somerset Artefact Seekers
Three Spires Search Society
Ipswich & District Detector Club
Surrey Searchers MD Club
Trowbridge & District MD Club
Doncaster Detector & Collectors Club
Scottish Detector Club
Gwent MD Club
Cardiff Scan Club
Swansea MD Club
Detecting for Veterans
Let's go digging
Metal Detectives
Are there any regular detecting Events?
There are many detecting events that take place throughout the year in the UK!
One of the biggest events is the Detectival, which aims to bring enthusiasts of the hobby together from all over the country. The event is held every year, and it also draws traders and manufacturers from all over the UK.
The Kimbo's Detecting Society Detecting Rally is also another yearly event that happens, bringing together detectorists from all across the various counties.
The Dunmow Rotary Club Rally, Anton Rotary Club Rally, Andover Hants, and Coil to the Soil are also some of the other notable events.
Meteorite detecting in there …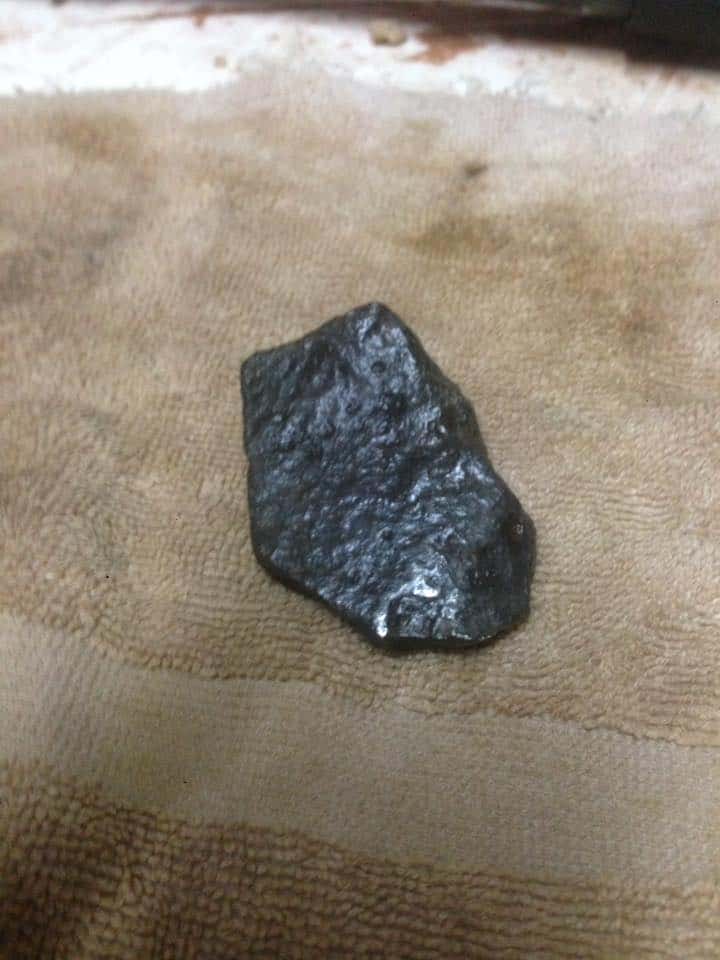 It is possible to find certain types of meteorites with your beloved machine!
Any meteor that contains iron can be detected with your device. It is, however, not that easy to locate a meteorite unless you know what they look like.
Merely having a detector and other tools for a meteorite hunt might not be sufficient. One clear identifying factor of a meteorite is heavier than an ordinary rock, and it will be attracted to a magnet.
Underwater Detecting in United Kingdom …
Underwater detecting is also a popular aspect of the hobby in there! The biggest draw for is that there are many shipwrecks around the UK, which makes it a lucrative activity…
…However, you need to remember that it is illegal to remove any material from protected wreck sites and marine vessels that are considered to be war graves.
You also need to report all your wreck finds to the Receiver of Wreck, even if it is a piece of wood, a coin, or a porthole.
The Wreck of the Halsewell is a big draw for underwater detectorists! It is located 3 miles west of the Swanage Lighthouse, just between Anvil Point and St. Albans Head, in 1 to 10 meters of water.
It was destroyed against cliffs, and as a result, the wreck is scattered around in many pieces. The artifacts and cargo from the ship are also scattered over a large area, which is one of the big reasons why detectorists come here to try their luck since not everything has been recovered yet.
The Royal Charter Wreck located on the east coast of Anglesey is another popular location for underwater detecting. This was said to include luxury accommodation as well as a large consignment of gold which has never been found. You will find many local detectorists trying their luck here with a detector.
Are there equipment shops in there?
There are many shops that sell detection equipment in the UK. These include:
Joan Allen Metal Detectors
Crawfords Metal Detectors
Leisure Promotions
Pepsi Piros
Unearthed UK Ltd
C-SCope Int. Ltd.
Fortress Technology
Detecnicks Ltd.
Detectorbits UK
Viking Meal Detectors
Deep Finders Ltd.
Metal Detectors Online
Treasure World
Are there metal detector dealers in there?
There are obviously many dealers that import equipment directly from the most famous manufacturers' brands out there like (Garrett Electronics, Minelab, Fisher …). These include:
(MDs stands for Metal Detectors)
Crawfords MDs UK
Detecnicks Ltd.
Unearthed UK
Leisure Promotions UK
Wiltshire MDs
Detector Distribution
MDF MDs Shop
Joan Allen Electronics
MDs UK
Regton MD
Staffordshire MDs Ltd
Conclusion
I've really spent several hours putting together this complete Guide! Hopefully you've learnt new and helpful information that will help you carry on a successful detecting journey in UK!
My main goal here was simply to encourage you, as much as I could, to experience this hobby in different places than what you are used to!
I am sure that you will end by coming up with some highly valuable finds …
… So, Let's Go, and Have FUN !!!
Finally, if you want to explore other countries, then please have a look at this metal detecting guide in South Korea! You will learn a lot!