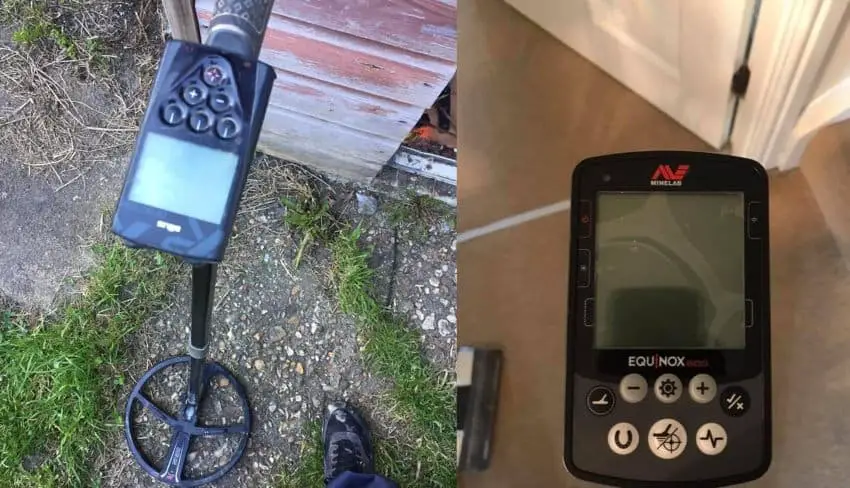 In this Post I breakdown the most advanced metal detectors in the market today by explaining their main features and what they can bring to the table …
… Let's dive in!
1. Minelab Equinox 800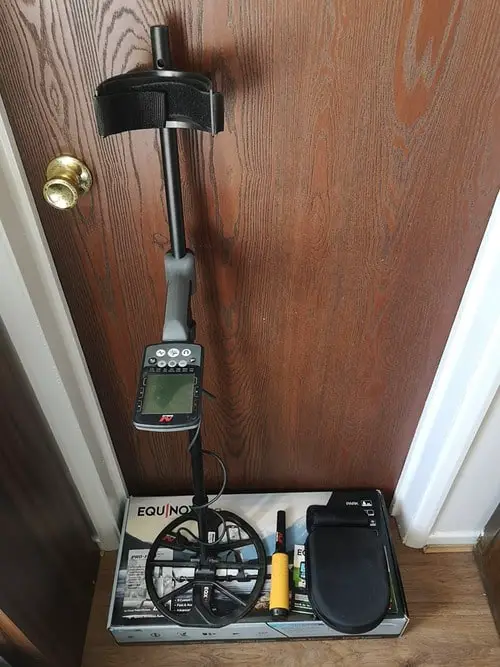 The first model I want to start with is the Minelab Equinox 800 (Check it Here on Amazon) which is my favorite machine by far!
This one is really easy to use, yet it professionals can take advantage of its advanced capabilities.
It is an all-terrain, all-purpose, and multi-frequency detector packed with a ton of solid features:
Comes with the multi-IQ technology, which allows the machine to search a location with low, medium, and high frequencies simultaneously. This is pretty much like having several machines all in one.
The five single frequencies of this device are 5, 10, 15, 20, and 40 kHz. The last 2 are high enough to the point it can allow you to prospect for Gold conductive soil.
High-quality discrimination of trash and ferrous metals combined with considerable depth that can exceed the 12 inches at times.
Fully waterproof and has an index of isolation at IP68. This allows you to submerge the detector up to 10 feet of water.
Comes with four search modes and two customizable search modes for each preset search mode. These are the field mode, park mode, beach mode, and gold mode.
The company allows you to easily update the operating software of the machine for Free each time there is a new release.
All you have to do is to have a look at the minelab official site and check if there is a new release, then follow the steps.
This is one of the reasons why this model costs quite a bit!
2. Garrett ATX

This military-grade metal detector (Check it Here on Amazon) works on the pulse induction technology at 18-19 kHz.
The Garrett ATX is ideal for a professional detectorist who wants to search for hidden treasures in all types of environments and ground, including saltwater. It has amazing depth capability, it's very easy to use, and it automatically adjusts itself with all terrains.
However, there is no LCD display in this device, and you will have to work with buttons, lights, and audio.
Due to its pulse induction frequency of 18-19 kHz, it is more sensitive than other detectors in the market.
The operating frequency also allows this detector to find even tiny gold nuggets at six inches depth.
The machine also comes with a frequency scan button, which is a hot favorite amongst detectorists. All you need to do is simply press the button, and the device will automatically scan the ground and pick out the best frequency. This is especially helpful when you are detecting near power lines or other detectorists.
The device is simple to use and has only two modes – motion mode and non-motion mode. When you switch on the Garrett ATX, it starts in motion mode and detects the ground for all metals without having to change the mode.
You can use the non-motion mode to hone in on a particular target with the in-built pinpointing system.
This is also a fully waterproof detector and can be submerged up to three meters or 10 feet of water. However, the accompanying headphones are not waterproof.
Another feature that makes the Garrett ATX stand out is its ground balancing. It keeps on measuring ground mineralization and automatically adjusts itself without you needing to change modes. It automatically finds the best setting when you move from highly mineralized soil to saltwater.
Being a pulse induction detector, this can easily function in saltwater (BTW, you can check these saltwater pinpointers). In fact, this machine works almost anywhere without needing any input from the user.
Just keep in mind that this is one of the most costly metal detectors out there!
3. XP Deus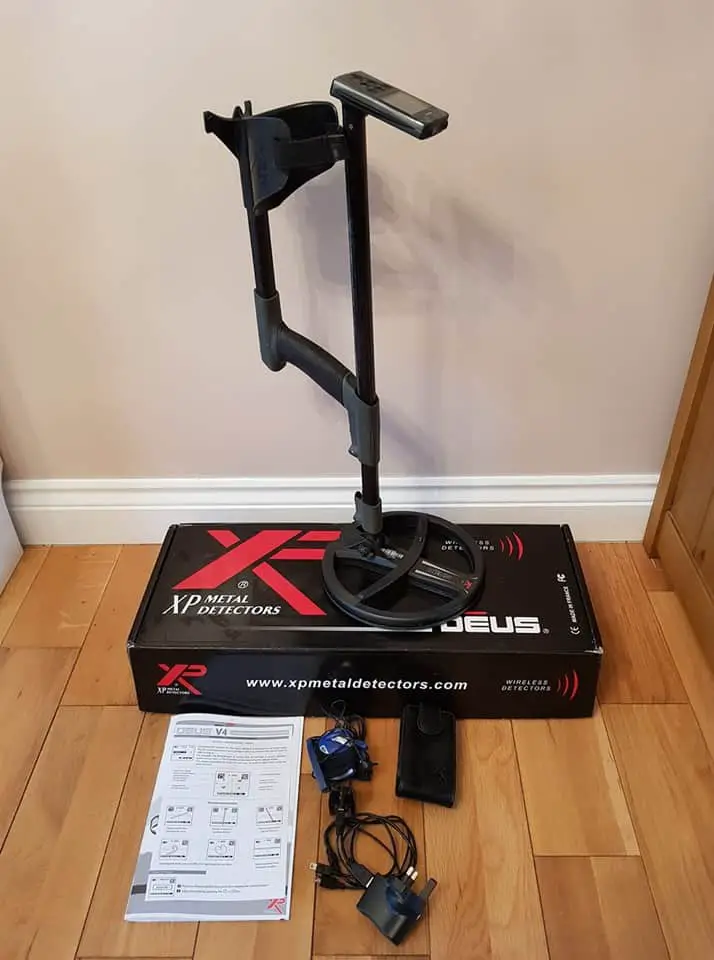 The XP Deus (Check it Here on Amazon) is really an advance model that I highly recommend in case you've got the budget for it!
Here are some of the features of this wireless metal detector:
Weighs less than 2 pounds.
Comes with a Double D 11 inches waterproof search coil.
You can update the detector software by connecting it to your computer in

the XP metal detectors official site

The shaft has a foldable design making it easy to carry
Headphones it comes with are really high technology!
Fully Wireless! No cable connections between the search coil and the control box.
Operates across multiple frequencies at the same time.
Could be used for Gold Prospecting just fine!
4. Makro Jeohunter 3D dual system
If you are looking at one of the most advanced and high-end metal detector, then the Makro New JeoHunter 3D Dual System (Check it Here on Amazon) is the one to buy.
It is a real monster when it comes to locating precious metals, gold, and also for detecting hidden cavities.
Apart from accurately detecting metallic objects, the is also extremely capable of detecting underground cavities such as cellars, tunnels, shelters, graves, and caves.
It also has the most advanced graphical imaging system, and it is capable of drawing two-dimensional signal graphs of the detected targets in real-time. This feature comes in handy when you are detecting in a cavern or tunnel so that you only have to dig when you are sure that there is a valuable item underneath.
This machine provides exceptional depth, perfect discrimination for metallic items, and precise analysis of the target size and depth.
Due to the steep price, it is only suitable for those who are professional treasure hunters.
Final Thoughts …
Here you have it! Hope this short article gave you a clear idea on what advanced detectors look like and what they are capable of …
… If you've got the budget to invest in one of these machines that it would be a great investment!
However, don't feel pressed to do so … You can still have a look at these inexpensive detectors that can do a good job!